Aerosmith Announce New Fall 2012 Tour Dates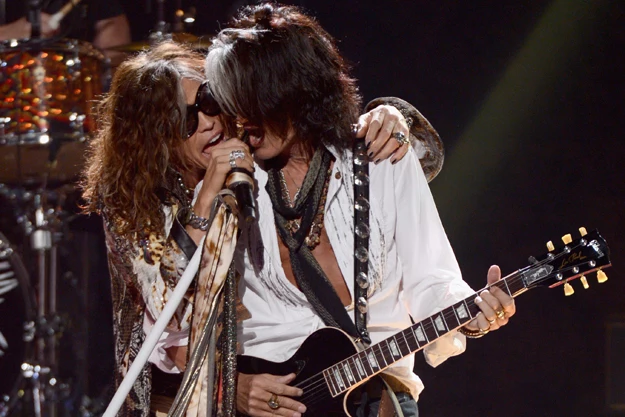 Aerosmith won't exactly be cooling off as the band has announced a whole new slate of 'Global Warming' tour dates for the fall, beginning Nov. 8 in Oklahoma City and winding up Dec. 13 in Nashville.
With several months of road work under their belts and plenty of rehearsal time leading up to the run, the band should be clicking on all cylinders by the time their 'Music From Another Dimension' album arrives in November.
Aerosmith spent the summer on the road with another classic rock favorite, Cheap Trick, and the two bands will continue their good will toward each other on the second leg this fall. During one of Cheap Trick's performances this summer, Aerosmith guitarist Brad Whitford joined the band onstage for 'Ain't That a Shame.'
The tour kicks off Nov. 8 in Oklahoma City and continues through Dec. 13 in Nashville. In addition to classic favorites like 'Dream On,' 'Sweet Emotion,' and 'Walk This Way,' you can look for some of the 'Music From Another Dimension' material to find its way into sets. 'Legendary Child' was a hit over the summer, and the group recently revealed the new tracks 'What Could Have Been Love' and 'Lover Alot.' Tickets for the run go on sale this coming Monday, Sept. 24, at LiveNation.com. For VIP ticketing and special packages, check out the band's website at www.Aeroforceone.com.
Aerosmith initially planned to have the record out this summer, but eventually pushed it back to Nov. 6. Guitarist Brad Whitford revealed that the change in schedule had to do with the film'G.I. Joe: Retaliation' being pushed, as the group had a song on the soundtrack and the tie-in was no longer there for the late summer push. However, Whitford says, "Everybody in the band contributed music to the album. We're so psyched about it. It's going to blow people's minds. The band sounds and played better than ever." He concludes, "It'll be worth the wait."
Aerosmith Fall 2012 Tour:
11/8 — Oklahoma City, Okla. — Chesapeake Energy Arena
11/11 — Wichita, Kan. — INTRUST Bank Arena
11/14 — Kansas City, Mo. — Sprint Center
11/16 — Austin, Texas — Erwin Center
11/20 — New York, N.Y. — Madison Square Garden
11/23 — Atlantic City, N.J. — Revel Resorts – Ovation Hall
11/25 — Columbus, Ohio — Nationwide Arena
11/27 — Toronto, Ontario — Air Canada Centre
12/1 — Las Vegas, Nev. — MGM Grand Garden Arena
12/3 — Los Angeles, Calif. — Staples Center
12/6 — New Orleans, La. — New Orleans Arena
12/9 — Fort Lauderdale, Fla. — BB&T Center
12/11 — Tampa, Fla. — Tampa Bay Times Forum
12/13 — Nashville, Tenn. — Bridgestone Arena
Source:
Aerosmith Announce New Fall 2012 Tour Dates