Angus Young Talks Axl Rose's AC/DC Contribution: 'He's Been Really Good'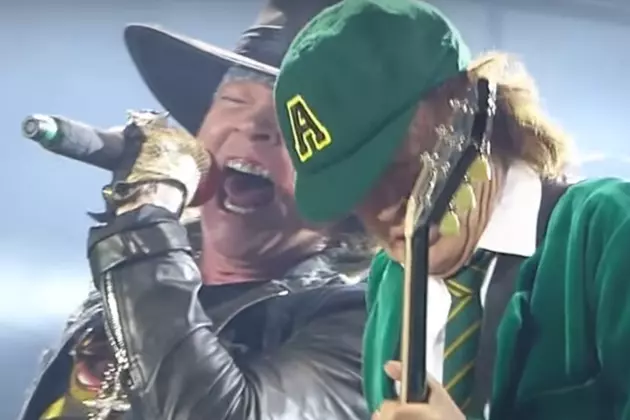 AC/DC leader Angus Young has admitted he doesn't know whether the band will continue beyond its current tour — but if it does, he sounds like he'd be more than willing to keep Axl Rose at the mic for future projects.
"He's been really good," Young told Rolling Stone. "He prepares himself, ready to go. We sit and chew the fat before we get on, work out what songs we want to do. It's gotta be fun for him, and for us. In the beginning, he was confined to that chair he borrowed from Dave Grohl. But as soon as he could, he was out and moving."
Lauding Rose's work ethic, Young discussed the way he volunteered for the gig after word got out that longtime AC/DC singer Brian Johnson had been sidelined due to hearing loss — and impressed the group with his knowledge of the back catalog. "He came to a rehearsal place we set up in Atlanta, and he'd done his homework," he recalled. "He had a few songs like 'Touch Too Much' – 'Can you play this one?' 'No, we never learned it.' We had never attempted to play it live."
With Young's brother Malcolm already out of the lineup due to his own array of health issues, and long-tenured bassist Cliff Williams having recently announced his retirement, another AC/DC record seems somewhat unlikely at this point — but if it does happen, Young feels like Rose gives the band a ton of vocal flexibility.
"He's more in the Bon style – the rock 'n' roll character," he responded when asked to compare Rose to Johnson and his predecessor, Bon Scott. "And he's got his own folksy humor. He's pretty quick with a quip. Axl has different vocal ranges. You can hear him one way in a Bon song. Then he can flip and do Brian, the higher register."
AC/DC Albums Ranked Worst to Best
Source:
Angus Young Talks Axl Rose's AC/DC Contribution: 'He's Been Really Good'