Members of Blondie and the Cars Come Together to Form the Empty Hearts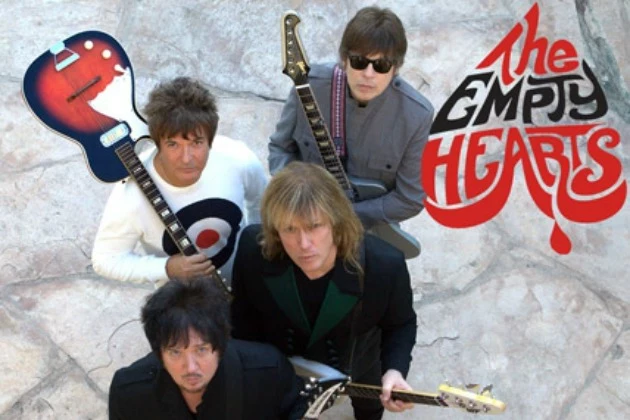 Elliot Easton of the Cars and Blondie's Clem Burke have already done pretty well for themselves on the band front, but that doesn't mean they aren't willing to play the odds by starting another group.
Easton and Burke are part of the lineup for the Empty Hearts, a new '60s-inspired garage band formed by Chesterfield Kings bassist Andy Babiuk. With Romantics singer Wally Palmar on lead vocals and keyboard assistance from ex-Faces member and legendary session player Ian McLagan, the band recently entered the studio with veteran producer Ed Stasium to record their first LP. The self-titled effort is due Aug. 5 on 429 Records and the first single, 'I Don't Want Your Love (If You Won't See Me),' can be streamed below.
As Babiuk told Billboard, the spark for the Empty Hearts was struck while he was working with E Street Band guitarist Steven Van Zandt — who also happens to be the Chesterfield Kings' label boss — on rounding up vintage musical equipment for the 2012 film 'Not Fade Away.' "It was 'remember when we were kids and more inspired by the Stones, the Beatles and the Kinks?'," he recalled. "That vibe when you just have fun? Wouldn't it be fun again? That was the promise and it's still the cardinal rule of the band."
After waiting for Palmar to finish his touring duties with Ringo Starr's All-Starr Band, Babiuk rounded out the rest of the lineup, and they convened with Stasium for a round of recording sessions that lived up to that cardinal rule. "If you make a mistake, you have to throw in 20 bucks," he told Billboard. "I think four or five songs were done in one take. Having the four guys in the room, that energy, really comes through in the record. When a band is playing music and having fun, people can sense that, and that's when it catches on."
All that was left was to find a name — which they eventually received courtesy of Van Zandt. "He had a list of 20 kickass names and we looked up the ones we liked and somebody was using it," Babiuk recalled. "About three weeks later I get a text from Steven. 'You guys are going to be called the Empty Hearts.' I copied the text to other guys and said 'any of you want to argue with Silvio Dante?' It was a name nobody was using."
From the group's mission statement to its logo, the Empty Hearts are obviously, unapologetically retro, but Burke stresses that the band's roots in the past haven't kept them from facing the future. "Those common influences are what brought us together. We're survivors and lifers of rock 'n' roll. We take from everything that's come before musically," he said in the press release announcing the album. "A lot of people have never heard or seen a band like this. There's a freshness to it, at the same time as it's a recollection of the past."
Source:
Members of Blondie and the Cars Come Together to Form the Empty Hearts