26 Years Ago: Keith Richards Releases Chuck Berry Documentary 'Hail! Hail! Rock 'n' Roll'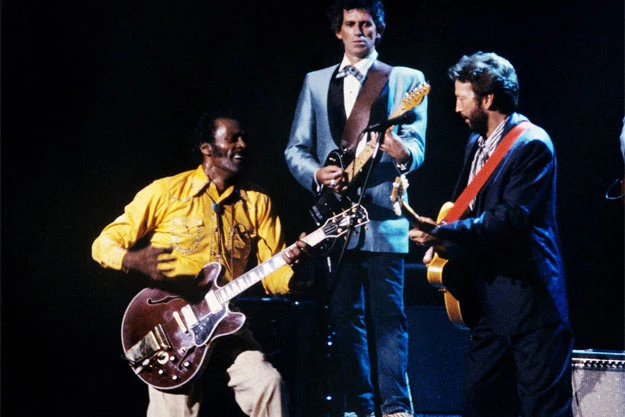 One of the most highly regarded rock documentaries got its start 27 years ago this week, when director Taylor Hackford and musical producer Keith Richards filmed the two concerts held for the all-star Chuck Berry tribute 'Hail! Hail! Rock 'n' Roll' in St. Louis on Oct. 16, 1986. The movie was released a year later.
Featuring Berry performing a set full of classic hits alongside a passel of rock royalty (including Eric Clapton, Richards, Joe Walsh, Linda Ronstadt, and Etta James) as well as a few younger artists influenced by Berry's work (such as Julian Lennon and Robert Cray), 'Hail! Hail! Rock 'n' Roll' sparked a new wave of appreciation for his music while spinning off a successful soundtrack album.
The songs were the movie's main draw for most, but Hackford earned raves for offering filmgoers a peek into Berry's private life and creative process; as critic Robert Christgau put it at the time, it's "a wickedly funny and moving rock-doc classic, exposing Berry the money-grubbing control freak without devaluing his genius in the process."
The film saw release a little less than a year after the concerts were held, arriving in theaters on Oct. 9, 1987. The concerts were timed to celebrate Berry's 60th birthday on Oct. 18, 1986 — which means this Thursday, the legend will turn 87. What better way to celebrate his latest milestone than sitting down for another viewing of 'Hail! Hail! Rock 'n' Roll'?
Watch Keith Richards and Chuck Berry Perform 'Roll Over Beethoven'
Source:
26 Years Ago: Keith Richards Releases Chuck Berry Documentary 'Hail! Hail! Rock 'n' Roll'