Eric Clapton Crowd Boos After Concert Is Cut Short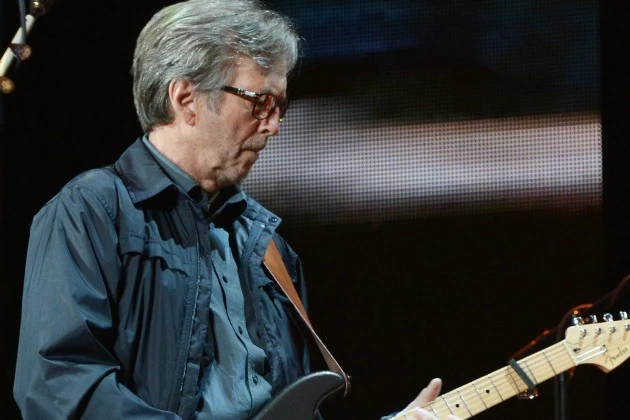 Roughly 12,000 Glasgow concertgoers went from screaming "Clapton is God" to booing "Clapton is gone" on June 21, when the guitar legend abruptly ended his show after suffering a series of technical difficulties.
Classic Rock Magazine reports that the show ended partway through the night's rendition of 'Cocaine,' with Clapton leaving the stage without explanation and the audience erupting in catcalls as the crew came out to dismantle the set. Reaction proved so negative later in the evening that admins at Clapton's Facebook page reportedly started scrubbing posts to do damage control.
According to a statement later posted on the page, Clapton's early departure was the only recourse after a tough evening of trying to slog through problems with the venue's sound system. "Unfortunately last night in Glasgow we experienced a steadily worsening technical problem with the PA system that the band battled with throughout the show but by the last song of the set it became unbearable on stage and Eric was unable to complete that number," reads the post. "During the encore break we were able to reset and the band finished as planned with the last number. The usual touring set length runs at 1hr 35 mins so in fact the full set was performed apart from the entirety of 'Cocaine' which had to be curtailed. Eric is nevertheless sorry for the break in the concert and the disappointment of his fans."
It all sounds reasonable enough, although some fans remained annoyed by the lack of explanation from the stage. "Eric was sounding good, then about an hour and 15 minutes he seemed to go off in a huff. Show over," complained DJ Tom Russell. "Poor way to treat 12,000 customers who paid good money."
A spokesperson for the venue, the recently opened SSE Hydro, pleaded ignorance to CRM, insisting, "The production team suffered a technical issue which resulted in the concert ending earlier than anticipated. By the time the venue had been made aware of the circumstances patrons were already leaving. Our staff did their best to convey information to customers as it became known."
Source:
Eric Clapton Crowd Boos After Concert Is Cut Short