How Axl Rose Has Changed AC/DC's Set Lists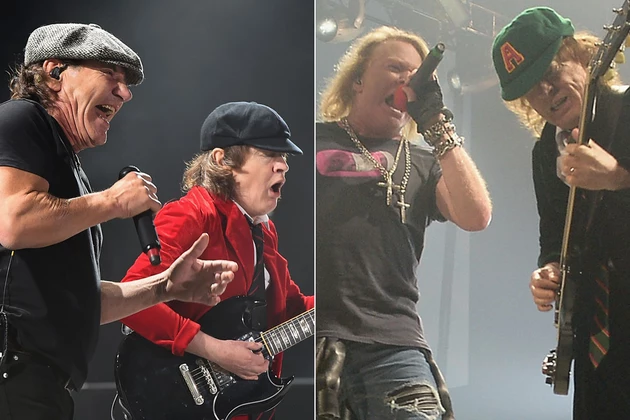 Since Axl Rose took over as AC/DC's singer on their Rock or Bust tour, the band has played increasingly longer shows every night and spotlighted more songs from their early Bon Scott-fronted era.
Here's a quick breakdown of the tour's set lists.
The Rock or Bust tour began in April 2015 with two shows at the Coachella Festival, showcasing a new lineup that featured lead guitarist Angus Young, singer Brian Johnson, bassist Cliff Williams and two new (or returning) members. Drummer Chris Slade, who previously played with the group from 1989 to 1994, took over for Phil Rudd after Rudd's legal issues, and guitarist Stevie Young replaced his uncle Malcolm Young, who was forced to retire from the road due to several serious health issues over the past few years.
Once the tour kicked off in earnest on May 5 in the Netherlands, AC/DC played a 20-song set that featured nine songs from the Scott era and 11 from Johnson's time with the group, including five tracks from their 1980 masterpiece Back in Black and three from their most recent album, 2014's Rock or Bust.
In early February 2016, they dropped the new album's first single, "Play Ball," from the set in favor of the LP track "Got Some Rock & Roll Thunder," and traded "Baptism by Fire" for yet another Back in Black song, "Given the Dog a Bone."
AC/DC With Brian Johnson, Rock or Bust Tour Set List
1. "Rock or Bust"
2. "Shoot to Thrill"
3. "Hell Ain't a Bad Place to Be"
4. "Back in Black"
5. "Play Ball" (until Dec. 15) / "Got Some Rock & Roll Thunder" (Feb. 2 on)
6. "Dirty Deeds Done Dirt Cheap"
7. "Thunderstruck"
8. "High Voltage"
9. "Rock 'n' Roll Train"
10. "Hells Bells"
11. "Baptism by Fire" (until Dec. 15) / "Given the Dog a Bone" (Feb. 2 on)
12. "Sin City"
13. "You Shook Me All Night Long"
14. "Shot Down in Flames"
15. "Have a Drink on Me"
16. "T.N.T."
17. "Whole Lotta Rosie"
18. "Let There Be Rock"
19. "Highway to Hell"
20. "For Those About to Rock (We Salute You)"
Johnson's hearing problems forced the band off the road at the end of February 2016, postponing the 10 shows still remaining on the U.S. leg of the tour. On May 7, the group returned to the road for previously scheduled dates in Europe with Guns N' Roses frontman Rose temporarily helping out. They kept the entire set list from the Johnson-fronted leg of the tour, and immediately added two more songs from the Scott years, "Rock and Roll Damnation" and "Riff Raff."
A week later, they added another Scott gem, "If You Want Blood (You've Got It)," to the show, and when the tour finally returned to the States to complete the 10 postponed shows, they also added "Live Wire," bringing each night's set list up to a whopping 24 songs spanning two and a half hours. Prior to that, AC/DC also performed "Touch Too Much" at three shows, and the Let There Be Rock track "Dog Eat Dog" at one show.
The Rock or Bust world tour — which as you can see from the gallery below has been quite chaotic — concludes Sept. 20 in Philadelphia. Bassist Cliff Williams has said he will retire after that show, leaving Young as the last remaining member of AC/DC's 1994-2014 lineup. The guitarist has said he doesn't know what the future holds for the group.
AC/DC With Axl Rose, Rock or Bust Tour Set List, 9/6/16 (New Songs in Bold)
1. "Rock or Bust"
2. "Shoot to Thrill"
3. "Hell Ain't a Bad Place to Be"
4. "Back in Black"
5. "Got Some Rock & Roll Thunder"
6. "Dirty Deeds Done Dirt Cheap"
7. "Rock and Roll Damnation"
8. "Thunderstruck"
9. "High Voltage"
10. "Rock 'n' Roll Train"
11. "Hells Bells"
12. "Given the Dog a Bone"
13. "If You Want Blood (You've Got It)"
14. "Live Wire"
15. "Sin City"
16. "You Shook Me All Night Long"
17. "Shot Down in Flames"
18. "Have a Drink on Me"
19. "T.N.T."
20. "Whole Lotta Rosie"
21. "Let There Be Rock"
22. "Highway to Hell"
23. "Riff Raff"
24. "For Those About to Rock (We Salute You)"
AC/DC's Chaotic 'Rock or Bust' Tour
Source:
How Axl Rose Has Changed AC/DC's Set Lists