Paul Stanley and Ace Frehley Continue Arguing Over Anti-Semitic Allegations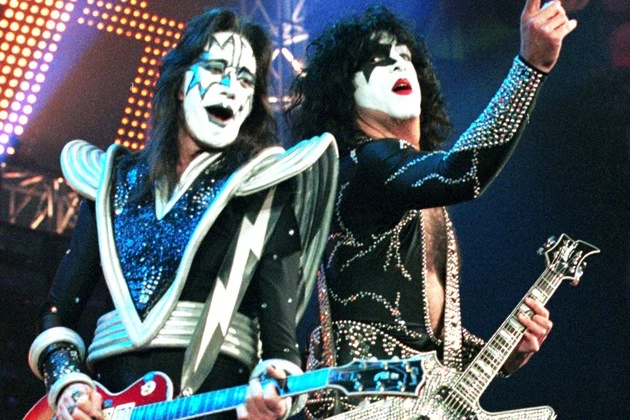 Who needs Kiss to perform at the Rock and Roll Hall of Fame induction ceremony? They're already giving us a show.
The latest Kiss kerfuffle, sparked when Paul Stanley devoted a portion of his new memoir to accusing former members Ace Frehley and Peter Criss of racist and anti-Semitic behavior, has spilled over into a pair of recent interviews in which Frehley and Stanley continued to trade barbs.
Frehley, who earlier attributed Stanley's remarks to an effort to sell more books with "dirt," addressed the topic again during an appearance on Eddie Trunk's 'Trunk Nation' show, saying, "They can't call me a drunk or a drug addict anymore, so they're grasping at straws. I mean, Jesus Christ! My fiancee is Jewish. How can I be anti-Semitic? Is he out of his mind? Forty years in the music business — I've worked alongside Jewish people my whole life. And I'm anti-Semitic? It's ridiculous. I think he's trying to sell his book, and it's a pretty sad commentary if he has to resort to verbal slurs and innuendo. It's ridiculous."
Stanley stuck to his guns in a separate interview, however, retorting, "Unfortunately, I can't say it's taken out of context. It's very clear that there are a lot of people who are anti-Semites. There are a lot of people who, underneath the surface, have a resentment towards the resiliency or the determination of Jews. If you want to hang your inadequacies or your failures on somebody, it seems that, 'Hey, it's his fault.' So, no, I stand behind what I said and I have no agenda and I'm not saying anything to be vindictive, I'm not saying anything to be malicious. I'm just stating the facts."
Much as the former bandmates may disagree about this topic (and, presumably, many others), Frehley again stressed that he doesn't plan on getting into any arguments at the Hall of Fame ceremony. "I'm not gonna get into it, because I believe in taking the high road and I believe in just accepting my award and enjoying the evening," he told Trunk. "I'm not gonna stoop to their level of ridiculousness. I think everybody's just gonna rise to the occasion and try to get along."
Source:
Paul Stanley and Ace Frehley Continue Arguing Over Anti-Semitic Allegations