Def Leppard's Phil Collen Gives Master Class at Performing Arts High School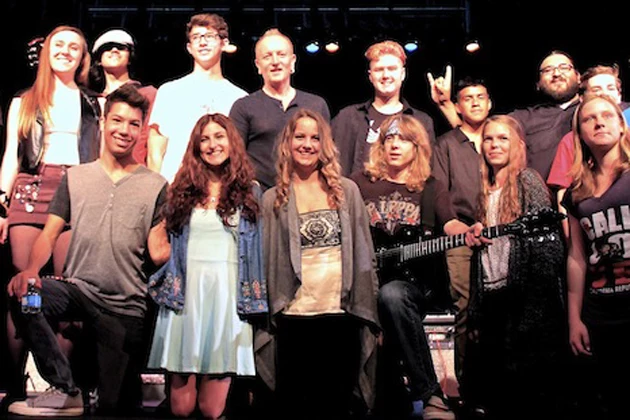 The day after the big press conference announcing his band's summer tour with Kiss, Def Leppard guitarist Phil Collen paid a special visit to the Orange County High School for the Arts in Santa Ana, Calif.
In full disclosure, I've known Phil and his wife Helen for a number of years and they are both extremely gracious people. So when my 17-year-old daughter, Claire (who is a junior studying Music and Theater at the school) asked Phil recently if he would consider making an appearance, I was not surprised when he obliged. It was all just a matter of waiting for him to find a window of opportunity between his busy schedule of recording with Def Leppard and his myriad of solo projects.
This particular high school is renowned for its exceptional arts programs including Musical Theater, Production, Design and of course, Music. And when the many guitar students learned who would be coming in to do a master class, it's an understatement to say that there was a buzz in the air at the Webb Theater, which the school owns and uses as a primary production facility.
Once we arrived at the theater and got set up, it was clear right away that this was going to be one of the most popular sessions in recent school history. A couple of hundred students and even some parents were on hand for this special appearance, and as usual, Phil exceeded everyone's expectations.
The program included an interview conducted with Phil by myself; a discussion that was punctuated with Phil's guitar. At various points in our conversation, he gave examples of certain playing styles and songs that he's worked on over the years. Not only was he thoroughly entertaining while sharing stories and numerous riffs, but he also brought along a special guest, Debbi Blackwell Cook, his duet partner in a soulful new endeavor called Delta Deep. The pair treated the audience to a pair of down-and-dirty blues vamps to which the kids responded enthusiastically.
Then, as a surprise to Collen, four groups of students each performed their take on a Def Leppard classic. 'Photograph,' 'Rock of Ages,' 'Hysteria' and 'Pour Some Sugar on Me' were all delivered with style and all the rough edges that happen when kids have just one day to work up a tune.
After the master class concluded, Collen stayed on stage for about an hour to sign autographs and take photos with all of the kids. Afterwards he told me that he had as much, if not more, fun than the starry-eyed students. "You learn from kids like this," he said. "They remind you of where you come from and they give you an idea what the next generation will be like."
Vasil Chekardzhikov, Coordinator of the school's guitar program, said, "Phil left an inspiring mark in the hearts of each student that will lead a path to a successful future in years to come."
Daryl Hernandez, instructor for the school's Guitar program, offered, "Phil's advice on staying straight and working hard was an important lesson he learned from his life experience. I believe the most important lesson all the students learned wasn't through what Phil said but what he did. He was generous with his time and gave us all an experience we will never forget. To be an internationally renowned musician/rock star and to be as humble, generous, kind and genuine as he is, is the most important thing. That lesson, for my students and I, is the most important lesson we will ever have. I look forward to my students having the opportunity to teach that lesson someday."
Watch Phil Collen Perform 'Hysteria'
Subscribe to 103.7 The Hawk on
Source:
Def Leppard's Phil Collen Gives Master Class at Performing Arts High School