Phish Invite Peter Gabriel to Perform 'The Lamb Lies Down on Broadway' Onstage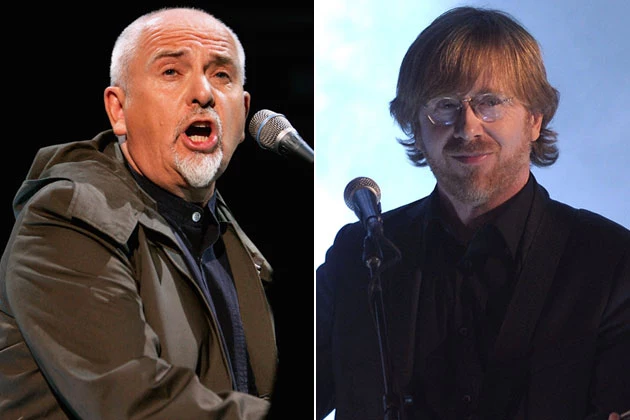 Peter Gabriel performing the complete classic Genesis album 'The Lamb Lies Down on Broadway' onstage? It could happen, and with Phish as Gabriel's backing band.
In fact, it's been a topic of discussion before. In 2011, Gabriel told Rolling Stone that the jam band had approached him about backing him for a complete 'Lamb' show but that the talks "didn't go anywhere." Nevertheless, it seems Phish frontman Trey Anastasio hasn't given up on the dream.
"I'm such a big fan of Peter Gabriel, I can't even begin to tell you," Anastasio recently told Rolling Stone. "I've been one my whole lifetime, so just hearing his voice on the phone was kind of exciting. If he wanted to [perform 'The Lamb'] with us, I would do it."
Like a lot of young music fans in the '70s, the guys in Phish forged a strong bond with the album in their youth. As Anastasio put it, "That album had a huge effect on me, and [Phish drummer] Jon Fishman as well. I spent most of my high school years in a dark closet with headphones on listening to 'The Lamb Lies Down on Broadway.'"
The prospect of Gabriel performing 1974's 'Lamb' has tantalized fans for years. In 2005, he had a few discussions with his former Genesis bandmates about taking the album on tour, but as Rolling Stone put it, "he bailed when it seemed like too big a commitment."
With Phish set to take the stage for its annual performance of a complete classic album on Oct. 31, the time might finally be right. "I can play that album in my sleep, but we'll only do it if [Gabriel] does it with us," Anastasio vowed. "Peter Gabriel, if you want to do 'The Lamb Lies Down on Broadway' with us this Halloween, we're your band."
Source:
Phish Invite Peter Gabriel to Perform 'The Lamb Lies Down on Broadway' Onstage