Steven Tyler Announces 'Out on a Limb' Summer Solo Tour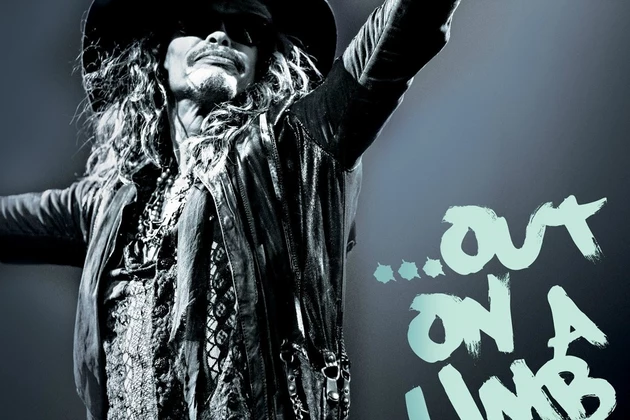 Steven Tyler will spend the summer going "Out on a Limb" with his first full-fledged solo tour.
Tyler's 19-city trek will find him focusing on smaller venues, and performing a set that mixes Aerosmith hits with material from his upcoming debut solo LP. Between numbers, Tyler intends to share stories behind the songs.
"What would I not pay to go see McCartney, but instead of playing with whoever he's with now, actually do [a show] where he tells you what he was thinking when he wrote 'Yesterday'?" Tyler asked USA Today. "That's what I'm doing. I figured I'd talk about 'Sweet Emotion' and 'Dream On' and where I was when I wrote it, and 'Seasons of Wither' and how I played it."
Though a title and release date for Tyler's country-influenced solo effort still remains unannounced, he added that taking this route for the LP was a "shoo-in" for him and promised a "full-on country feel" for the finished product, which he's working on with producer T Bone Burnett. Tyler also reserved particular praise for the Nashville band Loving Mary, which is backing him up on his solo dates.
"It really is beautiful getting out there and singing with a band, where I can look at all the guys and go 'Stop playing right now,' and we'll just sing a cappella. I've never been in a band like that, so it's a whole new thing for me," said Tyler. Of Aerosmith's current status, he added, "It was time for a little break. I'm such a passionate person that if I don't go after my muse like that, I'll wind up on drugs again. I'll wind up arguing with people and just no good."
Steven Tyler Out on a Limb 2016 Tour Dates
7/02 – Las Vegas, NV – Venetian Theatre
7/05 – Los Angeles, CA – Dolby Theatre
7/08 – Seattle, WA – Marion Oliver McCaw Hall
7/10 – Vancouver, BC – Orpheum Theatre
7/14 – San Francisco, CA – The Masonic
7/20 – Phoenix, AZ – Comerica Theatre
7/23 – Denver, CO – Ellie Caulkins Opera House
7/26 – Austin, TX – Bass Concert Hall
7/29 – Houston, TX – Brown Theater at Wortham Center
8/01 – Dallas, TX – Music Hall at Fair Park
8/13 – Chicago, IL – Chicago Theatre
8/17 – Nashville, TN – Andrew Jackson Hall at TPAC
8/23 – Washington, D.C. – Warner Theatre
8/29 – Clearwater, FL – Ruth Eckerd Hall
9/01 – Atlanta, GA – Cobb Energy Performing Arts Center
9/04 – Boston, MA – Citi Performing Arts Center Wang Theatre
9/07 – Philadelphia, PA – Academy of Music
9/10 – Providence, RI – Providence Performing Arts Center
9/13 – Toronto, ON – Sony Centre for the Performing Arts
Aerosmith Albums Ranked Worst to Best
Source:
Steven Tyler Announces 'Out on a Limb' Summer Solo Tour