Tedeschi Trucks Band Share New Song From Upcoming 'Made Up Mind' Album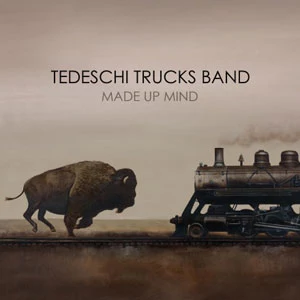 The Tedeschi Trucks Band has revealed a song called 'Part of Me' as the first offering from their upcoming 'Made Up Mind' album. The uptempo, soulful blues track features a revved up Susan Tedeschi singing over husband Derek Trucks' signature guitar. A powerful horn and backup vocal section lay a foundation for the vibrant new cut, available to stream through Ultimate Classic Rock.
The group announced the release of 'Made Up Mind' on their website last month, scheduling the album for August 20. It's their third album, the studio follow-up to the Grammy-winning 'Revelator' from 2011. 'Everybody's Talkin" from 2012 was a live album.
'Made Up Mind' was produced by Jim Scott and Trucks, and recorded at the Swamp Raga Studios in Jacksonville, Fla. They recorded the project on a Studer tape machine as opposed to using digital technologies. "We didn't do it just because it's a romantic notion," Trucks says. "We did it because it feels and sounds better."
The album will have 11 tracks, with other titles like 'Do I Look Worried,' 'Idle Wind' and 'Sweet and Low.'
Source:
Tedeschi Trucks Band Share New Song From Upcoming 'Made Up Mind' Album