'This Is the End' Red-Band NSFW Trailer: Emma Watson Steals Seth Rogen and James Franco's Supplies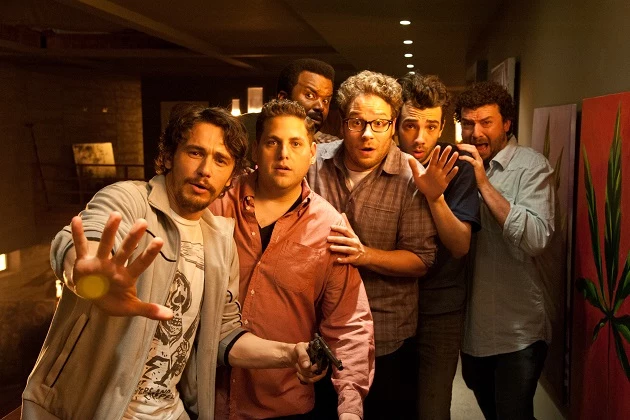 'This is the End' got an early jump on April Fool's Day by releasing a fake trailer for 'Pinapple Express 2,' but that was all a build-up to the latest trailer for the movie, which is NSFW, filthy and filled with violence. It's also pretty great.
If you ever wanted to see Michael Cera blow cocaine into Christopher Mintz-Plasse's face, or hear Mindy Kaling talk up Cera, or watch Aziz Ansari die terribly, have we got a movie for you! 'This is the End' follows the all-star line-up of James Franco, Seth Rogen, Craig Robinson, Jay Baruchel, Jonah Hill and Danny McBride as they try to survive the rapture. It appears that Emma Watson is doing a much better job at that, though.
The film was directed by Seth Rogen and his longtime writing and producing partner Evan Goldberg, and what the trailer makes obvious is that there's a ton of cameos in the film, and many of those people who show up are going to die horribly. There's always a balancing act that comes with films like this: It can be amusing to see celebrities make fun of themselves, but if done poorly it could feel like one long in-joke. We shall see when the film hits theaters June 12. Here's that trailer:
Subscribe to 103.7 The Hawk on

Source:
'This Is the End' Red-Band NSFW Trailer: Emma Watson Steals Seth Rogen and James Franco's Supplies