Vince Neil Battles Twitter Followers Over Gun Control Following Newtown Tragedy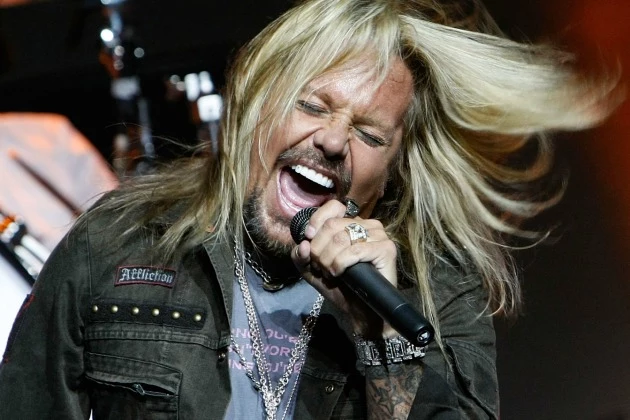 The tragedy that unfolded last Friday (Dec. 14) in Newtown, Conn. has provoked a wide variety of responses, as well as a renewed national debate over gun control laws and mental health policy — and, as it turns out, Motley Crue singer Vince Neil has his own viewpoint to add to the discussion, whether his fans agree or not.
As many celebrities are wont to these days, Neil shared his views on Twitter, reacting to the Newtown massacre by telling followers, "Sad day today. Prayers to all the families. Gun Control!!!" Apparently, a fair number of his fans weren't in the mood to think about strengthening firearm regulations — much to the singer's dismay.
Neil expressed his frustration with the response to that tweet a little later, venting, "Why is everyone so concerned with guns? What about the CHILDREN that were MURDERED today! Get your priorities straight!! Come on people!! … I did say gun control but I didn't think 90% of you would care more about your gun than dead children!!!"
But the arguments didn't end there, apparently, because a few hours later, Neil returned to weigh in with what was presumably his final strongly worded statement on the subject: "F— YOU to EVERYONE who puts guns in front of kids!! Do not come to ANY shows! You are sick!!"
Neil's tweets may have rankled some fans, but for at least one of his peers, they were cause for celebration. As Sebastian Bach told him during the fracas, "I have dug your whole scene since I was 12 or 13. But reading your twitter today makes me dig you more than ever before."
Source:
Vince Neil Battles Twitter Followers Over Gun Control Following Newtown Tragedy