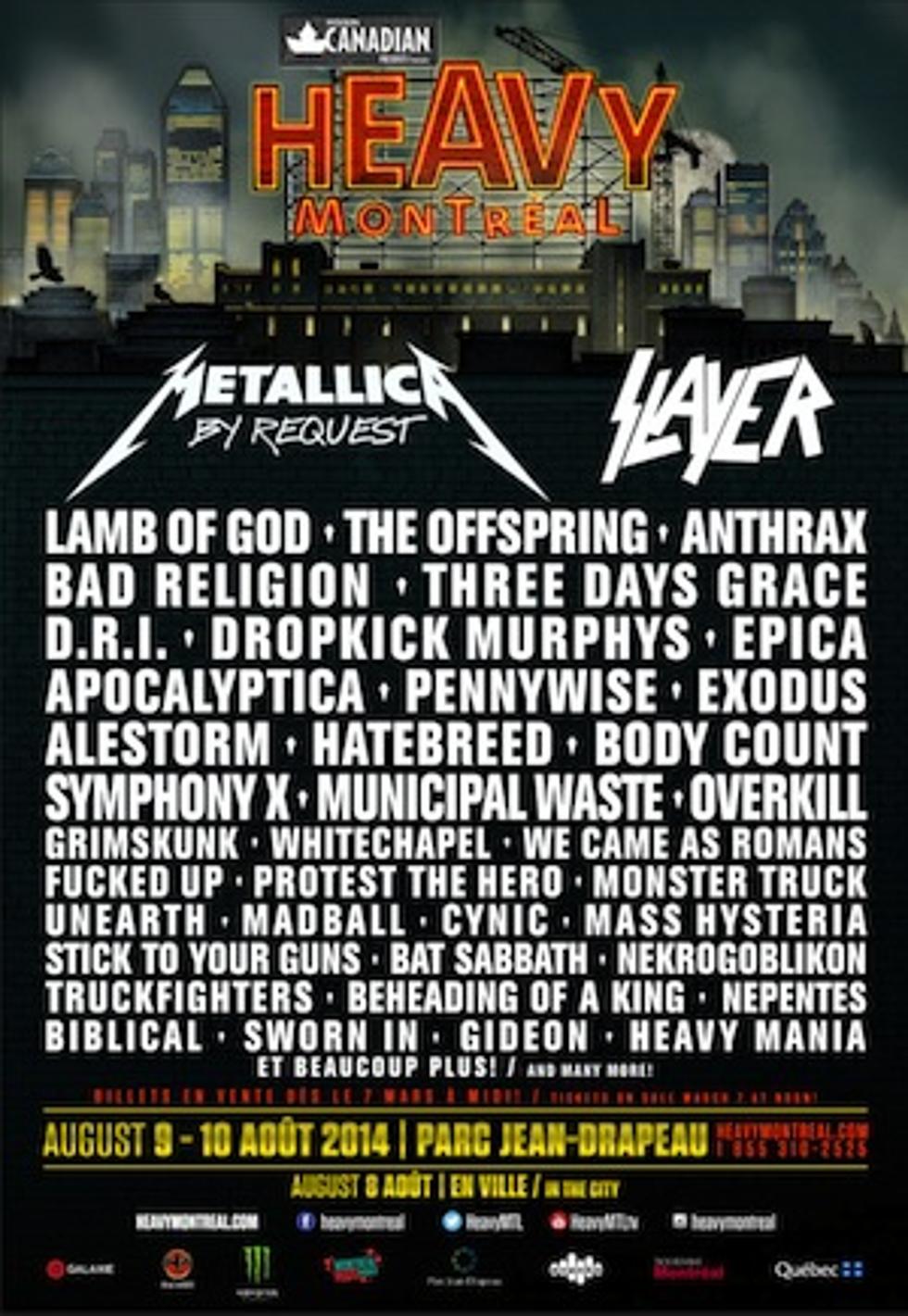 Metallica, Slayer, Lamb of God + Anthrax Head Up 2014 Heavy Montreal Festival
Heavy Montreal 2014
That rumble you just felt came from Canada as organizers of the Heavy Montreal Festival have unveiled a lineup worthy of its name. When you start with Metallica, Slayer, Lamb of God and Anthrax, you know you've got a rocking music weekend on tap.
This year's extravaganza is set for the weekend of Aug. 9-10 and will take place at Parc Jean-Drapeau in Montreal. Joining the four metal heavyweights on this year's bill will be Hatebreed, Three Days Grace, The Offspring, Bad Religion, Apocalyptica, Exodus, Overkill, Whitechapel, Unearth, Protest the Hero, Pennywise and many more. To see the full lineup for this year's event, see the festival poster (pictured) or click here.
Metallica's set will be part of their 'By Request' series of shows, which allows ticket holders to pick the setlist for the concert. The Heavy Montreal appearance will be Metallica's only North American show of the summer.
Tickets for the Heavy Montreal Festival go on sale this Friday (March 7) at noon ET. There are also travel and lodging packages available. Check out the festival's ticketing section for more details.
The Heavy Montreal Festival, formerly known as Heavy MTL, is now in its sixth year after launching in 2008 (there was no festival in 2009). Last year's event featured such heavy hitters as Megadeth, Avenged Sevenfold, Rob Zombie and Godsmack leading the way. Other past headliners have included Motley Crue, Disturbed, Iron Maiden, Korn, Alice Cooper, Motorhead, KISS, Slipknot, Marilyn Manson, Five Finger Death Punch, System of a Down and Deftones among others.