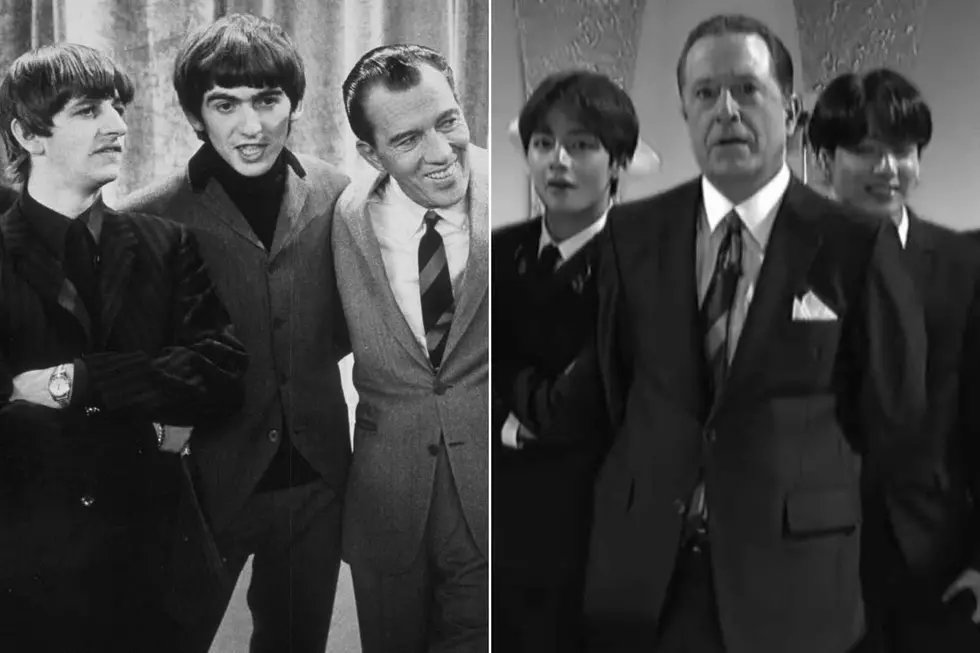 BTS Dress Up Like the Beatles on 'Late Show With Stephen Colbert'
Hulton Archive, Getty Images / CBS
The K-pop band showed up on Colbert's program, which is broadcast from the same theater where the Beatles made their U.S. debut on The Ed Sullivan Show, and parodied that history-making event from 1964.
The new segment was recorded in black-and-white, with a bit of a tease: "Exactly 50 years later, plus five more years, three months, six days, a new batch of mop-topped heartthrobs has landed."
With the set designed to look like it did on Feb. 9, 1964, host Colbert impersonated Sullivan, thanking the previous act, "Cassius Clay and his spinning plates," and calling the hysteria surrounding them "BTSmania."
Then all seven members of the group, dressed up like the early Beatles, introduced themselves (though there wasn't a "Sorry girls, he's married" note beneath any of their names, as there was for John Lennon back in 1964). Colbert said they were better known by their nicknames, with all of them being called "the cute one." Behind the band was a drum set with the group's name -- stylized in a manner similar to the Beatles logo -- on the kick drum.
BTS performed "Boy With Luv," which can be found on their new EP Map of the Soul: Persona. Afterward, Colbert said, "We'll be right back with the plate-spinning magic of Vice President Hubert Humphrey."
You can watch the introduction and performance below.
The Best Song From Every Beatles Album