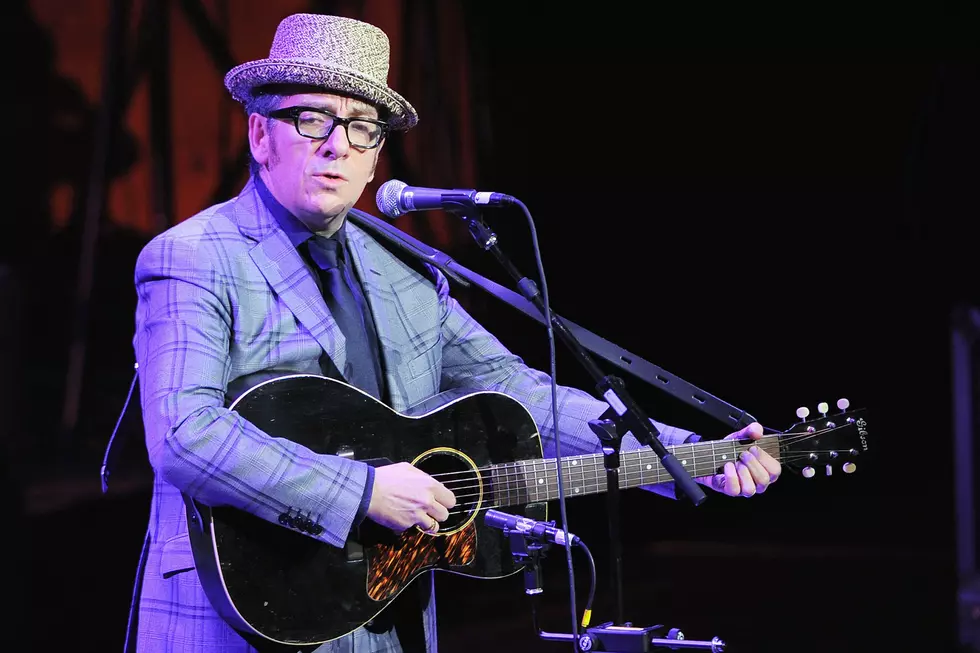 Elvis Costello's Mom Told Him To Accept O.B.E. Honor From Queen Elizabeth
Larry Busacca, Getty Images
Elvis Costello responded to the announcement that he'd been awarded a British Empire honor by revealing that he'd planned to refuse it – until he spoke to his mom.
He was named among Queen Elizabeth's birthday honors as a recipient of an Officer of the Order of the British Empire title, which means he can use the letters O.B.E. after his name. Former Undertones frontman Feargal Sharkey also got an O.B.E. while Mike + the Mechanics singer Andrew Roachford received an M.B.E. (Member of the Order of the British Empire). Songwriter and producer Mitch Murray got a C.B.E. (Commander of the Order of the British Empire) – the most senior of the three awards.
"I am happy to accept this very surprising honour," Costello wrote on his website. "I have to admit that my first reaction, upon receiving an 'O.H.M.S.' letter was, 'Oh no, they've finally tumbled me.'" He went on to say that he decided to hold off on replying until he'd spoken to his mom, Lillian MacManus.
He told her that outgoing British Prime Minister Theresa May had recommended him for the honor. "'But she's rubbish,' Lillian cut in before I could complete the news. Well, that aside, I said, 'Of course, I won't be accepting the award.' I didn't get much further with that statement either. I listened carefully to my mother's argument that if something is deserved then one must be gracious in acceptance. So, as a good lad, who likes to do what will make his Mam most proud, I knew that I must put old doubts and enmities aside and muster what little grace I possess."
He reflected on the history of the British Empire and what it meant to him, before saying: "It would be a lie to pretend that I was brought up to have a great sense of loyalty to the Crown… I used to think a change might come but when one considers the kind of mediocre entrepreneur who might be foisted upon us as a President, it's enough to make the most hard-hearted 'Republican' long for an ermine stole, a sceptre and an orb."
Costello added: "To be honest, I'm pretty tickled to receive this acknowledgement for my 'Services To Music,' as it confirms my long held suspicion nobody really listens to the words in songs or the outcome might have been somewhat different."
Rock Stars Who Have Been Knighted