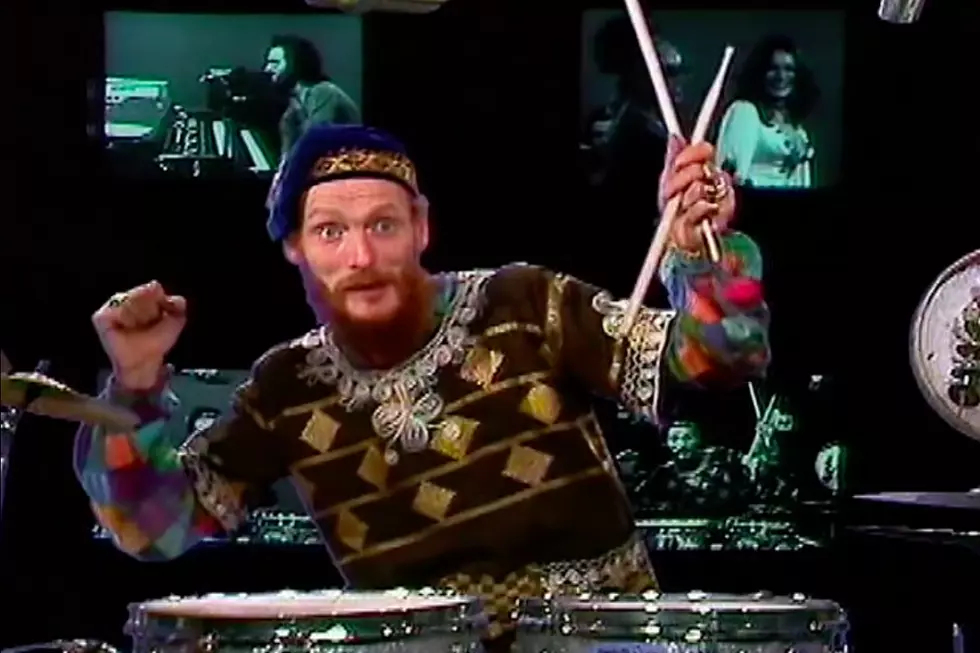 How Ginger Baker Soared Again With the Bulked-Up 'Air Force'
YouTube
Ginger Baker wasn't happy about the way Blind Faith fell apart in late 1969, but he didn't waste any time moping. Instead, he went and started a whole new band.
Standing in stark contrast to the power trio format he'd explored with Eric Clapton and Jack Bruce in Cream — or the expanded four-piece employed by Blind Faith on their one and only album — Bruce went big for his next project. Ginger Baker's Air Force was a huge 11-member outfit.
As he insisted to Disc and Music Echo in the spring of 1970, it all happened because he was lied to by Clapton, who departed Blind Faith to join up with the band's onetime opening act, Delaney and Bonnie.
"I was very bitter after the U.S. tour with Blind Faith. You know, I was so shattered, I had to go away for two months' rest," Baker said. "When I came back, I had been led to expect that we'd tour Britain with Delaney and Bonnie second on the bill – which is where they belong. I'm afraid I have no respect for a band that has to resort to good old rock and roll to get an audience interested. Anyway, instead of that I came back to find that Eric had got into the D&B thing and there was no tour and no Blind Faith."
It was, according to Baker, another example of shoddy treatment from musicians he'd tried to help.
"At the start, Cream was mine. I took a drop in salary to start Cream, whereas Jack and Eric took a step up. Cream was always my baby. Musically, it was great and I think we said all we could, the way things were at the time," Baker noted in the 1970 interview. "I'm not an easy person to get on with, I know, but I don't bear people grudges, and as I'd been talking about getting a big band together one day, I thought I might as well go ahead."
Listen to Ginger Baker's Air Force Play 'Da Da Man'
That big band received its introduction to record stores with Ginger Baker's Air Force, a two-LP collection of performances from the group's sold-out show at the Royal Albert Hall on Jan. 15, 1970. Released mere weeks later during the final days of March, it found Baker working with an illustrious lineup that included his former Blind Faith bandmates Steve Winwood and Ric Grech as well as ex-Moody Blues member (and future Wings guitarist) Denny Laine, U.K. R&B legend Graham Bond, and Winwood's fellow Traffic member Chris Wood.
Nearly 80 minutes long, Air Force blended original material with new arrangements of traditional songs, all of which were given plenty of room to grow; the shortest song on the album, a version of "Man of Constant Sorrow" featuring Laine on lead vocals, was the only cut to come in under four minutes, while five others passed the 10-minute mark. While traction at Top 40 radio was understandably hard to come by, the album itself performed respectably, reaching No. 33 in the U.S. and No. 37 in the U.K.
Telling Record Mirror he'd been imagining a project like this "for a long time," Baker insisted that as annoyed as he might have been by Clapton's defection, the Air Force's lineup came together easily and organically. "There didn't seem to be much happening Blind Faith-wise," he recalled. "I got together with Chris and Stevie at the cottage, and a few sounds were very nice. Then Rick got interested, and I just got together a lot of people who could do it. They were all people I'd worked with before. I have difficulty getting my ideas over to some musicians, but not to these people; they sort of help."
Understandably reluctant to make any grand promises about longevity after the way Cream and Blind Faith had flamed out, Baker projected a casual attitude toward the Air Force's future prospects, telling Record Mirror it would "depend on circumstances."
Listen to Ginger Baker's Air Force Play 'Do What You Like'
As he explained in his conversation with Disc and Music Echo, the band had actually started out as something that was only supposed to last for a pair of concerts.
"We'd spent so much time rehearsing and we all had such a ball at the Albert Hall that everyone except Stevie Winwood and Chris Wood decided to carry on," said Baker. "It was a great surprise to me and a tremendous compliment. In fact I think it's the nicest thing that's ever happened. They're all friends of mine, but I knew they had their own things going for them, and I didn't think they'd want to stick. Their decision has given me an enormous amount of confidence — just at the time I needed it most."
Ultimately, however, Ginger Baker's Air Force would prove to be another short-lived outing for the mercurial drummer. After releasing Ginger Baker's Air Force 2 with a revamped lineup later in 1970, he left the U.K. to begin what ended up becoming a six-year stay in Nigeria, sitting in with Fela Kuti for a spell before joining up with Paul and Adrian Gurvitz to form the Baker Gurvitz Army for three albums later in the '70s.
That restless spirit, which has largely defined Baker's career during his brief tenures with various bands and sporadic forays into solo work, was evident even in the afterglow of the first Air Force album. "Of course I don't think I've reached my best yet. The day I don't move on I stop playing," he told Disc and Music Echo, incorrectly predicting he'd only keep drumming for another five years. "I'll have nothing left to give physically after that. I use both feet the way I play and to be honest it's shattering. After 35 or so, I won't he able to keep it up even if I want to."
See Cream and Other Rockers in the Top 100 Albums of the '60s
See Jack Bruce Among Rock's Forgotten Supergroups