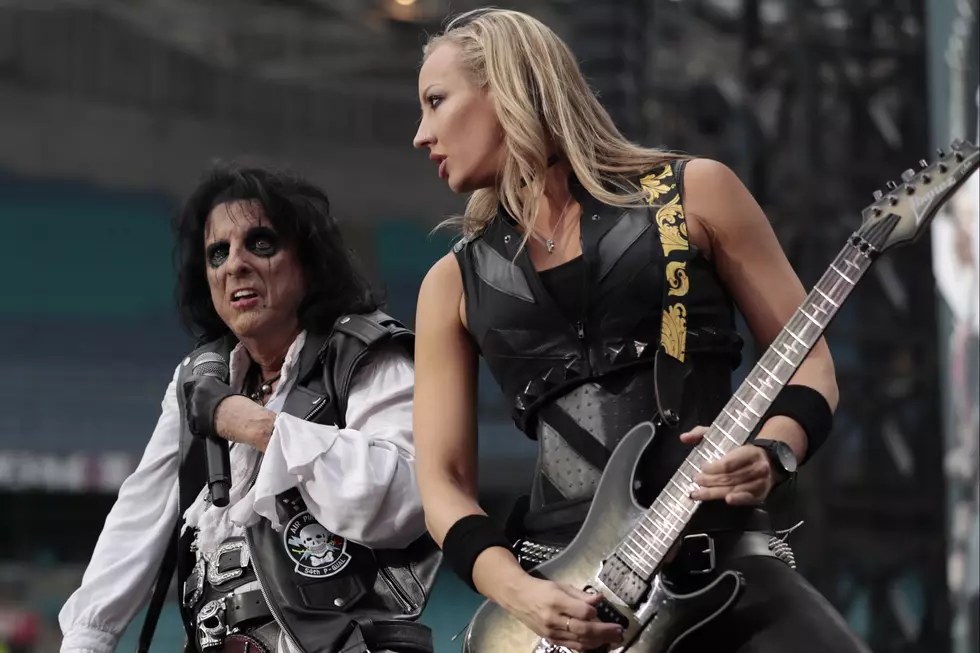 Hear Alice Cooper Guest on Nita Strauss Single 'Winner Takes All'
Cole Bennetts, Getty Images
Alice Cooper can be heard providing lead vocals for his live guitarist Nita Strauss' new single "Winner Takes All." You can hear the song below.
She left the shock-rock icon's band last year but recently returned, and she'll take part in his upcoming headline tour dates plus support slots with Def Leppard and Motley Crue, as well as his co-headlining shows with Rob Zombie.
"When we were working on the music for this album, there was no question that I wanted to create a song to collaborate with my longtime boss and friend, the legendary Alice Cooper," Strauss said in a statement. "I think the track accomplishes what we set out to do: showcase Alice's voice and signature style on the backdrop of a heavy, modern rock track. After many years of lending my style of playing to Alice's music onstage, it was truly an honor to work together and hear his voice on one of my songs."
Strauss' debut solo album, Controlled Chaos, was released in 2018. She recently announced the follow-up will arrive at some point this year, telling The Mistress Carrie Podcast that three "powerhouse" female singers were signed up. "It's gonna be half vocal songs and half instrumental," she explained. "I did feel, and the label and everybody agreed, it's still important for me to keep my identity as a guitar player and not just branch off too much and go, 'OK, well, now it's just guests.' Let me still have a little of what makes me me, which is the instrumental shred stuff."
She added that "the instrumental pieces that I've written on this record are, I think, better than anything I did on the first one. … I don't know if it could be more emotional, but they're very emotional pieces of music, and I think a little better crafted this time around."
Alice Cooper Albums Ranked
You can't kill Alice Cooper.