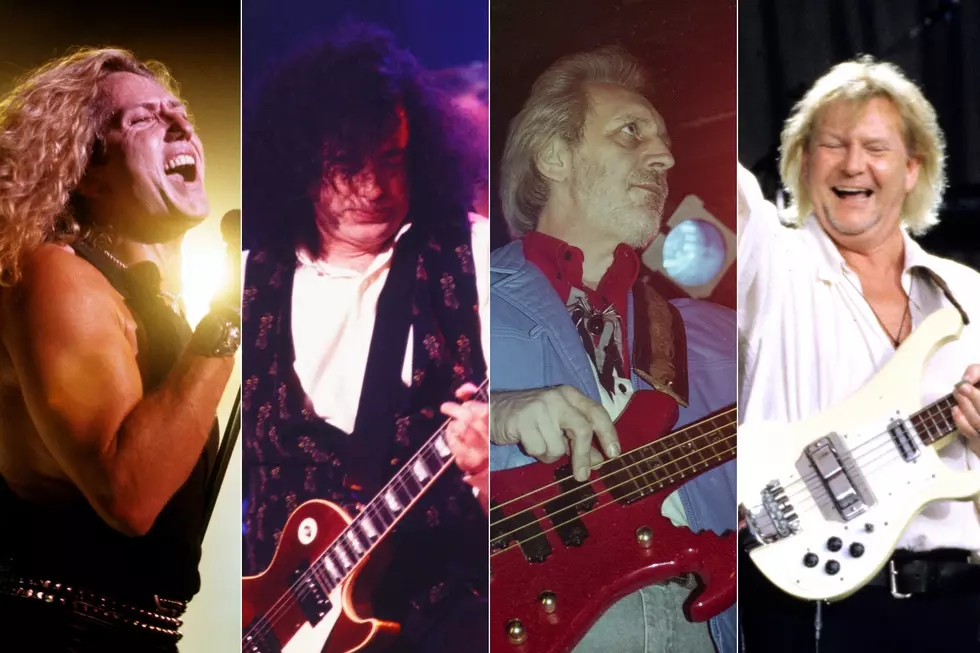 David Coverdale and Jimmy Page Sought John Entwistle or Chris Squire for Joint Album
Mick Hutson / Koh Hasebe / Bill Tompkins / Tim Mosenfelder, Getty Images
David Coverdale and Jimmy Page's joint 1993 album, Coverdale-Page, already had more than enough star power between its two namesake collaborators.
But the short-lived project almost featured a third British rock titan, with the Who's John Entwistle and Yes' Chris Squire both being considered.
"Jimmy and I talked about inviting Chris Squire and the Ox [Entwistle] — those were two of the contenders for Coverdale-Page," Coverdale tells UCR. "And for one reason or another, it didn't happen. But the Ox and Chris, they were just breathtaking players."
David Coverdale Recalls the Who's 'Mind-Blowing' Early Shows
The Whitesnake bandleader cites the Who as his favorite British group and recalls seeing them electrify a local club in their early days. "My local manager took care of a place called the Redcar Jazz Club. On Sundays, they'd have bands like Jethro Tull, Cream, John Mayall and the Bluesbreakers and the Who," he says. "Oh, my God, this is six, seven or eight hundred people, max. Roger [Daltrey] would be flinging that microphone right across our heads. It was mind-blowing. They lifted my head. You remember the joke on Spinal Tap where he goes, 'This one goes to 11'? I thought, 'This can't get any more amazing.' Suddenly, [Pete] Townshend just turned it up to 11 or 12."
READ MORE: Whitesnake's Self-Titled Album: Beyond 'Still of the Night'
Coverdale met the band's wild-man drummer Keith Moon after the gig. "He was still dripping wet from the show," he says. "I went, 'Oh, my God! That was just incredible!' He went, 'Oh, thank you, dear boy!' He does this face with the eye that's Robert Newton out of Long John Silver. That's who he would channel every so often when he was a little bit wobbly."
Coverdale Crossed Paths With Squire and Yes Several Times
The ex-Deep Purple singer also speaks fondly of Squire, noting his ... creative approach to stage clothing. "Chris, bless his heart. He was amazing. He had a stage suit, which he told his personal assistant, who ended up working with me, not to send it to the cleaners," Coverdale remembers.
"Because he was clean and sober at the time. He'd give her a spray bottle full of vodka and say, 'Just [spray] that on the suit.' So while he was performing, this would go into his pores, for God's sake. Nice one, Chris! Nice one! Who are you kidding?"
Watch David Coverdale and Jimmy Page's 'Take Me for a Little While' Video
Coverdale saw the progressive rock legends — "The early days with Peter Banks and Bill Bruford" — perform at the Redcar Jazz Club as well. "'Every Little Thing,' the Beatles song [which Yes covered on their 1969 self-titled debut], blew my mind," he enthuses. "That first Yes album was very, very different to how they turned out with Steve Howe and Rick Wakeman. Tony Kaye was the keyboard player then. The first album, once again, I can hear anytime. The second album [1970's Time and a Word], has phenomenal moments. And then it changed somewhat for me. But I'd bump into them on the road all of the time with Purple touring and Yes touring. We'd invariably end up in the same hotels. Jon [Anderson] was just the sweetest Manchester guy. Lovely, lovely, lovely."
COVID Thwarted Plans for a 'Coverdale-Page' Box Set 
Even without a high-profile bassist, Coverdale-Page was a commercial success, peaking at No. 5 on the Billboard 200 and earning a platinum certification from the RIAA. Coverdale told UCR in April that a box set commemorating the album is in limbo. "COVID didn't do us any favors," he said. "I'm really lucky — I have a studio within 10 minutes of my primary home. My guy at the time was a cancer survivor, so we were ultra-locked down. Jimmy, of course, where he lived, didn't have a studio. By the time we came out of COVID, I never had time to do it, with that kind of commitment."
READ MORE: How Deep Purple Started Over With 'Burn'
Still, the singer remains hopeful that the box set, which would include some previously unreleased tracks, will see the light of day. "I don't know who [to give this project to]," Coverdale told UCR. "But I pray that Jimmy — I think he has potentially exhausted the Led Zeppelin catalog — that he would take something like this on if he was enthused. There's a couple of tracks that we never got on there, [including] one called 'Saccharin,' which is to die for."
Whitesnake Will Reissue 'The Purple Album' Next Month
In the meantime, Coverdale and Whitesnake have cooked up a deluxe reissue of 2015's The Purple Album, commemorating the singer's three-year stint with Deep Purple. The Purple Album: Special Gold Edition will feature a remixed and remastered version of the original album and previously unreleased recordings, including the 1972 four-song demo that landed Coverdale the gig. The collection arrives on Oct. 13 as a two-CD/Blu-ray set or a two-LP set.
Rock's Forgotten Supergroups
Here's a rundown of would-be supergroups that the world at large has forgotten over the years.