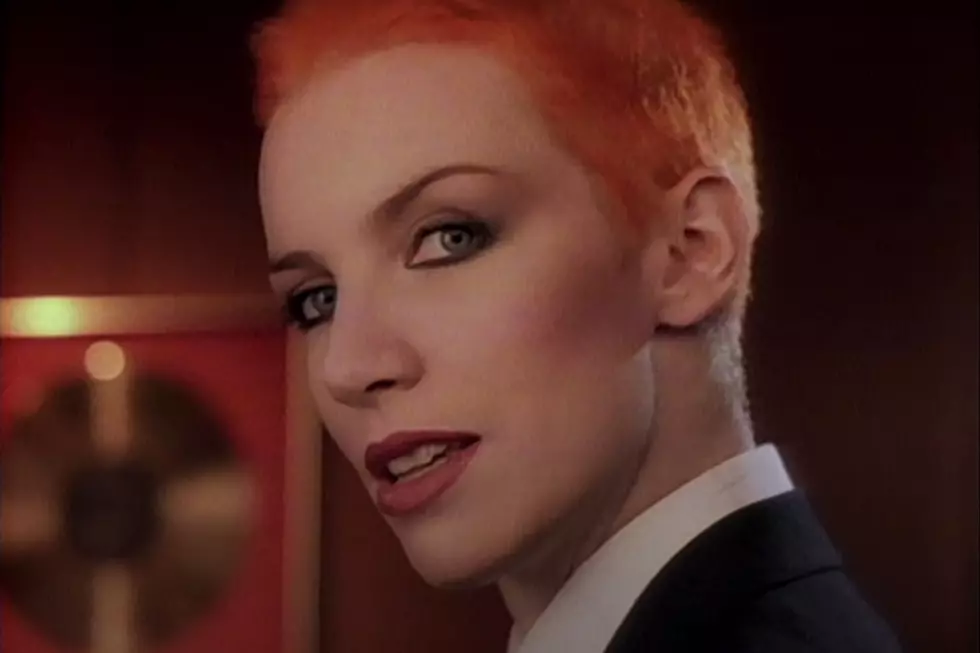 40 Years Ago: Eurythmics' 'Sweet Dreams' Becomes a Triumph of Resiliency
YouTube
When "Sweet Dreams (Are Made of This)" arrived on Jan. 21, 1983, Eurythmics were reeling from a few tumultuous years.
The UK duo of Annie Lennox and Dave Stewart had played together since the late '70s, first in a punk band called the Catch and later in a pop-leaning new wave group called the Tourists.
They'd enjoyed mild success with the Tourists; in fact, their cover of "I Only Want to Be with You" charted on the Billboard Hot 100 and was a top 10 hit in the UK. But the group broke up in 1980 while on tour in Australia, and then Lennox and Stewart's romantic relationship also disintegrated.
Eurythmics were born after Lennox and Stewart decided to continue with music, but their 1981 debut album In the Garden didn't have much of an impact. "We'd come out of the end of the Tourists battered and bruised," Lennox told The Guardian in 2017. "We were massively in debt, and I'd come across some real monsters in the music business. I'd lived in so many bedsits and was desperately unhappy.
"We'd survived, kinda, but it was tough," she continued. "I felt like we were in a dream world, that whatever we were chasing was never going to happen."
Stewart described similar frustration, telling The Guardian that the group was playing to small crowds and was trying to figure out new equipment they had bought. During one particularly low moment, he noted that Lennox "was totally depressed" and "curled up on the floor in the fetal position." However, she perked up when he started improvising a particular musical part.
"She suddenly went: "What the hell is that?," and leapt up and started playing the other synthesizer," Stewart said. "Between the two dueling synths we had the beginnings of 'Sweet Dreams (Are Made of This).'"
Watch Eurythmics' Video for 'Sweet Dreams'
Now inspired, Lennox chimed in with some lyrics that reflected where her head was at the time. "From that first line, it's not a happy song," she notes. "It's dark. 'Sweet dreams are made of this' is basically me saying: 'Look at the state of us. How can it get worse?'" I was feeling very vulnerable. The song was an expression of how I felt: hopeless and nihilistic."
Stewart loved where the song was headed, but offered a slight tweak: "It was mind blowing, but depressing, so I suggested the 'hold your head up, moving on' bit to make it more uplifting.'"
In the resulting song, Lennox doesn't shy away from expressing cynicism over what she's encountered ("Everybody's lookin' for something") and the parasitic nature of relationships she's encountered: "Some of them want to use you / Some of them want to get used by you." Yet Stewart's lyrical suggestion adds resiliency to the song: Despite so much darkness, the protagonist has decided to keep moving forward.
Musically, the song's dueling synths oscillate in stereo, creating tension and uncertainty. As "Sweet Dreams" progresses, it incorporates a variety of unique signifiers — gospel-inspired vocal flourishes, strident rhythms and Lennox's smoky lead vocals — that illuminate the experimental side of synth-pop.
An accompanying music video — featuring Lennox sporting a bright-orange buzzcut and some very memorable farm animals — also established Eurythmics as visual visionaries. "Sweet Dreams (Are Made of This)" shot to No. 1 on the Billboard Hot 100 in September 1983.
Lennox and Stewart learned they had reached the chart summit while in San Francisco for a show. Stewart recalled to this writer last year that he and Lennox "started jumping around on the bed like kids, and going, 'We're No. 1!' And then we were going, 'Oh, I wonder what that means.'"
Watch Eurythmics Perform 'Sweet Dreams' in Concert
Meanwhile, Lennox told The Independent in 2017 that the success had a big impact on her. "Everything felt vulnerable and strange. It was like beyond the walls of this room, is a world out there. A world that hasn't known me, but now there is nowhere to hide.
"We had been asking for this," she added, "and now the doors are wide open to us, I was going from anonymity to full exposure."
"Sweet Dreams" did indeed become a foundation for Eurythmics' future career success. "Love Is a Stranger" was re-released in the UK, where it became a Top 10 hit. The group's second album – also called Sweet Dreams (Are Made of This) – climbed the charts, too.
Today, "Sweet Dreams" remains a favorite song to interpolate live, as acts as varied as Pink and New Kids on the Block have slotted the track into sets. It's also a staple of DJ mixes.
Eurythmics inevitably performed the song as the capper of a three-song set when they were inducted into the Rock & Roll Hall of Fame in 2022. Decades later, "Sweet Dreams (Are Made of This)" felt as fresh and urgent as it did originally — a classic anthem of persevering through tough times and coming out ahead.
Top 100 '80s Rock Albums
UCR takes a chronological look at the 100 best rock albums of the '80s.