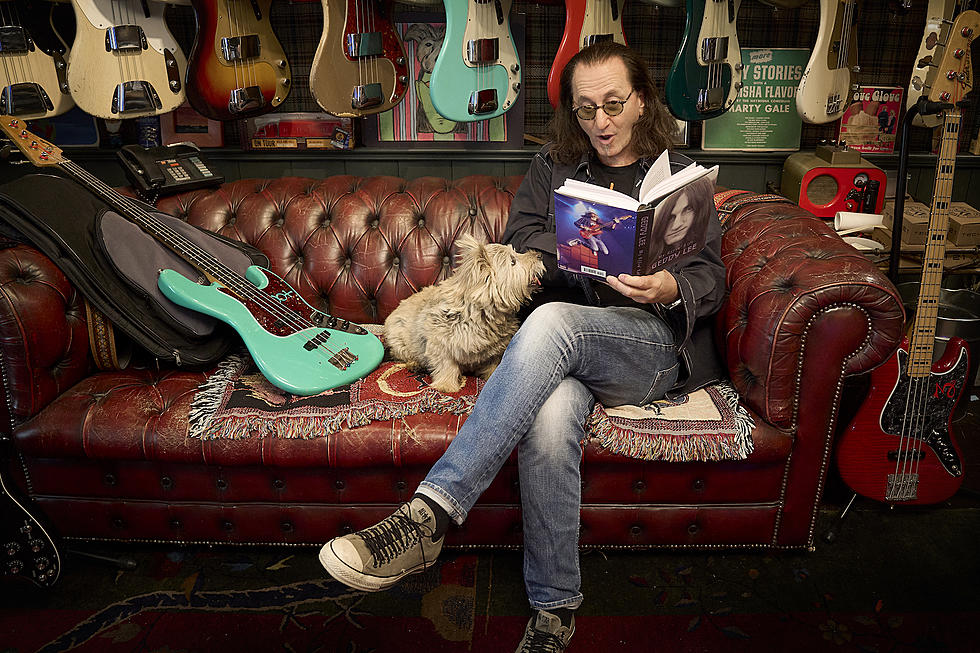 Geddy Lee Announces 'My Effin' Life in Conversation' 2023 Tour
LiveNation
Geddy Lee of Rush will embark on a North American spoken-word tour this November.
"My Effin' Life in Conversation" will begin on Nov. 13 in New York and conclude on Dec. 7 in Toronto. The run will support Lee's upcoming memoir of the same name, which arrives on Nov. 14.
Tickets for "My Effin' Life in Conversation" go on sale to the general public on Friday. Each ticket purchased includes a copy of the book. You can see a complete list of dates below.
The spoken-word trek will find Lee joined onstage by a special guest interviewer as he reflects on his family and childhood, his time in Rush and personal memories with his bandmates Alex Lifeson and Neil Peart. Lee will read passages from My Effin' Life and answer fan questions at each stop.
'My Effin' Life' Started During the Pandemic
The COVID-19 lockdown found Lee at home in Toronto for the longest period since he was 19. Daniel Richler, his collaborator on 2018's Geddy Lee's Big Beautiful Book of Bass, suggested that he take advantage of the time and share some of his life experiences. Even though he was "reluctant" at first, he eventually remembered how much he liked "wrestling with words," as he wrote on social media when he informally revealed the project in 2021.
READ MORE: Geddy Lee Year-by-Year Photos
"Writing this book has meant spending so much time living in the past," Lee said in a statement. "I've never lived my life looking anywhere but forward, which is why I resisted doing this kind of thing for so long. Being in a band all those years was reassuring because it was an ongoing thing. It felt like it was forever. There was always unfinished business: the next record, the next set design, the next tour. It's been the theme of my life. But you need a lot more determination to proceed in the world of music without the comfort of your bandmates, and I can only hope that finishing this book will release me to return to what I do and love best."
Lee's North American tour dates join five previously announced U.K. events, with plans for additional travels in 2024.
Geddy Lee, 'My Effin' Life in Conversation' Tour
Nov. 13 – New York, NY @ Beacon Theatre
Nov. 15 – Philadelphia, PA @ The Met Philadelphia
Nov. 17 – National Harbor, MD @ The Theater at MGM National Harbor
Nov. 18 – Boston, MA @ Orpheum Theatre presented by Citizens
Nov. 19 – Cleveland, OH @ State Theatre at Playhouse Square
Nov. 21 – Montreal, QC @ Theatre Maisonneuve
Nov. 23 – Vancouver, BC @ The Centre in Vancouver
Nov. 24 – Seattle, WA @ Moore Theatre
Nov. 26 – San Francisco, CA @ The Masonic
Nov.. 28 – Los Angeles, CA @ Orpheum Theatre
Nov. 30 – Denver, CO @ Paramount Theatre
Dec. 3 – Chicago, IL @ Auditorium Theatre
Dec. 4 – Detroit, MI @ The Fillmore Detroit
Dec. 7 – Toronto, ON @ Massey Hall
Rush Albums Ranked
We examine Rush's 19 studio albums, from 1974's muscular self-titled release to a series of remarkable late-career triumphs.
Gallery Credit: Eduardo Rivadavia