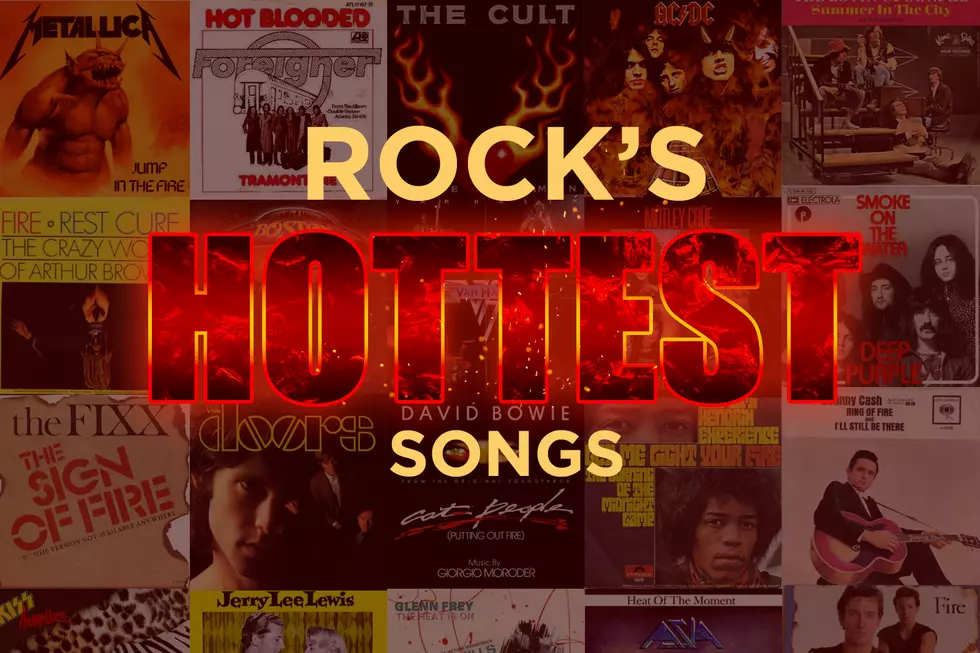 Adrian Borromeo, UCR
Heat can do strange things to a person: It can get you sweating, make your mind play tricks on you, and in some cases, even inspire songs.
Many of rockers have utilized fiery imagery in their music over the years. In Foreigner's "Hot Blooded," for instance, heat was used as a metaphor for passion. Songs like Deep Purple's "Smoke on the Water" were inspired by real-life infernos.
Whatever the reason, high temperatures have ignited something in many of rock's biggest acts. Here's UCR's list of Rock's Hottest Songs.
30. The Fixx, "The Sign of Fire"
From: Reach the Beach (1983)
The Fixx were always defined by a sense of musical risk. "One Thing Leads to Another" was a Top 5 smash in 1983, and it transformed frontman Cy Curnin into an early fixture on MTV. But the Fixx released less successful, though actually more intriguing songs on either side of it – including "The Sign of Fire," a rockier single that went to No. 32. "That's what we enjoy – the exploring and experimenting with dynamics, really building tensions up, letting the thing go and parachute down a bit," Curnin later admitted. This frisky sense of adventure didn't help their career, but it made the Fixx far more compelling. (Nick DeRiso)
29. The Cure, "Hot Hot Hot!!!"
From: Kiss Me, Kiss Me, Kiss Me (1987)
You know things are serious when there's not one, not two, but three exclamation points at the end of a song title. The Cure's "Hot Hot Hot!!!" appeared on their 1987 album, also triple-titled, Kiss Me, Kiss Me, Kiss Me. It only reached No. 45 on the U.K. singles chart, but it was a Top 20 hit in a few other countries, and it made it to No. 11 on Billboard's U.S. Dance Club Songs. With its quasi-funk vibe, this makes sense, and Robert Smith's lyrics also reflect an energetic attitude: "I'm dancing, screaming, itching, squealing, fevered ... feeling hot, hot, hot!" (Allison Rapp)
28. Harry Nilsson, "Jump Into the Fire"
From: Nilsson Schmilsson (1971)
As a songwriter, Harry Nilsson struggled with what he saw as the confines of the format. "Picasso can get a response from a drawing with only a few lines," he told The Record in 1972. "In the framework of a three-minute song, you can only say so much." Nilsson often sold himself short in that way, but he also wasn't afraid to get weird. "Jump Into the Fire" is an eccentric Rolling Stones-esque rocker that stretches out for seven glorious minutes. The lyrics repeat over and over, getting more and more maniacal with each passing second. Extra points for the drum solo nearly four minutes in. (Matt Wardlaw)
27. Metallica, "Jump in the Fire"
From: Kill 'Em All (1983)
After setting a new benchmark for thrash metal with their debut single "Whiplash," Metallica indulged their love for the New Wave of British Heavy Metal on "Jump in the Fire." Built around a circular riff, driving tempo and fist-pumping chorus, the second Kill 'Em All single owes an obvious debt to Iron Maiden's "Run to the Hills." Although Dave Mustaine's original lyrics dealt with sex, James Hetfield later rewrote them into a tale of the devil beckoning mortals down to his fiery abode. (Bryan Rolli)
26. Blue Oyster Cult, "Cities on Flame With Rock and Roll"
From: Blue Oyster Cult (1972)
This was the first single from their eponymous debut album, but "Cities on Flame with Rock and Roll" had been in Blue Oyster Cult's orbit for a while. Even still, it needed some work once they got into the studio. "We're sitting there listening to [drummer and vocalist] Albert [Bouchard] do the vocal and we started laughing, because he sounded just like a frog," former bassist Joe Bouchard told UCR, laughing. With some coaching, Albert found the zone, delivering a memorable performance, and "Cities on Flame with Rock and Roll" became a staple fan favorite. (Wardlaw)
25. The Cult, "Fire Woman"
From: Sonic Temple (1989)
After the goth-rock stylings of 1985's Love and the AC/DC worship of 1987's Electric, the Cult once again reinvented themselves on 1989's Sonic Temple, recruiting producer Bob Rock to achieve a gargantuan glam-metal sheen. The proof of concept is lead single "Fire Woman," a red-hot stew of colossal riffs, bulldozing rhythms and Ian Astbury's Morrison-ian howl. The arena-rock facelift fit the Cult like a glove, and "Fire Woman" propelled Sonic Temple to a career-high No. 10 on the Billboard 200. (Rolli)
24. Boston, "Smokin'"
From: Boston (1976)
Boston's diamond-selling debut album is overflowing with densely layered, immaculately produced arena-rock epics. "Smokin'" finds the band firing (no pun intended) on all cylinders while also cutting loose over a 12-bar blues boogie. Tom Scholz's scorching, two-minute organ solo dominates the track in lieu of guitar, and singer Brad Delp matches his energy with his stratospheric screams. Rarely has rock 'n' roll sounded so freewheeling while being performed with such technical perfection. (Rolli)
23. Sammy Hagar, "This Planet's on Fire (Burn in Hell)"
From: Street Machine (1979)
The title suggests that Sammy Hagar was onto climate change way before most people, but "This Planet's on Fire (Burn in Hell)" is mostly concerned with the hectic pace of life on the road for a rising rock star. "You run so fast, you forget what you're after," he notes over an incendiary guitar riff. When Hagar says "this planet's on fire," he's talking about carnal desires more than global warming, although environmentalists will point out that the plane flights and limousine rides from the first verse might help make this song title more prophetic than any of us would like. (Matthew Wilkening)
READ MORE: Sammy Hagar and Megadeth Team Up for New 'This Planet's on Fire'
22. Crazy World of Arthur Brown, "Fire"
From: The Crazy World of Arthur Brown (1968)
"Fire" is arguably the most memorable tune by these psychedelic rockers. Frontman Arthur Brown embodies a self-proclaimed "god of Hellfire" who joyously destroys the mere mortals before him. "Fire, I'll take you to burn / Fire, I'll take you to learn / I'll see you burn," he sings in the chorus with a menacing voice backed by drums and some otherworldly organ. Coincidentally, "Fire" proved extra hot for Brown. He regularly performed "Fire" while wearing a burning helmet. The device, filled with lighter fluid and affixed to Brown's head with a leather skull cap – was not insulated. As such, he suffered serious pain during the performances and even caught his hair and clothes on fire on various occasions. (Corey Irwin)
21. AC/DC, "Shot Down in Flames"
From: Highway to Hell (1979)
At this point, AC/DC was struggling to keep their tour bus on the road, while dealing with theft and a lost film opportunity. Dracula Rocks never materialized, and was quickly forgotten. Far more memorable is "Shot Down in Flames." Expert troublemakers, both on tour and on record, AC/DC had a knack for spinning a good rock 'n' roll tale and the perfect mouthpiece in vocalist Bon Scott. Example: "She was standing alone over by the jukebox / Like she's something to sell / I said, Baby what's the going price? / She told me to go to hell." Poetry? Perhaps not. But it's a lot of fun. (Wardlaw)
19 (Tie). David Bowie, "Cat People (Putting Out Fire)"
From: Let's Dance (1983)
Director Paul Schrader reached out to David Bowie in hopes that he'd contribute the theme song to his 1982 horror film Cat People. Giorgio Moroder had already recorded the movie's score, so Bowie obliged by adding lyrics to his material. The result was "Cat People (Putting Out Fire)," now regarded as one of Bowie's greatest '80s tracks. He sang about "putting out fire with gasoline" while backed by synths, a chugging guitar and propulsive beat. The single was a commercial success, charting in 10 different countries. Bowie later recorded another version for 1983's Let's Dance. (Irwin)
19 (Tie). Deep Purple, "Smoke on the Water"
From: Machine Head (1972)
"Smoke on the Water" boasts one of the simplest, yet most distinctive, riffs in rock history – and it was inspired by a real-life blaze. Deep Purple was watching Frank Zappa perform at the Casino at Montreux, Switzerland in 1971 when a fan fired a flare gun and accidentally set the place on fire. "It was probably the biggest fire I'd ever seen up to that point and probably ever seen in my life," bassist Roger Glover later recalled. "It was a huge building. I remember there was very little panic getting out, because it didn't seem like much of a fire at first. But, when it caught, it went up like a fireworks display."(Irwin)
18. Elton John, "Burn Down the Mission"
From: Tumbleweed Connection (1970)
A gem from Elton John's third album, "Burn Down the Mission" is a country-tinged track about starting over, built on his distinctive honky tonk piano. John's longtime collaborator Bernie Taupin uses the imagery of a mission's destruction as a metaphor for wiping the slate clean. High-heat lyrics abound, including the chorus: "Burn down the mission / If we're gonna stay alive / Watch the black smoke fly to heaven / See the red flame light the sky." (Irwin)
17. Asia, "Heat of the Moment"
From: Asia (1982)
In another life, "Heat of the Moment" could have been very different. "The chorus that John [Wetton] had, it felt like a country song," Asia's Geoff Downes told UCR. Downes had a "weird verse idea" he thought might pair well with what Wetton had shared with him. The song took shape quickly "in two or three hours" as they sat at the piano, and this would prove to be time well spent. "Heat of the Moment" gave the supergroup, also featuring Yes guitarist Steve Howe and Emerson, Lake & Palmer drummer Carl Palmer, their first Top 5 single. (Wardlaw)
READ MORE: Why 'Heat of the Moment''s Success Troubled Asia
14 (Tie). Kiss, "Heaven's on Fire"
From: Animalize (1984)
Released during Kiss' unmasked period, "Heaven's on Fire" used just about every scorching phrase imaginable. At various points in the song, Paul Stanley's "blood boils hot" and his "temperature rise(s)." What's causing the casuing this heat wave? Why a "fever ragin' in my heart," of course. Here the flames are fanned by passion, as evident on the track's emphatic chorus: "Feel my heat takin' you higher. Burn with me, heaven's on fire – paint the sky with desire." (Irwin)
14 (Tie). The Rolling Stones, "Hang Fire"
From: Tattoo You (1981)
The Rolling Stones weren't referencing a real-life blaze. Instead, they were referring to England's economic decline at the time: "In the sweet old country where I come from, nobody ever works. Yeah, nothing gets done, we hang fire." But take a listen to some live versions of this song, which was a Top 20 hit in the U.S., and you'll notice a breakneck pace that will heat any dance floor. Plus you can pick up some moves from Mick Jagger. (Rapp)
14 (Tie). Bruce Springsteen, "Fire"
From: Live/1975-85 (1986)
As a youngster, Bruce Springsteen was surrounded by soul and R&B music, and its influence can be heard on "Fire." Springsteen sent a demo of this song to Elvis Presley in the hopes that he might record it, but Presley died before the tape arrived. "Fire" didn't make the cut for 1978's Darkness on the Edge of Town, then the Pointer Sisters' version became a No. 2 hit. Springsteen played the song frequently in concert, though his studio version would not arrive until 2010. (Rapp)
12 (Tie). Glenn Frey, "The Heat is On"
From: Beverly Hills Cop soundtrack (1984)
Glenn Frey was crestfallen in 1984 after attending a star-packed early screening of the new Eddie Murphy film. "I'm sitting there going, 'I'm dead. There's no way I'm getting a song in Beverly Hills Cop,'" Frey later recalled. Then Frey received a call to record vocals for "The Heat Is On," an upbeat song by Harold Faltermeyer and Keith Forsey defined by its catchy saxophone part. "It sounded kind of like a Huey Lewis thing," Frey added. "The Heat Is On" proceeded to become his biggest solo hit, reaching No. 2 on the Billboard Hot 100. (Irwin)
12 (Tie). Motley Crue, "Red Hot"
From: Shout at the Devil (1983)
Motley Crue catches a lot of flak — not all of it unwarranted — for being lazy musicians and perpetual trainwrecks. But in their prime, they rocked harder than nearly all of their spandex-clad peers. Look no further than "Red Hot," one of the most ferocious cuts off their most metallic album, Shout at the Devil. Powered by Tommy Lee's relentless double-bass drumming and Mick Mars' 10-ton riffs, this track shows the band at its hungriest, with Vince Neil snarling: "Love from a shotgun, license to kill – can't you see we're out for blood?" (Rolli)
11. Blue Oyster Cult, "Burnin' For You"
From: Fire of Unknown Origin (1981)
Five years earlier, "(Don't Fear) The Reaper" had argued with a dreamy, whirling certitude that we should simply accept our common fate. This song had a different message, as we're exhorted to "burn out the day, burn out the night!" Wait, is this still Blue Oyster Cult? "Burnin' For You" left aside scythe-wielding gloom for passions both carnal and quite contemporary, with Buck Dharma offering a key series of lines beginning with the word "time." There's "time is the season" and "ain't no reason," "ain't on my side" and "I'll never know," but then, right in the middle, Dharma winkingly adds: "Time to play B-sides." The reaper will have to wait. (DeRiso)
10. Foreigner, "Hot Blooded"
From: Double Vision (1978)
"Hot Blooded," the fiery single which helped to introduce Foreigner's sophomore album, drew inspiration from the band's real life out on the road. "We met some crazy ladies," Lou Gramm said in 1978. The encounter happened while they were in town for a gig in the South. As luck would have it, Mick Jones subsequently played a guitar riff at soundcheck that sparked a musical seed to document their experiences. Were the ladies hot blooded? "Very," Gramm confirmed. (Wardlaw)
9. Van Halen, "On Fire"
From: Van Halen (1978)
Van Halen's debut album had no shortage of hooky, stadium-sized rock anthems. On the blistering closing track "On Fire," however, they reminded listeners they were just as capable of leveling buildings as inspiring lighter-waving singalongs. David Lee Roth flexes his falsetto shrieks as Eddie Van Halen lays down one mind-bending lick after another, teetering on the brink of collapse but never loosening his ironclad grip. Even amid the punk-metal mayhem, "On Fire" remains unceasingly catchy — Van Halen's secret weapon. (Rolli)
8. The Doors, "Light My Fire"
From: The Doors (1967)
Robby Krieger wanted to write a song about one of the four elements: fire, air, earth and water. The Doors' "Light My Fire" was also partially inspired by the Rolling Stones' "Play With Fire." The Doors faced some memorable opposition when they went to perform the song on The Ed Sullivan Show in 1967: Some sponsors were uncomfortable with what they perceived as drug references. Jim Morrison was asked to create alternate lyrics, but he sang the original anyway. The controversy didn't hinder "Light My Fire," which remained at No. 1 for three weeks. (Rapp)
7. Jerry Lee Lewis, "Great Balls of Fire"
From: 1957 single
Elvis Presley had already covered "Fever," underscoring Otis Blackwell's knack for writing a steamy song that remained doggedly inexplicit. "Great Balls of Fire" was no different, only the singer was. Jerry Lee Lewis presents another clearly prurient Blackwell lyric not as a sly come on, but as an eruptive shout. The setting may have played a role. Lewis actually had to be convinced to cover "Great Ball of Fire" after suffering a brief bout of religious conscience. He didn't begin recording until around midnight, and didn't finish until dawn. The dangerous results had the feel of a tryst, and they actually were: Lewis never saw the rhythm section from this session again. (DeRiso)
6. Sly and the Family Stone, "Hot Fun in the Summertime"
From: 1969 single
The story of Sly and the Family Stone is that of the '60s, with dizzying highs followed by a period of just as devastating lows. The No. 2 smash "Hot Fun in the Summertime" arrived at a creative peak for Sly Stone, who emerged from out-of-nowhere beginnings to craft a mind-boggling (though unfortunately short-lived) period of hitmaking. As with the quickly changing seasons, Stone would soon begin his strange descent into quiet solitude. In the meantime, however, this remains a lasting showcase of his fizzy personality, his wily sense of expectation-smashing creativity, and his simply unquenchable will for fun. (DeRiso)
5. Martha & the Vandellas, "Heat Wave"
From: 1963 single
Heat as an expression of desire has long been a popular metaphor for songwriters. But few have done it better than the team of Holland-Dozier-Holland. The Motown heavyweights wrote "Heat Wave" for Martha & the Vandellas, who hit No. 5 with the 1963 single. There isn't a more apt description of lovestruck delirium than "Whenever I'm with him something inside starts to burning, and I'm filled with desire. Could it be the devil in me, or is this the way love's supposed to be?" You can feel the flames. (Michael Gallucci)
4. Talking Heads, "Burning Down the House"
From: Speaking in Tongues (1983)
David Byrne began "Burning Down the House" by simply singing nonsense words – including a chorus of (no kidding) "Foam Rubber, U.S.A." Thankfully, Talking Heads' rhythm section had recently seen Parliament-Funkadelic at Madison Square Garden. Their amalgam of spaced-out funk inspired both the music and – eventually – a new lyric. Chris Frantz kept repeating the P-Funk audience chant "burn down the house" during their jam sessions, and Byrne eventually latched on to it. The inspiration went both ways: Parliament-Funkadelic's Bernie Worrell later joined Talking Heads' touring band. (DeRiso)
3. Johnny Cash, "Ring of Fire"
From: 1963 single
June Carter co-wrote "Ring of Fire" before she and Johnny Cash married; her sister Anita was the first to sing it. But once Cash got hold of it, this song became his. Cash added the mariachi horns to "Ring of Fire" (he claimed they came to him in a dream), giving it the musical spark it needed as his comeback single. The song became his first Top 20 hit in five years. Cash and Carter, who first met backstage at the Grand Ole Opry in 1955, were married in 1968. "Ring of Fire" seemed prescient: "Love is a burning thing." (Gallucci)
2. Lovin' Spoonful, "Summer in the City"
From: 1966 single
You can almost feel the sweat dripping from "Summer in the City." And unlike many other songs that celebrate the seasonal heat, the Lovin' Spoonful's only No. 1 can't wait to shake off the sticky, stifling rays of the sun. Co-written by the band's John Sebastian and Steve Boone, along with inspiration from Sebastian's younger brother Mark, "Summer in the City" is surrounded by claustrophobic sounds: car horns, shouting people, hissing drills. Nighttime salvation can't come fast enough. (Gallucci)
1. The Jimi Hendrix Experience, "Fire"
From: Are You Experienced (1967)
The Jimi Hendrix Experience's "Fire" started innocently enough, when Hendrix and Noel Redding visited the bassist's mother on a cold night. Hendrix wanted to warm up by the fireplace but her dog wouldn't budge. "Move over, Rover, and let Jimi take over" took on a different meaning once the band added its psych-rock muscle to the song, and "let me stand next to your fire" took on more carnal overtones. "Fire" was never released as a single, but the song became one of Hendrix's most popular tracks and a live favorite. They generate an abundance of heat in just two and a half minutes. (Gallucci)
The '80s Most Outrageous Rock Fashions
In the same way that ducktails defined the '50s and bell bottoms became shorthand for the '70s, neon-lit sartorial choices can be firmly placed in the Reagan years.
The Rock Supergroups You Totally Forgot