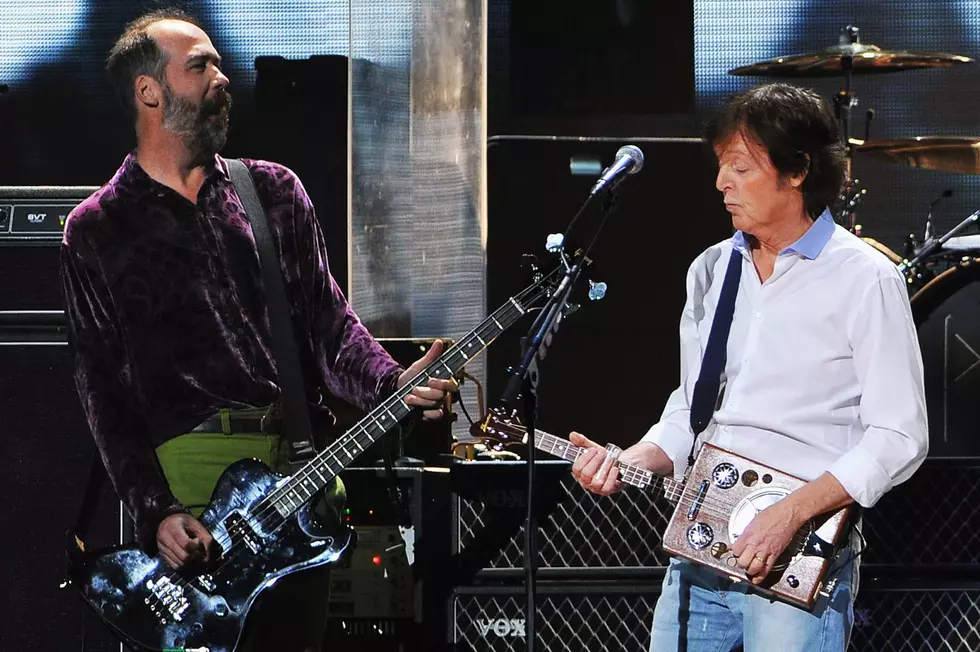 Krist Novoselic Feared Playing Bass for Paul McCartney
Larry Busacca, Getty Images
Krist Novoselic recalled his fear of being asked to play bass for Paul McCartney when the surviving members of Nirvana wrote and recorded the single "Cut Me Some Slack" with him.
The song was released in 2012 after Dave Grohl had suggested the collaboration as part of his Sound City documentary project. In a recent interview with Bass Player, Novoselic remembered being invited to join fellow bassist McCartney in the studio, alongside Grohl and Pat Smear.
"I said, 'Dude, I'll walk there from Washington if I have to,'" he said. "So I flew down and we were standing around figuring out what to do, and I kept thinking, 'Please don't make me play bass guitar; please don't make me play bass. That's like being asked to do karate with Bruce Lee – you're going to get your ass kicked. 'Yep, I'm going boxing.' 'Who's your sparring partner?' 'Muhammad Ali.' 'Good luck with that!' ... So of course he asked me to play bass."
McCartney was playing a cigar-box guitar, Smear had a standard guitar and Grohl was playing drums, but Novoselic said the jam "wasn't working for us. ... Then I realized we were playing in D, so I did the old grunge trick and I drop-tuned my bass to D. I played some riffs and boom! Paul got into it, Pat was feeling it, and Dave laid down some serious grooves. Then Paul shot me a riff and I shot him a riff, and everything started clicking perfectly."
Listen to McCartney, Grohl, Novoselic and Smear's 'Cut Me Some Slack'
During a benefit show later in the year, McCartney described the moment as a "Nirvana reunion," while Novoselic coined the phrase "Sirvana," taking the "S" from McCartney's "Sir" appellation as a knight of the British Empire. "We had the old band back together, and we had this cool left-handed guitarist, who was actually Paul McCartney, and he was doing vocals," Novoselic said. "I had to pinch myself. We ended up winning a Grammy for that song, too."
Top 30 Grunge Albums
From Nirvana and Neil Young to Melvins and Mudhoney — the best works to come from the '90s movement.