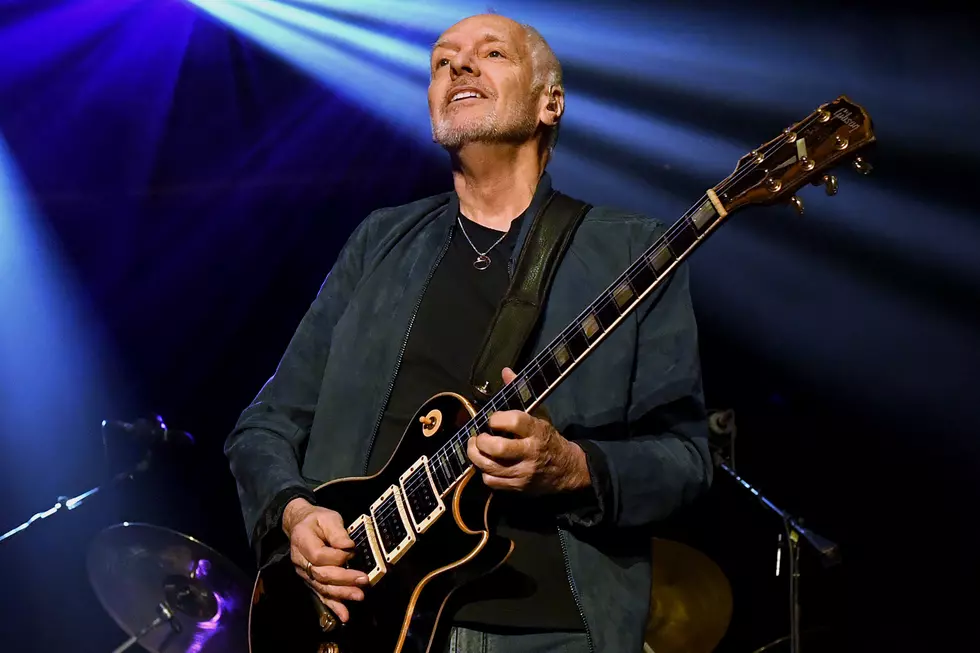 Peter Frampton Feels Alive: Exclusive Interview
Ethan Miller, Getty Images
Peter Frampton is feeling good – and he's about to embark on a tour he never thought possible.
When the guitarist stepped off the stage in November 2022, having performed the last of his Farewell Tour concerts in Europe, it was supposed to be the end. In 2019, he revealed a diagnosis of inclusion body myositis (IBM), a degenerative muscular disease that prompted Frampton to launch a final tour. He was eager to embark on one last trek across the U.S., U.K. and Europe while he still felt he could play well enough. He planned to stick to studio work and smaller performances after that.
But then there was a wind of change. In January, Frampton returned to live performances for a free, sold-out performance that was recorded for a TV special. And he's now set to launch his Never Say Never North American tour, which begins June 21 in Huber Heights, Ohio, and lasts until Aug. 19 in Sandy, Utah.
It is, as Frampton tells UCR, the bonus tour he never anticipated. When asked what he's most looking forward to with the upcoming trek, Frampton replied with a healthy dose of laughter. "Making it through to the end!"
This isn't a tour you expected to happen. You completed a farewell tour last year and that was supposed to be the end. What changed?
The reason for my choice is that I quit. [Laughs] After Europe, I had quit, because we did the finale tour, U.S. and Canada in 2019, and then finished in October, and May 2020 we were going to go to Europe, but obviously everybody got shut down [because of COVID]. So then I didn't think I was going to make it until they dangled the Royal Albert Hall in front of [us in] November. So we did go - we did like eight shows in Europe, which was amazing. And then we came back and did a one-off TV show [in the U.S.] with an invited audience, and I thought, If I'm still able to play, why am I sitting at home? I mean, I have to be honest ... it's different, my hands are not as strong, therefore, every note I play, for me, is more important, and I think I put more into each note now than I ever did, because of the predicament. And time is not my friend.
Was it a difficult decision to make?
It was a more difficult decision earlier on because I had made this statement — I'm allowed to change my mind — that I wanted to quit while I was ahead and could still play at the top of my game, which was pretty much the finale tour. I was pretty much still at the top of my game. And things have slipped a little, but my band said, "What are you talking about? We can't notice any difference." So I said, "Well, I know," because of the choices that I would make in an ad-lib solo, which is what I do all night. My choices are different, but they're not worse. It's just a different way of playing. It's challenging — I love a challenge, and it's almost more enjoyable. It's so weird. With less, how can it be more enjoyable? I don't know, but I'm just enjoying the fact that I can still play.
Will you be seated for these performances? 
Yes, I have to be. I mean, I can stand up, and at home or in the studio I tend to stand up to play, but here I can fall on a rubber mat. [Laughs] Unfortunately I get too excited when I'm playing that, who knows, my legs might give way.
Does that affect your playing style very much? 
I think it does affect it to a certain degree, but I kind of play as if — I have it slung to the side, with no arms on the stool, so that it's kind of like I'm still standing. It's halfway between the two.
I understand you're going to be playing some songs you've never done live.
We are releasing three of my very first vinyl releases coming up soon: Wind of Change, my first solo record, Frampton's Camel, the second one, and then the fourth one, Frampton. So what I thought we would do ... Rob Arthur, my keyboard player [and] band leader, and I got together, we listed everything. And we chose some things from Frampton's Camel, Frampton, Live in Detroit ... and one from the I'm in You record, not "I'm in You," and another one from Frampton Comes Alive! So, it's all a hodgepodge of different stuff ... and I know there's a couple here that a few really die-hard fans [who] are maybe gonna have a heart attack because they've been asking me to do these numbers for, like, 30 years. [Laughs]
Watch Peter Frampton Perform 'Do You Feel Like We Do?' in 2022
Do you have any road essentials? 
Well, my long lost, beloved, came-back-to-me guitar, the Phenix is obviously [there]. People say, "Oh, you must leave that at home now, right? You don't take it [out]." I said, "It's been in an air crash for Christ's sake, what else could happen to it?" So that's a staple. Everything that I bring is kind of like all my favorites, all the guitars that I bring. I think for the hotel room, I always bring my own cutlery, my own coffee mug that keeps it warm ... and my tea bag. [Laughs] I'm still very British at heart, I've got to have the right — I don't want the Lipton's, so I have my Stash tea ... stuff like that that give you the comforts of home in every hotel room.
You're not up there trying to recreate Frampton Comes Alive! note for note. The essence of the songs is still there, but they're reimagined. Is that something you've consciously worked at or does it just happen naturally onstage?
It's natural because, if you think about it, [Frampton Comes Alive!] was basically one night. There were a couple other shows, but basically one night, and that night we played it that way. And the night before, and the night after, we didn't play it that way. It was completely different. So everybody knows that as the ultimate. ... I've never played the same solo twice. Some people might be upset about that, that I don't play it exactly like the record, but I've played it like that already. ... We have fun, we create every night. It's a creative environment onstage.
Frampton Comes Alive! is still one of the bestselling live albums of all time. Why do you think that is?
It's very surprising and gratifying at the same time. I don't know what it is apart from the fact that wherever you put the needle down on that vinyl, or choose a track on a CD, whatever — it makes you smile. It's got a vibe about it, with the audience and the excitement. I think that my performances ... people know that that's where I'm at my happiest. ... I hear these stories: "My 7-year-old wants me to put on 'Go to the Sun.'" Now why is that? And this is now! So I don't know, except for the fact we captured something that is universally pleasing.
What's next after this? 
I've been working on writing for a few years now on the first album that I will have pretty much written everything myself. ... There is one or two co-writes, it's kind of special. And I'm not as prolific — I mean, it took six years to write the material for Comes Alive! if you think about it. ... So I'm about in year three. [Laughs] And there's no rush!
Watch Peter Frampton Perform 'Show Me the Way' in 2022
Rock's 100 Most Underrated Albums
You know that LP that it seems like only you love? Let's talk about those.
Was Peter Frampton's 'I'm In You' Doomed to Fail?