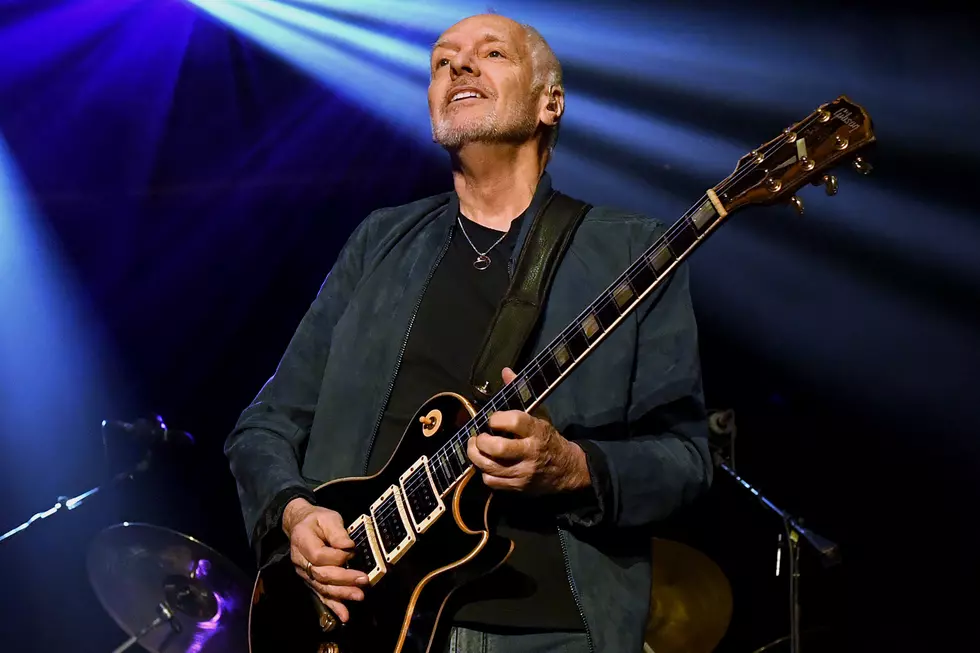 Peter Frampton to Record Live TV Concert
Ethan Miller, Getty Images
Peter Frampton has announced a return to the stage for a TV special, two months after he completed his farewell tour.
The show takes place on Jan. 22 at the Tucker Theater at Middle Tennessee State University in Nashville. Described as a stand-alone "special broadcast presentation" for Sky Arts, it's a free performance that sold out soon after its announcement.
Frampton had previously discussed the debilitating illness inclusion body myositis (IBM), which required him to perform his most recent shows seated. "My legs are not good," he noted. "I can't stand. That would be dangerous for me now because I get so carried away when I'm playing that I'm liable to fall over."
The final show of the tour took place on Nov. 16 in Dusseldorf, Germany. After delivering a cover of the Beatles' "While My Guitar Gently Weeps," he took a bow with his band, thanked the audience and said, "I'm gonna keep fighting this, so let's never say never." The moment can be seen below.
Frampton recently cut a rights deal for his catalog, saying, "As an artist-first company, I trust BMG will care for my legacy and that my songs are in good hands."
He also confirmed he was working on a new album that felt to him like it was from his classic '70s era. "I enjoy co-writing and have done it for ages with various different people," he explained.
"But I think when I wrote on my own, it's much more … uniquely me. I might do things in writing a song that other people would say, 'Oh, no, you don't want to do that. We shouldn't go there,' but on my own, I can be like, 'Uh-uh, I'm going there."
The Most Awesome Live Album From Every Rock Legend
Some of these concert recordings sold millions of copies, while others received little fanfare. Still, they remain the best of the best.