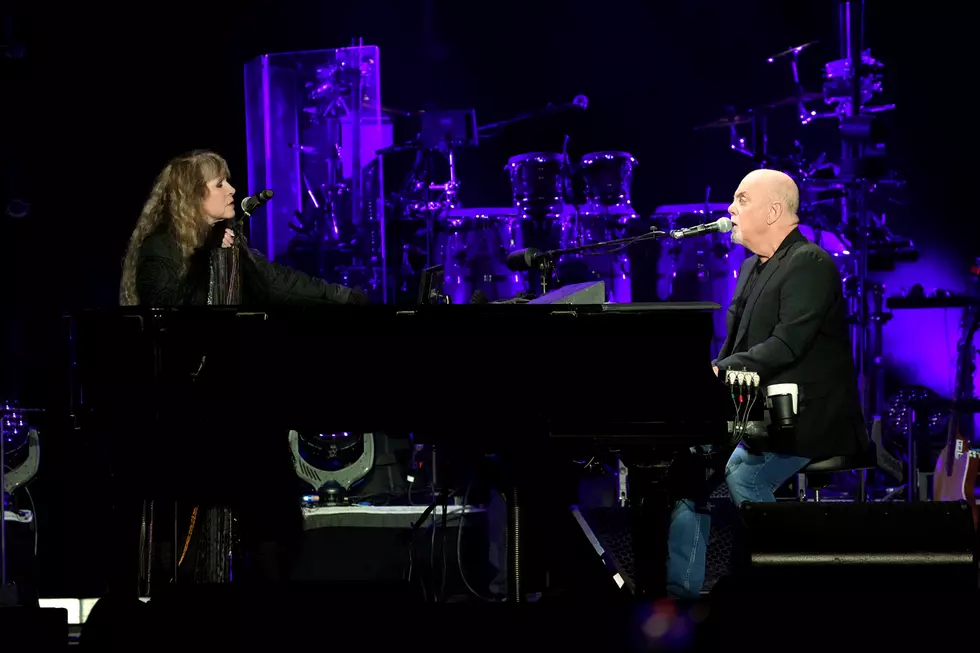 Stevie Nicks and Billy Joel Launch 2023 Tour: Set List and Video
Kevin Mazur, Getty Images
Stevie Nicks and Billy Joel kicked off their run of co-headlining dates with a performance at Sofi Stadium in Los Angeles last night.
Nicks opened the show with a 16-song set that included Fleetwood Mac classics "Dreams," "Sara" and "Rhiannon" along with Buffalo Springfield's "For What It's Worth" and Tom Petty's "Free Fallin'." She dedicated her last song, "Landslide," to late bandmate Christine McVie – it was the first time she'd performed since McVie died in November. As she sang, the stage screens showed pictures of the women together over the years. Afterwards, struggling with her emotions, Nicks told the crowd, "There's really not much to say. We just will pretend that she's still here. That's how I'm trying to deal with it. Thank you for listening."
Joel, who'd joined Nicks for a rendition of "Stop Draggin' My Heart Around" before delivering his own 21-song set that included a nod towards his classical music interest with "Nessun Dorma." Nicks returned to guest on "And So It Goes."
Full set lists for both performers and video clips from the show can be found below.
Despite both coming to prominence at similar times, Joel and Nicks didn't cross paths until later in life. "We met at a Fleetwood Mac gig in San Francisco probably 10 years ago," Joel revealed during a recent conversation with the Los Angeles Times. "I just got to meet her backstage, but we've never worked together, even though we both kind of hit at the same time. So this'll be a completely new thing for me."
In that interview, Joel hinted he'd "probably do one of her songs and she'll probably do one of mine." Probed as to whether he'd decided which Nicks song to cover, the Piano Man responded: "That's up to her."
The L.A. concert was the first of nine dates where the rock legends will share the stage. In addition to the shows alongside Joel, Nicks will be doing a run of solo performances, beginning March 15 in Seattle. Meanwhile, the Piano Man will continue his ongoing monthly gigs at Madison Square Garden.
Watch Stevie Nicks and Billy Joel Perform 'Stop Draggin' My Heart Around'
Watch Stevie Nicks Perform 'Rhiannon'
Watch Stevie Nicks Dedicate 'Landslide' to Christine McVie

Watch Billy Joel Perform 'My Life'
Watch Billy Joel and Stevie Nicks Perform 'And So It Goes'
Watch Billy Joel Perform 'Uptown Girl'
Stevie Nicks at SoFi Stadium - Set List
1. "Outside the Rain"
2. "Dreams"
3. "If Anyone Falls"
4. "Stop Draggin' My Heart Around" (with Billy Joel)
5. "Fall From Grace"
6. 'For What It's Worth"
7. `'Gypsy"
8. 'Wild Heart"
9. `'Bella Donna"
10. 'Stand Back"
11. "Free Fallin'"
12. "Gold Dust Woman"
13. "Sara"
14. "Edge of Seventeen"
15. "Rhiannon"
16. "Landslide"
Billy Joel at SoFi Stadium - Set List
1. "My Life"
2. "Movin' Out (Anthony's Song)"
3. "Vienna"
4. "Zanzibar"
5. "An Innocent Man"
6. "Don't Ask Me Why"
7. "Just the Way You Are"
8. "Allentown"
9. "And So It Goes" (with Stevie Nicks)
10. "Say Goodbye to Hollywood"
11. "Sometimes a Fantasy"
12. "Only the Good Die Young"
13. "The River of Dreams"
14. "Nessun dorma" (Sung by Mike DelGudice)
15. "Scenes From an Italian Restaurant"
16. "Piano Man"
17. 'We Didn't Start the Fire"
18. "Uptown Girl"
19. "It's Still Rock and Roll to Me"
20. "Big Shot"
21. "You May Be Right"
2022's 32 Most Memorable Rock Tours and Concerts
It was a busy and exciting year for live music.