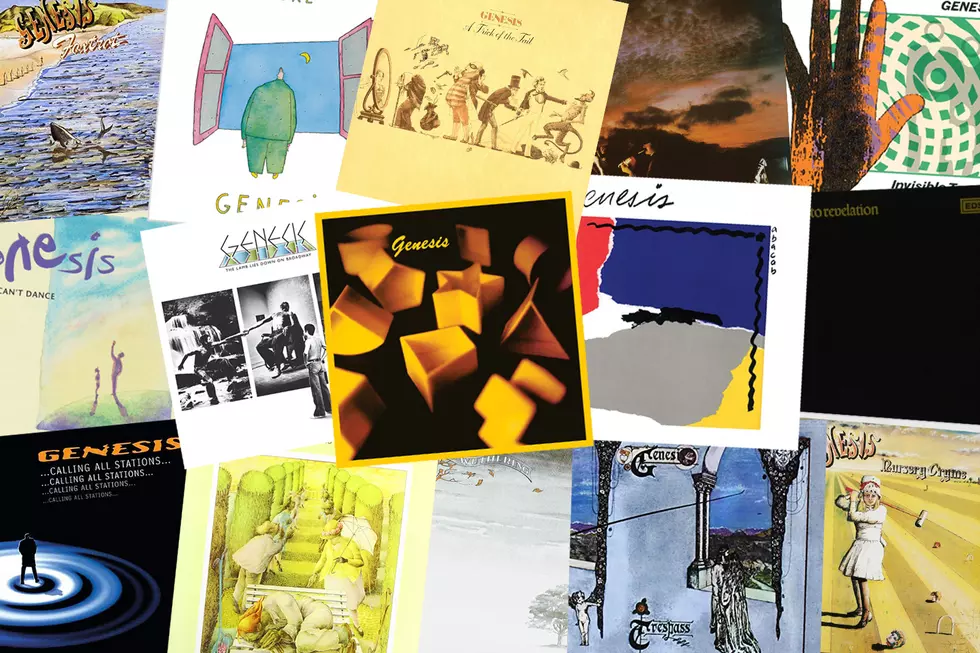 The Worst Song on Every Genesis Album
Charisma / Atlantic
Genesis was a band of many eras, with each of them capable of producing a real stinker.
They had the pre-Phil Collins era with Peter Gabriel, the artful era they shared with Steve Hackett, the post-Hackett era of trio chart domination and then the post-Collins era. In some cases, the band's only real connection with what came before was its name, as Genesis seemed to constantly shift from pop to prog and then back again.
Perhaps unsurprisingly, the result is a rather complicated narrative.
Collins typically got the blame for Genesis' pop leanings, but they'd dabbled in those sounds long before he arrived. Bandmates Tony Banks and Mike Rutherford also had a considerable role in many of their highest-charting singles. The records featuring Hackett are often recommended to those looking for Genesis' most extensive prog forays, but the band never stopped producing long-form songs.
A key issue seemed to be that Genesis wanted to balance deeper thoughts found in "Watcher of the Skies," "Home by the Sea" or "Firth of Fifth" with moments of levity that simply weren't funny. Also muddying the waters: Some of their biggest hits found their way onto our list of the worst song on every Genesis album. There's a No. 1 smash included, and a Top 15 single, too. Another almost broke the Top 40, while (unfortunately) becoming an MTV staple.
"In the Wilderness"
From: From Genesis to Revelation (1969)
The sound of Genesis trying, feebly, for a hit. Very much in the style of the much-better Bee Gees output from the same era.
"Dusk"
From: Trespass (1970)
Genesis was still learning how to balance bucolic, folk-based sounds with a more direct rock attitude. Unfortunately, as this song showed, they hadn't quite managed to rid themselves of a tendency toward far-too-precious pop.
"Harlequin"
From: Nursery Cryme (1971)
Sticky sweet, and with a painfully clumsy lyric: "All, always the same, but there appears in the shades of dawning, though your eyes are dim, all of the pieces in the sky."
"Time Table"
From: Foxtrot (1972)
A too-straightforward, medieval-themed folk song, "Time Table" feels out of place on an album that was more often desolately beautiful.
"I Know What I Like (In Your Wardrobe)"
From: Selling England by the Pound (1973)
So much of the Peter Gabriel/Steve Hackett era could be counted on, if for nothing else, to be strikingly inventive, knowingly droll, stunningly weird — or, as with "Return of the Giant Hogweed," all three at once. Not on this one, a crushing disappointment on a terrific album. "I Know What I Like" simply goes nowhere, and takes far too long to get there.
"Lilywhite Lilith"
From: The Lamb Lies Down on Broadway (1974)
Mike Rutherford originally wanted Genesis' next album to be based on The Little Prince, Antoine Saint-Exupery's classic coming-of-age tale. That certainly would have been easier to follow than this moment, when Rael – having escaped into a chamber with 32 doors – is guided out by a helpful maiden.
"Robbery, Assault & Battery"
From: Trick of the Tail (1976)
One of the most notable things Genesis lost in Gabriel's absence was his offbeat sense of humor. Tony Banks tried to mimic it here, and a game Phil Collins played along by assuming the character of the Artful Dodger, but it all feels forced.
"All In a Mouse's Night"
From: Wind & Wuthering (1976)
See "Robbery, Assault & Battery," as Banks offers a song inspired by the old Tom and Jerry cartoon. No wonder Steve Hackett walked away.
"The Lady Lies"
From: And Then There Were Three (1978)
It's too drawn out, too much like "Robbery, Assault & Battery" and – worst of all – wastes a cool bass line from Mike Rutherford.
"Duke's Travels"
From: Duke (1980)
The longest song from Duke, and it sure feels like it. On an album where they begin moving definitely toward pop music, Genesis' attempt at an old-style prog multipart track loses its way.
"Who Dunnit?"
From: Abacab (1981)
As Collins descends into never-ending concentric circles of "weknowweknowweknowweknow," you might be moved to commit all manner of crimes.
"Illegal Alien"
From: Genesis (1983)
It's not just the unlistenable and annoying melody. Not just the video's jarringly racist, sombrero-wearing caricatures of Latinos. Not just the profoundly wrongheaded theme that makes light of the Faustian choices made every day in these situations. No, it's all of that. Then there's a singalong.
"Invisible Touch"
From: Invisible Touch (1986)
At the time, the knock on this album was that it often sounded like leftover scraps from Phil Collins' solo smash No Jacket Required, and nowhere is that charge more successfully leveled than here. This is the most empty-calorie (and, alas, best-selling) thing Genesis ever did.
"Hold On My Heart"
From: We Can't Dance (1991)
Including another weary and omnipresent Collins-sung soft-rock ballad felt like a money grab, considering he already had a well-established solo outlet for them.
"Congo"
From: Calling All Stations (1997)
Ray Wilson's languid vocals meshed well with the more prog-inspired moments on this final LP, recalling Genesis' earliest days. Problems arose when, as on this song, the band attempted to scale the pop charts – since Genesis now lacked Collins' unerring sense for radio-friendly confections. It's a shame because Wilson might have worked out if he'd been given more consistent material.
Phil Collins and Peter Gabriel Albums Ranked
They led Genesis through their most celebrated eras. Here's what happened next.
The 'Silly' Phil Collins Joke That Went Too Far