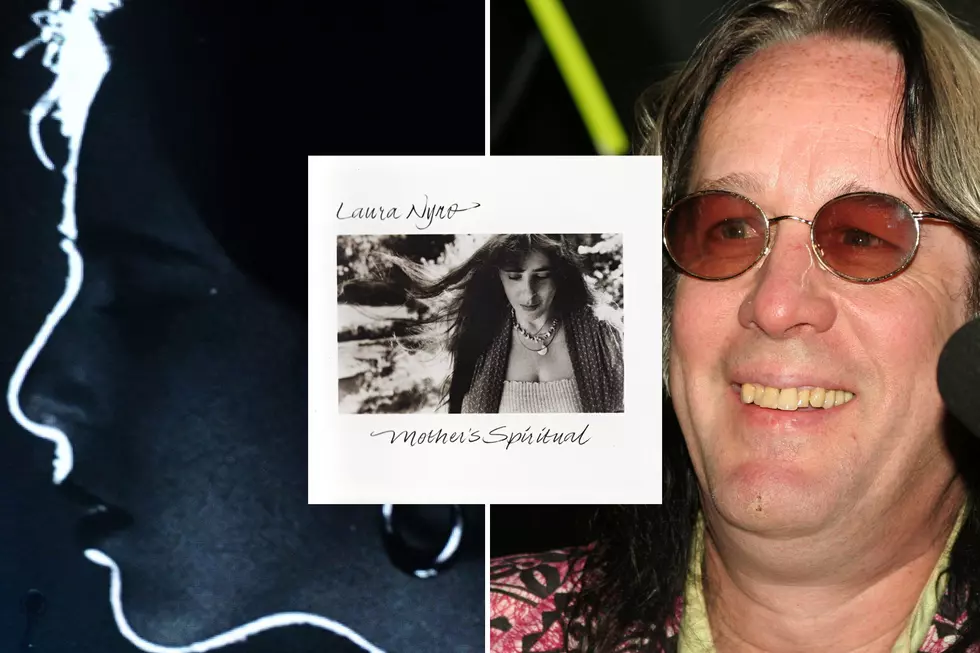 35 Years Ago: Laura Nyro Releases Album Todd Rundgren Quit
Michael Loccisano, Getty Images / Columbia Records / Donald Bowers , Getty Images
When Todd Rundgren heard Laura Nyro's sophomore record, 1968's Eli and the Thirteenth Confession, he was moved, to say the least.
"It just blew everybody's mind – everybody's," he said in a 2013 interview with Red Bull Music Academy. "It blew my mind, but it blew everybody's mind that a girl [that] young was singing with [that] much soul, and the songwriting was hers and wasn't like anybody else's songwriting."
The Bronx-born Nyro's expansive, expressive melding of pop and jazz yielded songs that had been and would be hits for other artists — four from her 1967 debut record More Than a New Discovery, and four more from Eli alone, would be covered by the likes of Barbara Streisand, Three Dog Night and the Fifth Dimension.
Nyro never had a hit album or single herself; her third record, New York Tendaberry, would squeeze into the Top 40 on the Billboard 200 album chart in 1969, and a cover of the Drifters "Up on the Roof" would top out at No. 92 on the Hot 100 singles chart in 1970.
Listen to Laura Nyro's 'Stoned Soul Picnic'
Eli's sound and song structures made a big impression on Rundgren, however.
"There was the depth of her performance," he told Mojo in 2016, "the raw emotionality and poetry of her piano-based songwriting. For a Jewish girl in the 1960s to make that kind of music was remarkable."
The record also contributed to the eventual dissolution of his power-pop band the Nazz.
"I started writing music that was less appropriate for some power-pop combination of the Who and the Beach Boys," Rundgren continued. "I also wanted to sing the material. I hadn't been upfront about singing before. My voice was still adolescent and under-developed."
One such song was "Baby Let's Swing," from his debut album, Runt, which started with the line "Laura, I saw you open in L.A."
Listen to Todd Rundgren's 'Baby Let's Swing/The Last Thing You Said/Don't Tie My Hands'
Rundgren's manager arranged for him to meet Nyro, and their evening together in her apartment was awkward at best. "Her pictures on her albums were very romantic looking," he told Red Bull Academy, "but she turned out to be like a very large gypsy. And her fingernails were so long that they curled over, and when she played the piano they clattered on the keys. I couldn't figure out how they managed to record her without it becoming part of the record."
Rundgren told Rolling Stone that the meeting did wind up resulting in an unexpected offer from Nyro. "She called me about a week later and asked me if I wanted to be her band leader," Rundgren revealed. "And it kind of cut me because I was just in the midst of trying to make my own band successful, and I couldn't do it, no matter how much I admired her. So that opportunity I just couldn't take advantage of."
Their conversation that night stuck with Rundgren, and was something he returned to years later when he eventually got to work with Nyro.
"I learned from her that she hated the process of making Eli and the Thirteenth Confession," he told the Red Bull Music Academy. "She felt rushed; she felt like things didn't get done the way she'd wanted them done. It was a record that blew everybody's mind, and she hated the experience of making it.
"And that was a big lesson for me," he continued. "I realized how much you enjoy yourself in the studio isn't necessarily a measure of progress or the quality of the final product. Sometimes someone has to drive you to the edge before that kind of tension and urgency and immediacy in the performance comes out."
That conversation might well have come back to Rundgren in 1983 when he was asked to produce what would become Nyro's 1984 album Mother's Spiritual. The album – full with songs about motherhood, the ecology and a political world Nyro saw as a threat – was having a fitful beginning when Rundgren was asked to step in.
"She had built a studio in her own house in Connecticut," Rundgren recalled, "and she'd been working on [the record] for a year and had been making no progress, nothing happening. I went there to just help her get going, to really get the project started."
Rundgren's love of Nyro's music was very likely a secondary concern when the call was made to involve him in the making of Mother's Spiritual.
Listen to Laura Nyro's 'To a Child'
"I had developed a reputation," he told Rolling Stone, "as a guy who would make sure things got done in the studio by some means or another – usually just plain persistence. … It was just a question of getting started somewhere; let's just get one [song] done. We finally got one done; next thing you know, you've got another one done. Next thing you know, you've got some momentum."
Rundgren found Nyro's recording methods to be particularly challenging.
"A typical session would be, like, [we'd] just finished Take 23, and she said, 'That was a nice one. Let's do another,'" he told the Red Bull Music Academy. "And by the time she's done, she's got 35 takes of the song, and then has to figure out which one to use. And quite obviously … she doesn't even know when it's working or not. 'That's a nice one; let's do another. That's a nice one; let's do another. That's a nice one; let's do another. I'll figure it out later.'
Terry Silverlight, who played drums on Mother's Spiritual, told Nyro biographer Michele Kort that Rundgren had some other issues with the project. In her book Soul Picnic: The Music and Passion of Laura Nyro, Kort quotes Silverlight's recollection: "My take on it, from overhearing [Rundgren's] conversations with her, is that he thought there should be a hit on the record, thought that was the best thing for her. … He said, 'Look, you're just writing songs about trees and the wind, and the record's just not going to go anywhere.'"
Bassist Elysa Sunshine recalls conflict between Rundgren's vision for Mother's Spiritual and Nyro's.
"Every suggestion he made was 180 degrees from what [Nyro] wanted," she told Kort in Soul Picnic. "She wouldn't take any suggestions, really, except what she had already said she wanted."
Rundgren eventually had enough.
"Once she gained momentum, I just kind of bowed out of the project," he told Rolling Stone. "[It was] Partly because I wasn't contributing much more than helping to move the process along, but her methodology was to defer all the decision making until later. So there were no decisions to be made."
Nyro released Mother's Spiritual in January 1984, to little commercial notice. Rundgren would never see her again. In April 1997, Nyro died from ovarian cancer.
See Todd Rundgren Among the '70s' Best Songs