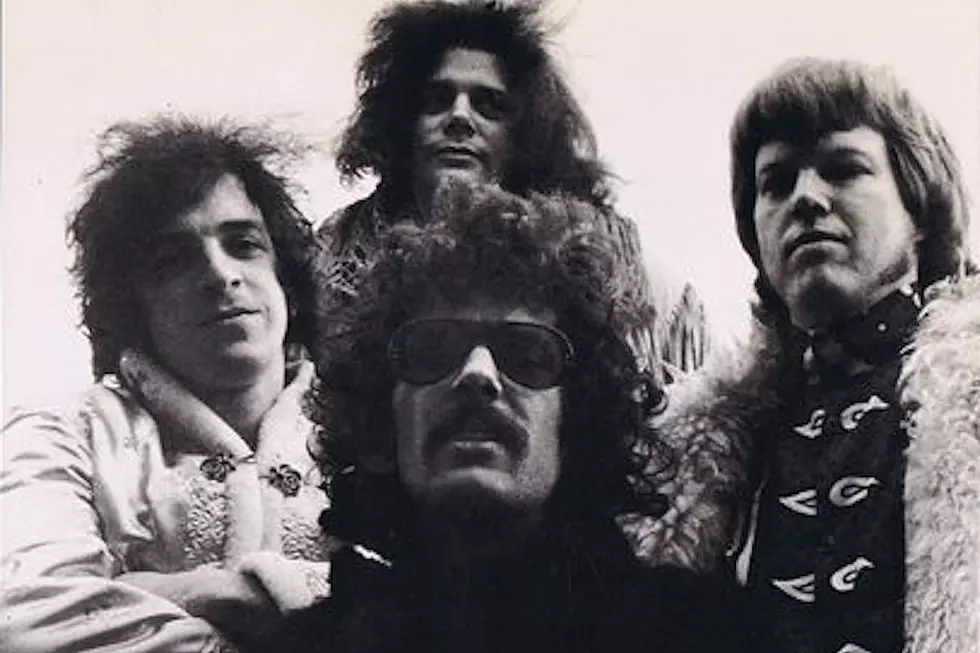 How Mountain's First Album Deftly Straddled Two Decades
Windfall
A new band named Mountain delivered their debut album on March 7, 1970, then watched the cheekily named Climbing! quickly move into the Billboard Top 20 on the strength of the smash hit single and future classic rock staple, "Mississippi Queen."
Sounds simple, right? The story of Mountain's quick ascension to mainstream fame is a little more complicated than that.
Mountain was actually named after the solo album released by singer and guitarist Leslie West, formerly of the Vagrants, in July 1969. This had been produced by bassist and talented arranger Felix Pappalardi, who had spent the previous years working in close cahoots with the world's first rock supergroup, Cream.
Less than a month later, the newly rechristened group, rounded out by organist Steve Knight and drummer N.D. Smart, found themselves on stage at Woodstock, which immediately transformed these and other relative unknowns into virtual household names. Keenly aware of their good fortune and perfect timing, West and Pappalardi quickly moved to capitalize by recruiting drummer Laurence "Corky" Laing and getting to work on the first proper Mountain album.
Climbing! wound up straddling popular music's transition from the '60s to the '70s like few contemporary releases: simultaneously carrying the torch for the Cream and Jimi Hendrix Experience-based power trios that had been so dominant in the dying decade, whiled fully embracing the new one's nascent hard-rock developments.
Listen to Mountain Perform 'Mississippi Queen'
"Theme for an Imaginary Western," which had already been previewed at Woodstock, harked back to Pappalardi's eclectic work with Cream (and was in fact co-written with Jack Bruce), as did the widescreen dramatics of "Boys in the Band" did too. "For Yasgur's Farm" obviously paid tribute to the festival site and all the flower children that had attended, while "The Laird" saluted fast-fading psychedelia with its gentle whimsy and ringing sitars.
But remaining cuts like "Never in My Life," "Silver Paper" and "Sittin' on a Rainbow" found that space where British blues was violently being transfigured into what would soon be called "heavy metal." Even West's gorgeous solo acoustic piece, "To My Friend," owed more to Led Zeppelin's "Black Mountain Side" than the previous era's neo-folk movement which had inspired it.
And of course there was the aforementioned "Mississippi Queen," which earned its signature cowbell intro only after multiple unsatisfactory takes forced Laing to count in his exhausted band mates, and came to signify everything Mountain ever was, or would be.
And, to complete the band's self-sufficient mindset, cover artwork for the album was designed by Pappalardi's wife, Gail Collins, who interestingly also received co-songwriting credits on six of the final nine songs selected (not a bad way to double one's royalties). Sadly, it was Collins who shot and killed Pappalardi on April 17, 1983. She was eventually found guilty of criminally negligent homicide and served a little more than one year of jail time.
By then, Mountain and their legendary exploits at the very dawn of '70s were but a distant, rose-tinted memory of the summer of love, and the band's all-too-sudden fall from commercial grace after a string of solid, but never transcendent follow-up albums, all of which lacked the inspired spark heard on Climbing! Still for what it's worth, the ensuing decades have also proven Mountain's music – or at least the indestructible "Mississippi Queen" – to be as durable as any music captured during that specific time-period in rock.
 
 
See How Mountain and Others Got Their Names