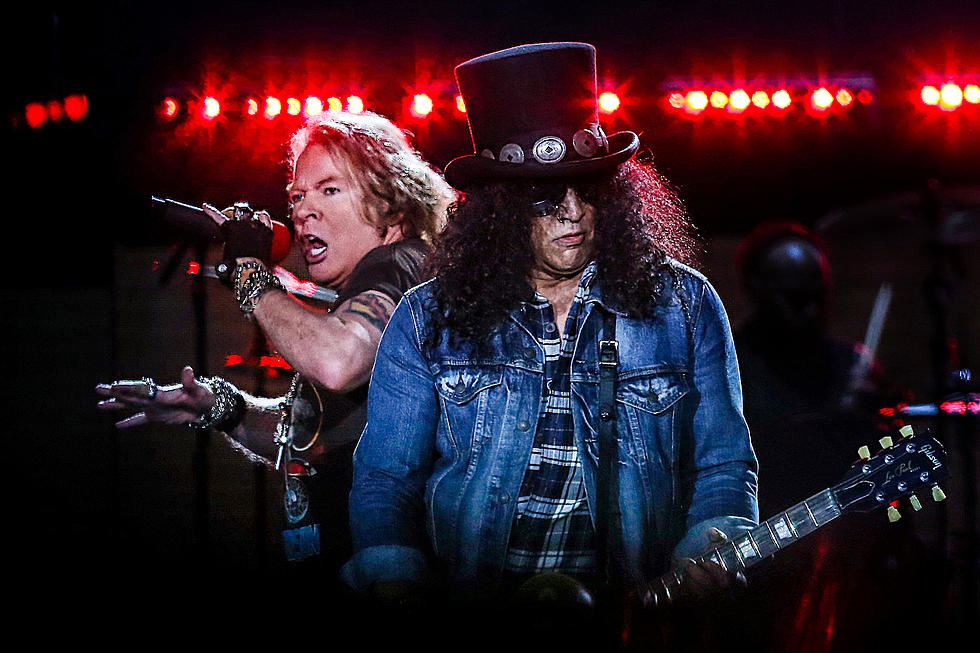 Slash Doesn't Mind Being Recognized as 'That Guy From' Guns N' Roses
Paul Rovere/Fairfax Media, Getty Images
Whenever a band enters the "iconic" level, it's inevitable that the musicians in it will always be associated as being a part of it, whether the group stays together or not. Slash has accepted this, and stated that he doesn't mind being recognized as "that guy from" Guns N' Roses.
Slash has been involved in a ton of musical projects outside of Guns. After he quit in 1996, he formed Slash's Snakepit, then later reunited with Duff McKagan and Matt Sorum for Velvet Revolver and now he's been making music and touring with Myles Kennedy and the Conspirators for a full decade. Aside from his distinct, bluesy tone, he also made a visual trademark for himself with the top hat, and all of that started with Guns N' Roses.
The band had such a large impact in such a short amount of time that it's impossible to dissociate Slash from them. Just as Jimmy Page and Robert Plant will always be known as the guitarist and singer from Led Zeppelin first and foremost, Slash will remain a staple in GN'R's image and sound — and he knows it. Even though he's released more music with Kennedy and the Conspirators over the last decade, he still sees Guns as his main gig.
"Guns N' Roses was obviously my entire life and that's where I come from. I'll always be part of it and I don't mind being recognized as 'that guy from that band.' At this point I'll probably do it till I'm pushing daisies," the legend admitted to Guitar.
"It's always been a lot of fun but it became a really big band, so the tension is palpable. Like with Velvet Revolver, everybody around that band had all these delusions of grandeur. Not the band itself, the people around it. It was very difficult, so it didn't stand a chance long-term," he continued, adding that SMKC have always kept their expectations low and just focused on having a good time.
"Nobody really thinks about all the other bullshit," he expressed.
The guitarist has repeatedly teased that new GN'R material is coming, and that a few new songs will likely be released at some point this year. As to whether he thinks a new album will build on the legacy they cemented for themselves decades ago, he explained he's just going with the flow.
"I really don't have forethought with these things. I just do them! I always find that the best-laid plans don't pan out the way you imagine them. With Guns, you just do it and see what happens."
53 Rockers Who've Been in Multiple Successful Bands