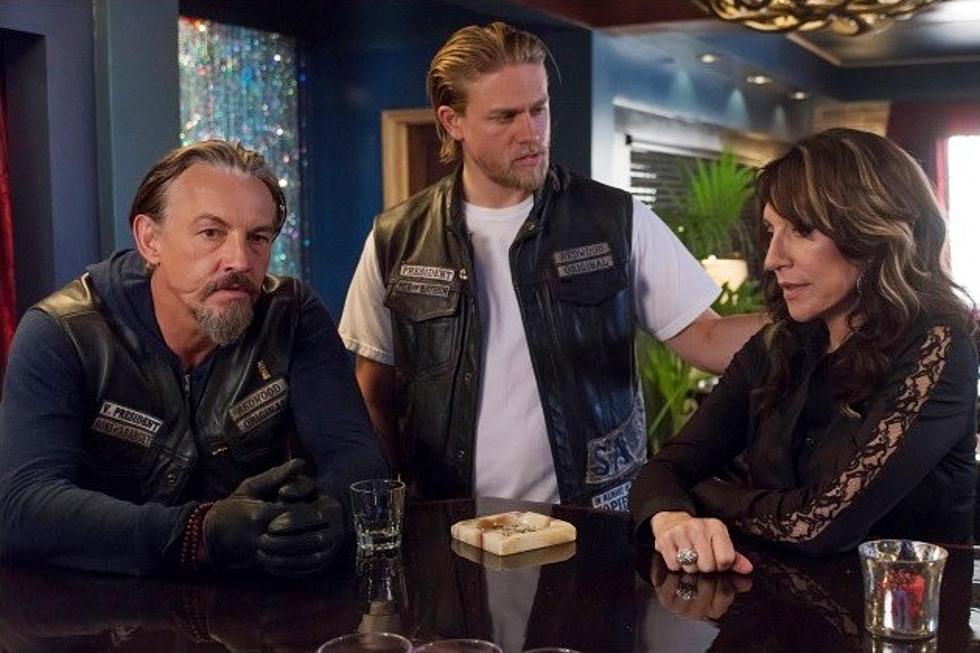 'Sons of Anarchy' Final Season Potentially Extended, Plus Marilyn Manson?
FX
'Sons of Anarchy' became something of a running gag in critical circles this past year for its ever-expanding runtime, with its sixth season frequently extending episodes to the 90-minute mark. Now, as the seventh and final season of FX's road-rashing biker drama looms, series creator Kurt Sutter has revealed his intent to expand 'Sons of Anarchy' even further, adding additional episodes to the swan song. Plus, what might shock-rocker Marilyn Manson have to do with it?
By way of TVLine, we've learned that Sutter has apparently entered into talks with FX to extend the episode order of 'Sons of Anarchy' season 7 past the usual 13 episodes, described in his latest "WTF Sutter" podcast. Very likely, the need for additional episodes owes to Sutter's claims of "really trying to do my very best" to keep each season 7 installment to a 60-minute runtime. Season 6 episodes frequently expanded beyond the hour, often with extraneous subplots that drew critical flack for their bloat.
That said, Sutter acknowledges that licensing fees and other factors may well make the prospect of additional episodes ineffective cost-wise for FX, though we wouldn't be surprised if the network agreed to extend its ratings juggernaut a few weeks. If nothing else, FX will keep in business with Sutter for his 'Anarchy' followup, that of medieval drama 'The Bastard Executioner.'
We'd be up for a few additional 'Sons of Anarchy' installments, given how strongly season 6 ended, but what do you think? Check out for yourself what Sutter had to say of a potential 'Sons of Anarchy' expansion (along with news that Marilyn Manson may contribute musically to the final year) in the podcast below, and give us your thoughts on the final season in the comments!