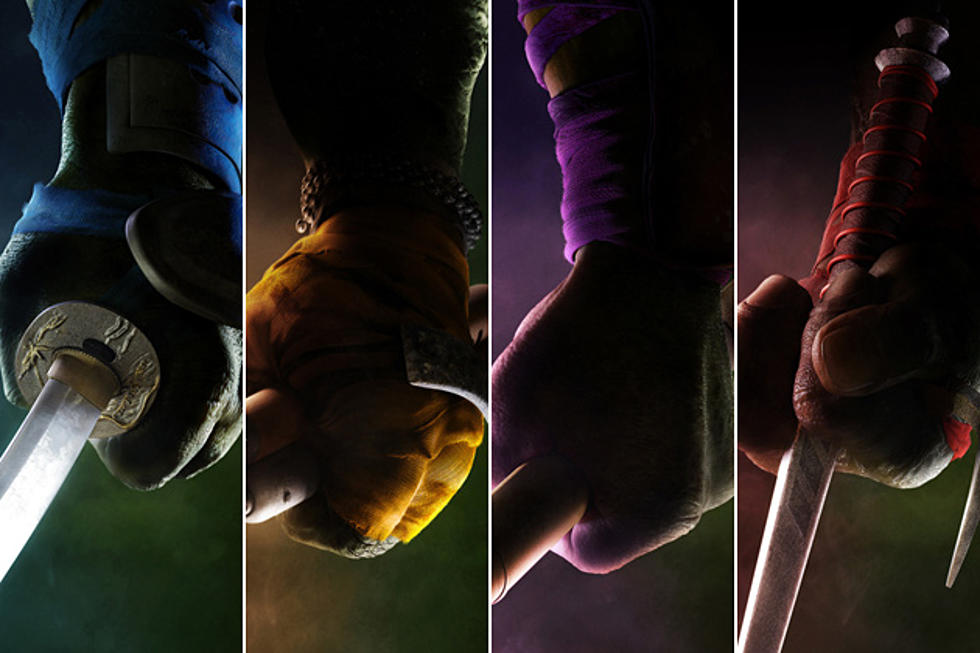 'Teenage Mutant Ninja Turtles' Posters: Our Heroes Are Ready for Some Action
Paramount
Leonardo, Michelangelo, Donatello and Raphael are ready for battle in the newly released 'Teenage Mutant Ninja Turtles' posters. While we don't get a good look at this new breed of heroes (that was kept for the trailer premiere), we do get shots of their hands dramatically gripping their respective weapons. Yeah, they're not all that revealing.
Some 'TMNT' fans were up in arms over how their beloved mutant turtles are being rendered in the upcoming reboot from director Jonathan Liebesman and producer Michael Bay, but at least they'll still have their famous weapons, which are front and center in the new posters.
The city needs heroes. Darkness has settled over New York City as Shredder and his evil Foot Clan have an iron grip on everything from the police to the politicians. The future is grim until four unlikely outcast brothers rise from the sewers and discover their destiny as Teenage Mutant Ninja Turtles. The Turtles must work with fearless reporter April and her wise-cracking cameraman Vern Fenwick to save the city and unravel Shredder's diabolical plan.
Pete Ploszek, Noel Fisher, Jeremy Howard and Adam Ritchson brought the turtles to life through motion capture, while Fox is playing April O'Neil and Fichtner is our new Shredder. In addition, we recently learned that Ploznek and Danny Woodburn, the latter of whom performed motion capture for Splinter, were given the shaft in voice acting their characters, to be replaced by Johnny Knoxville and Tony Shalhoub, respectively.
'Teenage Mutant Ninja Turtles' opens in theaters on August 8, but until then, check out the first posters below.