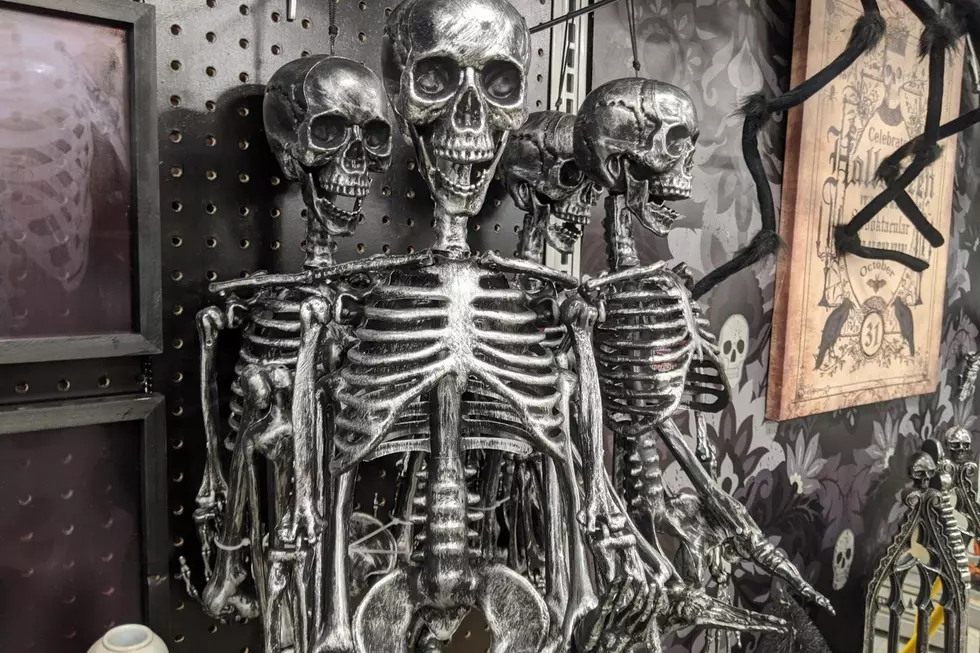 Too Soon? Halloween is Here at these Billings Stores
Credit: Michael Foth ~ Townsquare Media
I don't know about you, but I think I can speak for many of us when I say that I am really looking forward to the holiday season this year. I'm not usually a big "holiday" guy, and traditionally I greet them mostly with "meh" (except for the 4th of July, which gets two enthusiastic thumbs up). However, 2020 has been a doozie so far and October through December at least has some semblance of normalcy with three big holidays rapidly heading our direction. Putting up decorations, preparing delicious foods (and drinks), and spending time with my family will be nice this year. Anything to help take our minds off politics, social strife, and COVID will be great.
People who love Halloween, usually go all-in on the holiday. These folks will spare little time and expense decorating for the big day. With Halloween on a Saturday this year, it's time to bring out your best effort, from interior and exterior decorations to lawn stuff and epic costumes. Here are some retailers around Billings that already have a lot of Halloween stuff on display, as of 8/24.
The new At Home store next to Costco opened earlier this spring and my wife and I finally got around to checking it out last weekend. It's kind of like Hobby Lobby, only with more furniture and less knick-knacks and fake flowers. I was surprised at their selection of cool Halloween stuff, some of what may be "exclusive" to the store.
The Day of the Dead inspired skeleton statue caught my eye, as did the bird-beaked little creature (it seems fitting for the year of the 'VID). At Home also had a sweet "evil tree" blow-up yard ornament.
The spooky animatronic ghoul must have been unplugged on my visit today, as it was quiet. Last time I stopped by it was screaming and cackling like a deranged spirit.
Hobby Lobby seems to start rolling out holiday merchandise the day after the 4th of July. I'm exaggerating a little, but not much. Just walking into their entryway today, I was smacked in the face by an army of artificial fall.
I guess scarecrows are hot this year? Hobby Lobby doesn't disappoint if you're in the market for orange/brown/fall colored decor. There were fake pumpkins of every shade, piled all the way to the ceiling. Along with... more scarecrows.
I counted at least 10 aisles of fall and Halloween decor, that is, if you count all the plastic foliage in every color and shape imaginable. Check out this cute little pumpkin timer I found! It's a pumpkin AND an oven timer. Adorable + functional. I love it.
Next, I swung by Target. Target appears to still be in "back-to-school" mode, as Halloween has yet to explode anywhere in their aisles. Fair enough. It's not even September yet. I then popped by Spirit Halloween Superstore, just south of Costco in their normal location on south 24th St West. Signs in the window say "coming soon."
I loitered around for a few minutes, hoping to talk to an important-looking-gentlemen who was engaged in a loooong phone conversation. I got tired of waiting and he was probably thankful I stopped giving him the "can I talk to you?" look, so I took off before I could ask him any questions about when they are going to open. Spirit Halloween Superstore is set to open this Saturday, August 29, according to their website. You'll have to hustle in and get your Joe Exotic costume before everyone else does.
Ah, Walmart. The store everyone loves to hate. Walmart is stuck between "back-to-school" and full-blown Halloween. They have started rolling out some fall stuff, but no costumes or yard displays yet. At the Laurel location, I saw one weak-ish display with a random assortment of fall items.
And candy. It's never too soon to start on your Halloween stockpile of sugary goodness.
Walmart did have a decent selection of fall flowering pots. You have to admit these are more attractive than the fake flowers at Hobby Lobby.
Bring on fall and all the good stuff that comes with the season. Like pumpkin spice, hot buttered rum, smokey meats, wine, and good times. I'd better start working on my costume now.

Enter your number to get our free mobile app
Celebs Share Their Personal Paranormal Stories