40 Years Ago: Blue Oyster Cult Release 'Secret Treaties'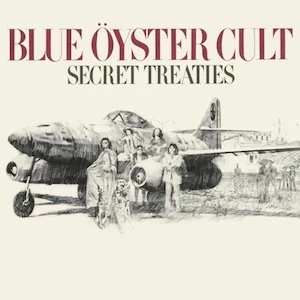 When Long Island, New York's Blue Oyster Cult released 'Secret Treaties' in March of 1974, their future standing as bona fide hard rock legends was anything but guaranteed; but it certainly helped that the band's third album (and final installment in their so-called "black and white" triptych) happened to be their best effort yet — by far.
For, whereas B.O.C.'s sophomore outing, 'Tyranny and Mutation,' had undoubtedly paid off, in part, on the tenuous promises made by the group's eponymous debut, its inconsistent songwriting and sheer aesthetic schizophrenia clearly revealed the band's lingering directional uncertainty.
Simply put, band members Eric Bloom, Donald Roeser, Allen Lanier, Joe and Albert Bouchard had clearly still been searching for their identity, and most people would agree that 'Secret Treaties' is where they truly found it. Their instrumental and compositional abilities had improved enough to let them carry on exploring a relatively varied range of musical styles (and infinite lyric themes) within a mostly heavy rock framework.
In other words, B.O.C. was making sense out of not making sense … if that makes sense.
And they had some talented friends helping them out, too! Punk queen in waiting Patti Smith penned the words for the new LP's irresistible opener, 'Career of Evil,' while another literary pal, pioneering rock critic Richard Meltzer, provided lyrics for the unapologetic 'Cagey Cretins' and the downright creepy 'Harvester of Eyes.' (Both lyricists had already lent some help on 'Tyranny and Mutation').
Elsewhere, band manager Sandy Pearlman handled the bulk of B.O.C's cryptic wordplay, but it was the aforementioned quintet of musicians who crafted the all-important, increasingly accomplished songs supporting them — including future concert favorites like the hard driving 'Dominance and Submission' and the astonishingly finessed, piano-led 'Astronomy.'
Perhaps best of all, though, 'Secret Treaties' was the first B.O.C. LP that was truly filler free, thanks to sturdy album tracks like Bloom's ominous 'Subhuman,' the beefed-up, turbo-charged '50s rock of 'ME 262,' and the dynamic and dramatic 'Flaming Telepaths,' featuring particularly stunning leads from six-string hero Buck Dharma.
All of which catapulted 'Secret Treaties' to a Gold Certification by the RIAA and elevated Blue Oyster Cult to arena headliners for the year-long touring that soon followed — later commemorated by the first of many live albums, 'On Your Feet or On Your Knees.'
By the time the band began working on their fourth album, 'Agents of Fortune,' in late 1975, they'd struck a secret treaty with hard rock fans everywhere and established a momentum that would keep them roaring right through the '70s.
Source:
40 Years Ago: Blue Oyster Cult Release 'Secret Treaties'