Bruce Springsteen Recalls Life on the Campaign Trail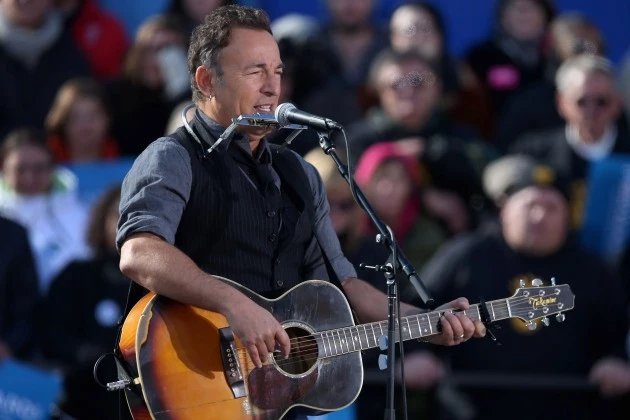 Tonight (Feb. 8), Bruce Springsteen will receive the MusiCares' 2013 Person of the Year award for his history of philanthropic and political works. In a new interview, Springsteen discuss his longtime commitment to activism, and how it has influenced his own work.
Once unwilling to speak his mind on the issues of the day, Springsteen has now played an active role in the last three presidental elections. He finds performing at a political rally to be a different challenge than a sold-out arena, but possibly more rewarding.
"I go to Ohio with Jay-Z," he told Robert Santelli, the Executive Director of the Grammy Museum. "So Jay-Z's audience is there, my audience is there, and then there is a purely political audience that's there. So you're playing to an enormous cross section of people, including children…You need to communicate in a very fresh and direct way. For all three times I've helped out on a campaign, that's what I enjoyed the most."
The main difference, he says, is that, at a concert, the messages are in the subtext, but on the campaign trial, they are pushed to the forefront by the very nature of the occasion.
"Every line and every bit of your language is shaded towards the things people are fighting for and caring about," he continued. "It's wonderful to hear your music come to life in that context. It's been an honor to have that experience. If you're lucky, you get the chance to just nudge the country in this direction, or that. It was the reason why I wrote a lot of those songs."
For decades, Springsteen has given money to food banks in cities where he performs, and encouraged fans to do the same from the stage. This started with a $10,000 donation to a food bank for unemployed steelworkers in Pittsburgh on Sept. 22, 1984. "I was looking for some way to put my music to some service on a nightly basis," he said. "You go into a town, you play a little music, you leave something behind. That idea connected us to the local community. It was a very simple idea, but it really resonated with me."
At the benefit, Springsteen will be honored with a tribute concert featuring such big names as Jackson Browne, Eddie Vedder and gospel legend Mavis Staples. Yesterday, country star Tim McGraw, who will perform with wife Faith Hill, tweeted, "Just rehearsed 'Tougher Than The Rest' w/ Faith. Doing it in front of Da Boss tomorrow night. Just sinking in. Gonna be awesome but yipes!!!"
Source:
Bruce Springsteen Recalls Life on the Campaign Trail