Grammy Producer Apologizes to Metallica, Blames Onstage Extra for Unplugged Mic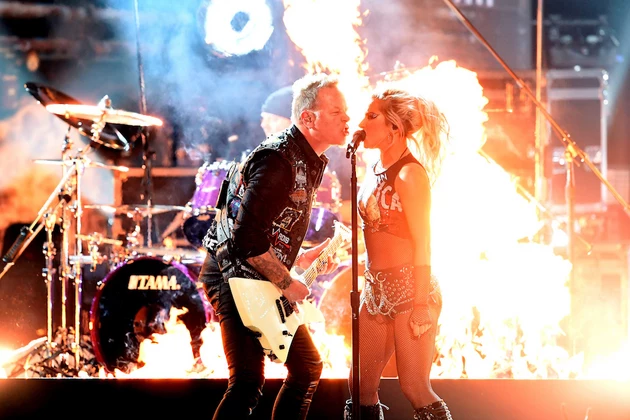 The producer of the Grammy Awards broadcast says a bumbling on-stage extra caused the technical glitch that marred Metallica's performance with Lady Gaga on Sunday.
"These kinds of things are horrible when they happen," Ken Ehrlich told the Associated Press. "That's one of the risks of live television."
He now believes that someone inadvertently disconnected frontman James Hetfield's microphone before he took the stage to perform a pyro-laden version of "Moth Into Flame," from Metallica's new album Hardwired … to Self-Destruct.
"My guys say that the mic cable was connected," Ehrlich said. "My guys' theory was that … one of the extras accidentally kicked out the cable that went to the mic."
A clearly frustrated Hetfield shared a microphone with Gaga for most of the performance, then knocked down his mic stand in anger after the song ended. Later, he reportedly threw his guitar offstage.
"We get offstage, we get back there, and I haven't seen [Hetfield] like that in 20 years," Metallica drummer Lars Ulrich later told James Corden. "I mean, he was livid. He's aged really well and he's a pretty chill guy, but the first five or 10 minutes in that dressing room was not a lot of fun."
Ulrich noted that "the show must go on, and we fought through it." But the glitch was one of the principal post-Grammy storylines, despite their game effort to carry on. "Obviously, we apologize to the band," Ehrlich noted, calling the incident "awful."
Top 50 Classic Heavy Metal Albums
Source:
Grammy Producer Apologizes to Metallica, Blames Onstage Extra for Unplugged Mic