Lynyrd Skynyrd 'Street Survivors' Biopic Starts Filming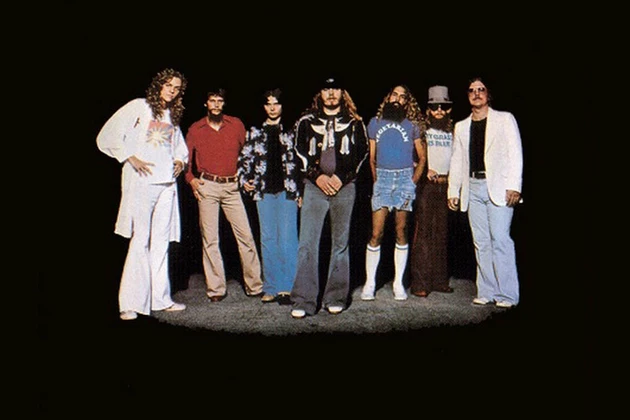 Street Survivors: The True Story of the Lynyrd Skynyrd Plane Crash, a biopic dramatizing the band's early years and rise to fame, has rounded out its cast, with cameras set to start rolling today.
Variety reports that actors Neill Byrnes and Anthony Rocco Bovo have been hired to play Aerosmith's Steven Tyler and Joe Perry, completing a cast that includes Taylor Clift as Skynyrd frontman Ronnie Van Zant, Samuel Kay Forrest as guitarist Steve Gaines and Rich Dally III as guitarist Allen Collins. Ian Shultis is playing drummer Artimus Pyle, who wrote the story that formed the basis of the film's script.
Pyle announced the project last summer, promising "a very passionate, intimate story about the music and the band and a rise and fall that happened so suddenly."
As reflected by the film's title, a significant portion of the story will center around the 1977 plane crash that killed three band members, one of the group's road managers and both of the craft's pilots. Byrnes and Rocco's performances as Tyler and Perry factor into this portion of the film; as Variety notes, Aerosmith looked at leasing the plane just a week before the crash, but decided it wasn't safe and lined up other accommodations instead.
For Pyle, who shared his version of the Skynyrd saga with director and co-writer Jared Cohn, the accident still represents a heartbreaking loss of potential.
"We could play with any band — any band, whether it was the Rolling Stones, anyone, and we would hold our own or better. I think of that accident every day and what we might have accomplished if we'd have 10 more years," said Pyle. "I want the movie to portray my band members the way they were: real, funny people who loved the music, loved the success that allowed us to be able to travel the world and play for kings and queens all over this planet."
Lynyrd Skynyrd Albums Ranked Worst to Best
Source:
Lynyrd Skynyrd 'Street Survivors' Biopic Starts Filming