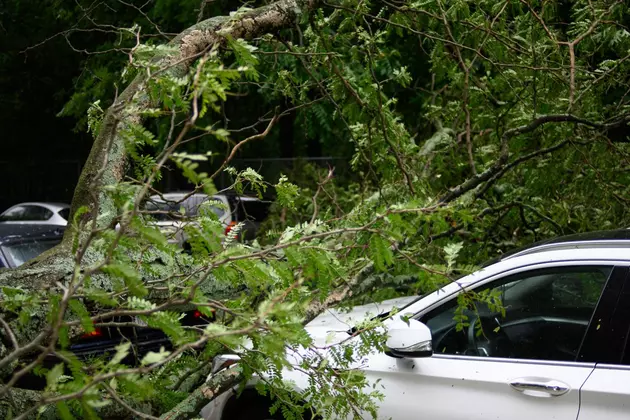 Clean Up. Storm Debris Collection Days Begin Saturday in Billings
Photo by Michael Jin on Unsplash
The strong thunderstorm that swept through Billings last weekend left a real mess for hundreds of homeowners in the Magic City. Some residents (like Bryce Turcotte, seen below with arborist Skylar Partin) were without power for days following the storm, which included significant hail in some areas of town. Flash flood water was flowing like a river on numerous streets around Billings, leaving motorists stranded and businesses flooded. Now that we've dried out this week, residents have been cleaning up debris from the storm.
Post-storm cleanup was underway this week.
An entire property's worth of branches and large tree limbs are nearly impossible to cram into your puny little trash cans. Thankfully, the City of Billings Public Works Department has scheduled special storm debris collection dates, beginning Saturday morning 7/30. They'll begin on Zone 1 (far West End) and work their way east every Saturday until they've covered all of the collection zones. See when they'll be coming to your neighborhood HERE.
A few guidelines from the City.
Debris collection begins at 6 am on Saturdays, so make sure your debris is set out early. In the City Administrators Weekly Report, they provide these details:
1. How can I find out when a collection is coming to my street? This interactive map will help inform residents of their neighborhood collection status including "in progress", "up next", and "completed", the City of Billings- Solid Waste Cleanup (arcgis.com)
2. What should I do with branches? Please gather the branches and set them out at your usual yard waste collection point. No need to bundle or bag them. Please do not block sidewalks, alleys, and streets.
3. What should I do with large trees? Please cut them into sections and set them out at your usual yard waste collection point without blocking sidewalks, alleys, and streets.
4. When should I set things out? Please get everything to the collection point before Saturday 7/30 and leave them out. Their "extras" collection trucks will also collect debris on scheduled Mondays.
5. Can I take them to the landfill myself? Yes, and in fact, the city will waive the weight limit for our residents who bring in brush and yard waste during the next few weeks.

Save the big branches for your firepit?
Free wood is always great if you've got a firepit or you could save it for your fireplace/woodstove this winter. Another option if you have a ton of branches is to rent a wood chipper and make your own garden mulch. Be careful with those chainsaws.
Billings Brewery Walking Trail