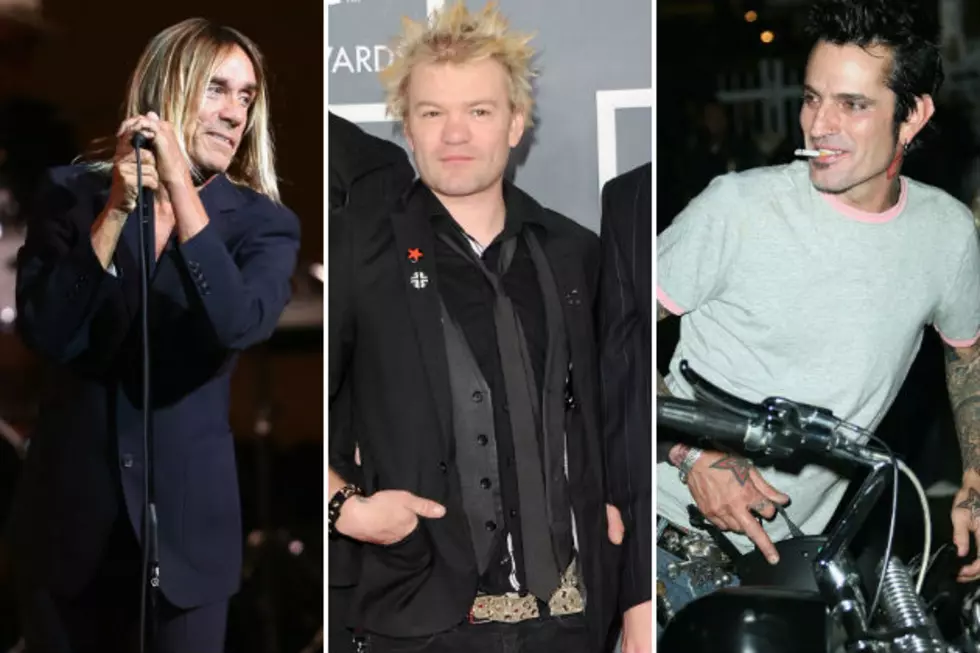 Iggy Pop, Tommy Lee Help Sum 41 Frontman Get Sober
Neilson Barnard / Larry Busacca / Chad Buchanan, Getty Images
Sum 41's Deryck Whibley had to say goodbye to a few friends after years of heavy drinking nearly killed him earlier this year. Thankfully, he still has a solid support system to lean on as he commits to living a healthier lifestyle.
"Now I'm sober, I don't get calls from certain people that I used to… the drinking friends," reflected Whibley during a recent interview. "Now I'm the bum-out to them. Who wants to invite the sober guy to the party?"
It's a question faced by many who seek to start over after years of destructive habits, but Whibley could still throw a more interesting party than most just by inviting at his fellow survivors who have befriended him. "You know who has been incredibly supportive? Iggy Pop. He had a lot of great advice; he's been through it all. We've been friends for years," he continued. "Same for Tommy Lee from Motley Crue. He told me what to expect from people, that not everyone will understand. Duff McKagan and Matt Sorum from Guns N' Roses have been great too. We go out for coffee and talk about s---."
Whibley's been open about his health struggles, posting a rail-thin photo of himself and an open letter to fans following the organ collapse that left him in a weeklong coma earlier this year. "It finally caught up to me. I was drinking hard every day," reads the letter in part. "I finally realized I can't drink anymore. If I have one drink the docs say I will die. I'm not preaching or anything, but just always drink responsibly."