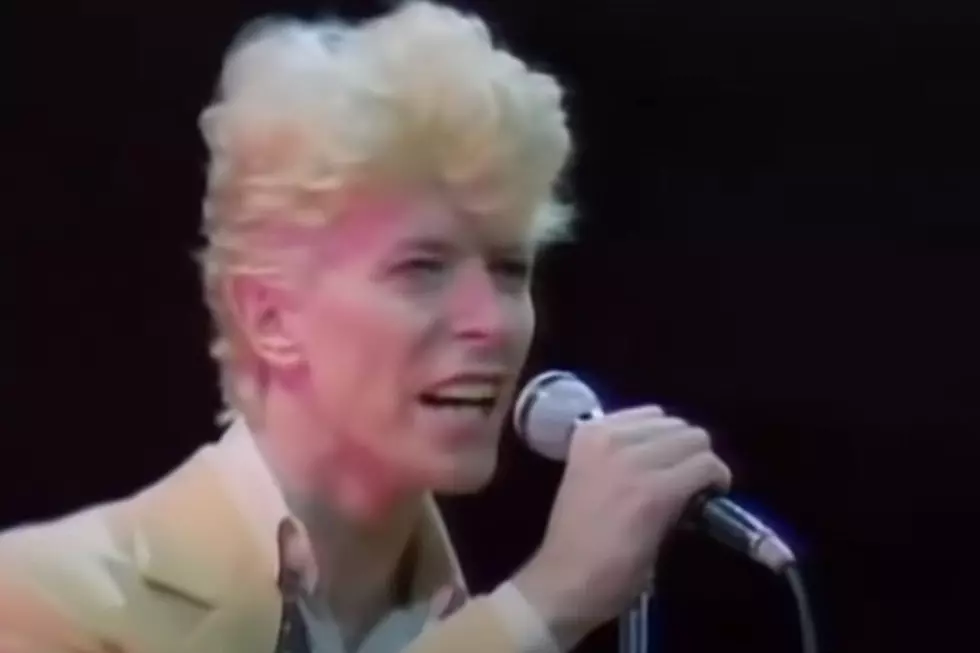 40 Years Ago: A Black Rock Icon Shapes David Bowie's 'Modern Love'
YouTube
David Bowie's multiplatinum album Let's Dance feels like a commercial release today, only because the LP sold so well. Back then, this canny new blend of R&B-soaked dance music, grimy blues licks and iced-over new wave was anything but mainstream.
"It was virtually a new kind of hybrid, using blues-rock guitar against a dance format," Bowie told Guitar Player. "There wasn't anything else that really quite sounded like that at the time."
Perhaps unsurprisingly, Bowie's new producer Nile Rodgers took the brunt of the criticism. Race seemed to be an undercurrent.
"He would actually be perplexed at how shocked they were, because to him, Bowie just thought of people as people," Rodgers later told Rolling Stone. "So he couldn't believe it when people would say, 'Oh, man, you're working with that disco dude' – and probably there were other kinds of, 'You're working with that black disco dude.'"
Bowie had already collaborated with disco maven Giorgio Moroder on 1982's "Cat People (Putting Out Fire)." "That didn't seem to make people upset," Rodgers added, "but working with me seemed to leave a bad taste in a lot of people's mouths, and that was difficult for me."
READ MORE: David Bowie Albums Ranked 
"Modern Love" was an early illustration of how easily their two sensibilities began meshing before sessions began in late 1982 at New York City's Power Station. Ironically, the song's overt reference to a black rock icon hadn't been suggested by Rodgers.
They were still ruminating on what Let's Dance could be when Bowie stopped by Rodgers' apartment. "One day, David showed me a picture of Little Richard in a red suit – hair hanging down to there and getting into a red Cadillac convertible," Rodgers said during a Red Bull Academy event. "He said, 'Nile, darling, that's what I want my album to sound like.' As soon as I saw it, I knew."
Watch David Bowie's 'Modern Love' Video
Little Richard's Influence on David Bowie
Bowie wasn't plucking Little Richard out of thin air; he'd been a key influence all along, beginning with "Tutti Frutti." When Bowie first heard the Top 20 1955 smash, "my heart nearly burst with excitement. I'd never heard anything even resembling this," he said in 2011's David Bowie: Starman by Paul Trynka. "It filled the room with energy and color and outrageous defiance. I had heard God."
His career path was set. "If it hadn't been for him, I wouldn't have gone into music," Bowie said in 2017's David Bowie Made Me Gay: 100 Years of LGBT Music by Darryl W. Bullock. "When I was nine and first saw Little Richard in a film that played around town — I think it was probably [The] Girl Can't Help It — seeing those four saxophonists onstage, it was like, 'I want to be in that band!'"
As he and Rodgers constructed "Modern Love," Bowie returned to "True Fine Mama," a more obscure 1958 Little Richard B-side. "Even though it shows off his strong church background, it rocks like hell," Bowie told Guitar Player. "When I do my little call-and-response things on songs like 'Modern Love,' it all comes from Little Richard."
READ MORE: David Bowie Year by Year: 1965-2016 Photographs
Implicit in the conversation was that "Modern Love" might echo Little Richard, but that these sessions would have a distinctive feel. "He didn't mean he wanted a retro record or anything of the sort," Rodgers said at the Red Bull Academy. "He meant he wanted a record that would be modern and timeless. Just as that picture was from the '50s, and it looked like it was from the future!"
They'd return to this wellspring for inspiration, while also refining Little Richard's genre-smashing gumption. "What [Bowie] called rock 'n' roll was the original definition of rock 'n' roll – was race music, was black music," Rodgers told Rolling Stone. "It was that music that was taboo. It was music that the people liked, but the critics would say, 'Eh. What is this colored music?' I got all of that in that one photograph."
Following Rodgers' usual playbook, "Modern Love" launches with an unforgettable riff. "Every single Chic record starts with a hook," Rodgers said in the Loving the Alien box set liner notes. "When we did 'Modern Love,' I felt that it had to have some kind of interesting intro to hook you right at the top, too."
This new alchemy so excited Bowie that he completed vocals for "Modern Love" and four other songs in a single day.
Watch David Bowie Perform 'Modern Love' in Concert
Why David Bowie's Look Changed for 'Let's Dance'
Released on Sept. 12, 1983, as Bowie's Serious Moonlight tour continued, "Modern Love" went to No. 2 in the U.K., where it never surpassed Culture Club's "Karma Chameleon." The single finished at No. 14 on the Billboard Hot 100.
Unlike higher-concept clips for the LP's earlier singles "Let's Dance" and "China Girl," the accompanying video for "Modern Love" was filmed by director Jim Yukich in a much more straightforward manner: onstage during an encore from Bowie's four-night stand in July 1983 at the Spectrum in Philadelphia.
"Modern Love" typically served as Bowie's rousing show closer, giving the band a chance to "wave bye-bye" to the audience. The clip finds Bowie sporting a lean, very contemporary look that had nothing to do with the avant-garde edginess of "Ashes to Ashes" from just a couple of years earlier.
This too emerged from that iconic image of Little Richard, Rodgers said. "The Cadillac looked like a spaceship," he told Rolling Stone, "and Little Richard was in this monochromatic outfit, which then later on became David Bowie in the yellow monochromatic outfit with the yellow hair."
As Let's Dance sold by the millions, its influence – and the weight of expectations – began to become clear. "Kenny Loggins later told me, 'I stole the guitar riff from the intro to 'Modern Love' for the beginning of the song 'Footloose,'" Rodgers said in the Loving the Alien liner notes. "It's exactly the same!"
Bowie began to feel boxed in and would soon leave this sound behind. "It was great in its way, but it put me in a real corner in that it fucked with my integrity!" he told Guitar Player. "I had every intention of continuing to do some unusual material after that. But the success of that record really forced me, in a way, to continue the beast. It was my own doing, of course, but I felt, after a few years, that I had gotten stuck."
20 Greatest Comeback Albums
Becoming a successful artist is difficult. Remaining on top forever is downright impossible.
How an Old Beatles Song Connected David Bowie With John Lennon