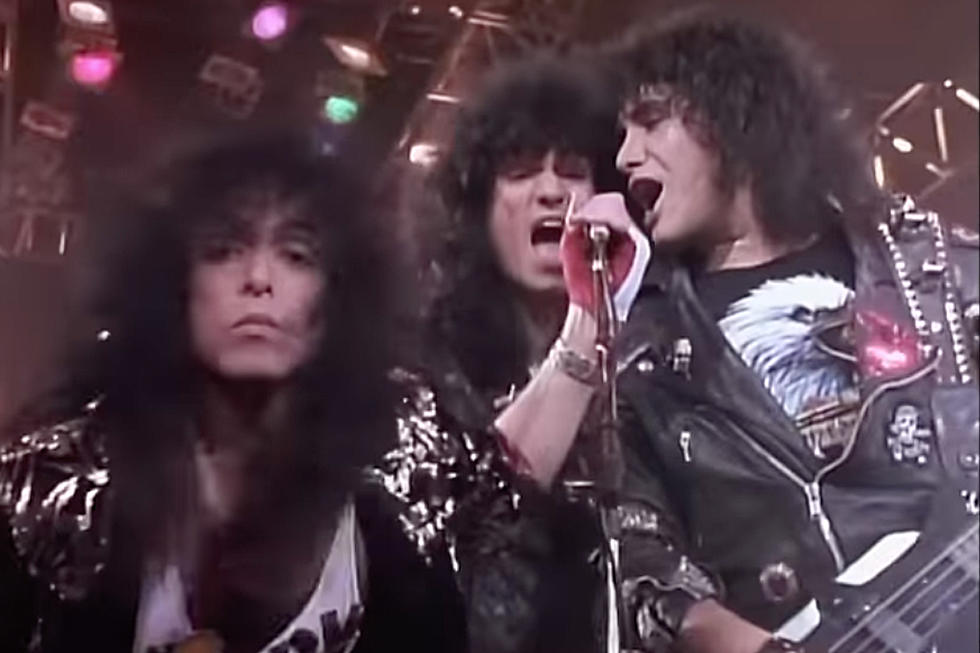 How Kiss' 'Turn on the Night' Became a Forgotten Feel-Good Anthem
YouTube
Kiss was at the end of a frustrating promotional cycle by the time they released "Turn on the Night" on Feb. 27, 1988, as the third and final single from 1987's Crazy Nights.
The LP had initially been accompanied by high hopes. Its first single, "Crazy Crazy Nights," performed well at radio but failed to make much of a commercial impact. Their followup would show slightly greater promise.
The power ballad "Reason to Live" grazed the Billboard Top 40 after being released in November 1987 as the second single, peaking at No. 34. A video was placed in heavy rotation by MTV and ascended to the top spot of the fan-voted daily Dial MTV music video countdown. But momentum seemed to fall away just as fast as it had developed – and Kiss was in a tough spot as "Turn on the Night" arrived.
Buried near the end of Crazy Nights, "Turn on the Night" was co-written by Paul Stanley with Diane Warren when the future legend was just beginning to rack up what would be a long string of career hits. She had scored her first No. 1 in April 1987 with Starship's "Nothing's Gonna Stop Us Now," after composing a Top 5 hit in 1985 with "Rhythm of the Night" by DeBarge.
Warren was jazzed about the chance to collaborate with Kiss: "I hadn't had a lot of hits at the time but Paul had a lot of belief in me," she said in the official Kiss biography, Behind the Mask. "Paul has a good pop sensibility. Paul's a song guy. He's a good writer and he appreciates good songs."
Crazy Nights found Kiss focusing nearly exclusively on collaborating with outside writers, which was not uncommon for the time. They ended up co-writing 10 out of the 11 tracks with others, including longtime band associates Adam Mitchell and Desmond Child. "Hell or High Water," which Gene Simmons composed with Bruce Kulick, was the lone track with no outside involvement.
Still, Simmons bristled during a 1987 British television interview when the subject was brought up. "The band also co-writes material with each other," he said back then. "Bruce Kulick and Eric Carr … also co-wrote the material back and forth. So some were outside writers and some of the material was within the band."
Watch 'Turn on the Night' by Kiss
As was the case with a number of tracks on Crazy Nights, "Turn on the Night" featured prominent keyboards, which gave the song a more pop-infused tone. That was in step with the era, mirroring the sound of radio singles from Bon Jovi, Heart and Ozzy Osbourne that had previously been successful.
"[It] was super catchy and for my tastes not at all 'too pop' for Kiss," Kulick tells UCR now. "With Ron Nevison producing and keyboards becoming a part of the sound for the Crazy Nights LP, the song had sufficient keyboard pads to not let it rock too hard."
Artists like Osbourne had opened an important door, by using keys. "Since Ozzy and other people were using keyboard players, it wasn't so taboo," Kulick said in the Kiss Alive Forever book. Kiss "saw what [Bon Jovi] were doing with 'Livin' On a Prayer' and all that – and I wanted to get Kiss to that same level," Nevison told KissFAQ. "Instead of selling 500,000 to 700,000 records, which is respectable, especially these days, I wanted it to be bigger than that."
Stanley gave Crazy Nights "three stars" in Behind the Mask. "I think it's a better album than it wound up sounding. I think it's a bit plastic sounding. The material, and what it could have been, was better than what it turned out to be. It's not an album I'm in any way ashamed of, though. I tried writing on keyboards, especially with Crazy Nights, because I wanted to see how it would affect my writing."
Marty Callner returned to direct the video for "Turn on the Night," as he had done for "Reason to Live." Kiss filmed a live performance clip at the Centrum in Worcester, Mass. They shot it in front of an audience, but mimed to a track which played over the house PA. To this day, "Turn on the Night" has never been performed live by Kiss.
"Certainly if it was a radio hit, like 'Crazy Crazy Nights,' we might have been forced to do it," Kulick tells UCR. He's since performed "Turn on the Night" with his solo band, demonstrating what could have been – but without keyboards "because I don't 'use' a keyboard player." He says the song is "always received with wild applause and everyone singing. 'Turn on the Night' is a feel good anthem and its uplifting vibe causes jubilance in the crowd.
"One highlight of playing it live has been extending the ending," Kulick adds. "I did that in a big way when my brother Bob and I traded off guitar solos on the 2017 Kiss Kruise. The videos out there prove what a great song it is for live performance, and it should have been part of the Crazy Nights tour set list."
The Albums That Almost Killed Their Careers
Even the biggest bands and solo stars can find themselves suddenly out of favor and plummeting down the charts.
Ace Frehley Shares His Real-Life Spinal Tap Story