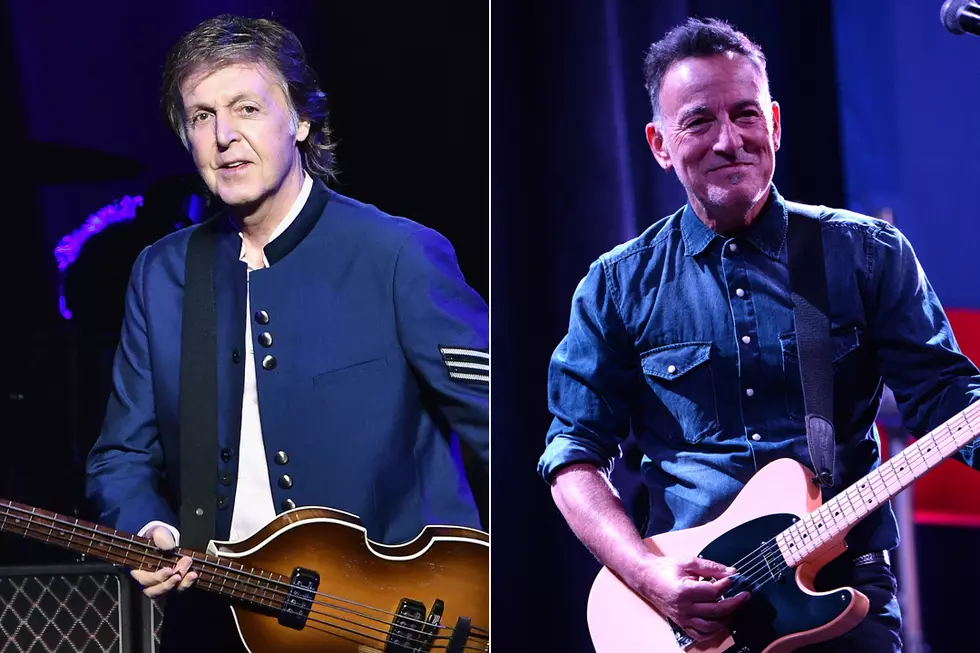 Paul McCartney Says Bruce Springsteen Makes Him Work Too Hard
Gustavo Caballero / Kevin Mazur, Getty Images
Paul McCartney jokingly blamed Bruce Springsteen for making him work harder in his 80s than he did in his 20s. The Beatles icon reflected on how it's become common to deliver three-hour concerts, like the one he performed at Glastonbury last year, where Springsteen was one of his guests.
"These days, pretty much there's a main act and there might be a warm-up act," he told Conan O'Brien on the podcast series Conan O'Brien Needs a Friend. He added that, in the 1960s, "it was a lot of people on the bill … nobody did long [sets]. Now people will do three or four hours.
"I blame Bruce Springsteen – I've told him so! I said, 'It's your fault, man!'" When O'Brien suggested Springsteen "ruined it for everyone," McCartney replied, "He did! You can't [even just] do an hour. We used to do a half-hour. That was the Beatles' thing: half an hour and we got paid for it!"
He said he's often thought about why the shows were so short. "There were a lot of people on the bill," McCartney noted. "If you were a comedian the promoter would say, 'How long can you do? Four minutes?' The guy would say yes, so he would do four. And so we thought, 'Well, half an hour, that's like, epic! … It didn't seem strange."
In the same interview, McCartney discussed his new photo book, 1964: Eyes of the Storm, containing pictures taken during the Beatles' rise to fame, including their first U.S. visit. The images were lost for decades before being recently rediscovered.
The Best Song From Every Beatles Album
Consensus can be difficult to reach on which Beatles album is best – much less which song.