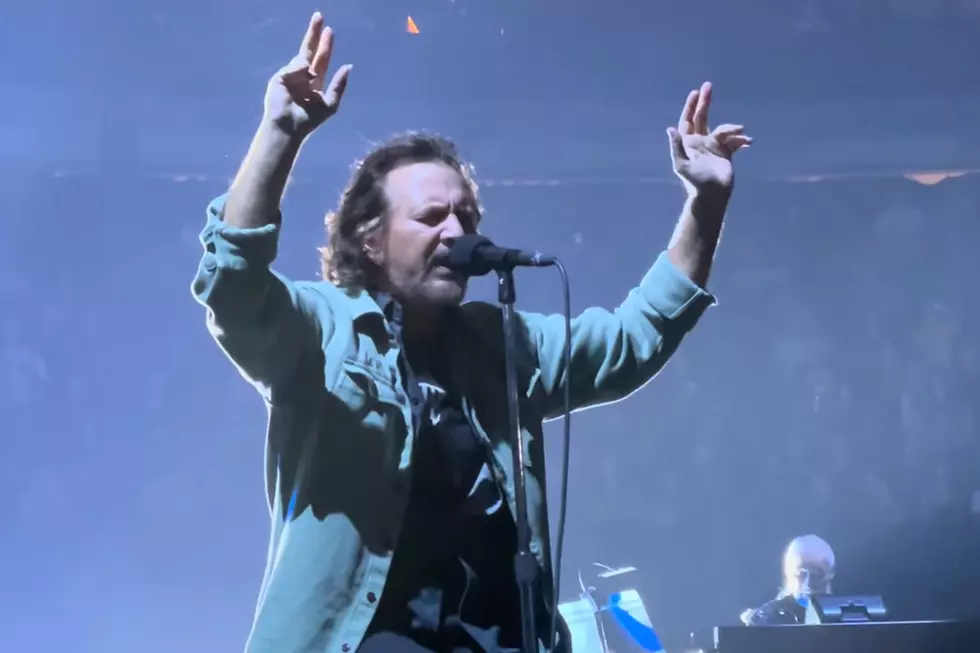 Pearl Jam Launches 2023 Tour: Videos, Set List
YouTube
Pearl Jam played their first show of 2023, kicking off a short tour with a performance on Thursday night at the Xcel Energy Center in St. Paul, Minn.
The band played the first five songs of the night seated, opening with the Vs. track "Indifference" for the first time in nearly 30 years. They ditched the stools for the next 19 tracks, which included covers of Tom Petty's "Wildflowers" and Victoria Williams' "Crazy Mary" in addition to set list staples such as "Black" and "Yellow Ledbetter."
Videos and a complete set list from the show can be found below.
The gig marked Pearl Jam's first concert in about a year. The band wrapped their 2022 tour last September in Denver.
Where Is Pearl Jam Playing Next?
Pearl Jam's 2023 tour will continue with a second St. Paul performance, followed by stops in Chicago, Indianapolis, Ft. Worth and Austin. In total, the band will play nine shows during their brief trek.
Watch Pearl Jam Perform 'Indifference'
Frontman Eddie Vedder has tacked on some additional solo dates in the fall. He will headline day two of the Ohana Festival on Sept. 30 at Southern California's Doheny State Beach. Foo Fighters, the Pretenders, the Killers and the War on Drugs are among the other artists playing at the three-day event. Vedder is one of the founders of the Ohana festival, which has been held annually since 2016.
Is Pearl Jam Working on New Music?
Pearl Jam have been in the studio with producer Andrew Watt, working on the follow-up to 2020's Gigaton.
"Andrew is a total character," guitarist Stone Gossard noted in 2022. "Really, like immediately, we were writing quickly – spontaneously. Bring in a riff. 'Let's knock it out.'"
READ MORE: Could Pearl Jam's New Album Sound More Like Pop Music?
More recently, Gossard revealed that the new album was "getting closer and closer" to being finished. "It's gonna be a good one," he said, adding that Watt is "the most hardcore Pearl Jam fan you'll ever meet. He can play all of our songs and all of Soundgarden's songs back at us — better than we can play them!"
Watch Pearl Jam Perform 'Black'
Pearl Jam, 8/31/23, Xcel Energy Center, St. Paul
1. "Indifference"
2. "Buckle Up"
3. "Sometimes"
4. "Wishlist"
5. "Black"
6. "Given to Fly"
7. "Mind Your Manners"
8. "Why Go"
9. "Seven O'Clock"
10. "Even Flow"
11. "Dance of the Clairvoyants"
12. "I'm Open"
13. "Insignificance"
14. "Daughter"
15. "Superblood Wolfmoon"
16. "Love Boat Captain"
17. "State of Love and Trust"
18. "Porch"
19. "Wildflowers" (Tom Petty cover)
20. "Elderly Woman Behind the Counter in a Small Town"
21. "Go"
22. "Crazy Mary" (Victoria Williams cover)
23. "Alive"
24. "Yellow Ledbetter"
Top 30 Grunge Albums
From Nirvana and Neil Young to Melvins and Mudhoney — the best works to come from the '90s movement.
Heart's Ann Wilson Discusses the Rise of the Seattle Scene