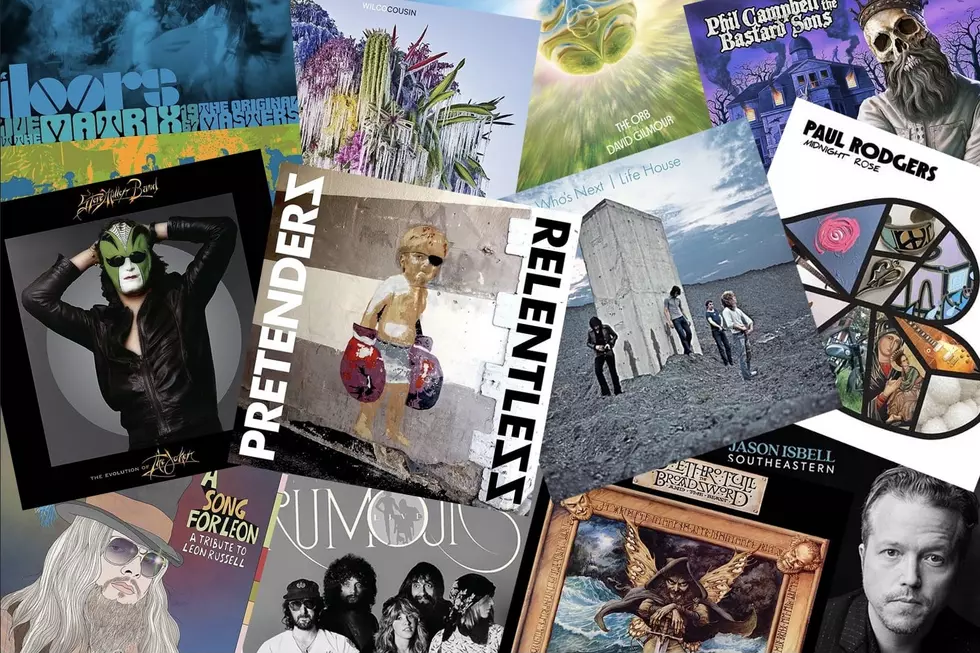 September 2023 New Music Releases
UCR
Pretenders, longtime Bad Company singer Paul Rodgers and Wilco offer fresh material. But the list of September 2023 music releases is dominated by massive reissues and intriguing live sets.
The upcoming Pretenders album Relentless is Chrissie Hynde's second collaboration with guitarist James Walbourne, and features a guest orchestration by Jonny Greenwood of Radiohead. Rodgers is back with his first new solo album since 2000's Electric. Wilco's Cousin was produced by singer-songwriter Cate Le Bon, marking the first time the band has worked with someone outside their usual circle since 2007's Sky Blue Sky.
Among the upcoming reissues is a massive Who box set focusing on their classic Who's Next album and the Life House rock opera that served as its inspiration. Steve Miller Band commemorates the anniversary of their breakthrough album with J50: The Evolution of The Joker. Jethro Tull's expanded 40th-anniversary deluxe edition of The Broadsword and the Beast features a remix by Porcupine Tree founder Steven Wilson.
Highlights from September's live releases include Fleetwood Mac's Rumours Live, which showcases a concert recorded on Aug. 29, 1977, at the Forum in Los Angeles when Rumours was the No. 1 album in the U.S. Live at the Matrix 1967: The Original Masters finds the Doors on the cusp of stardom. There's also a posthumous live box set on the way from Jeff Beck, Tim Bogert and Carmine Appice.
More information on these and other new rock-related efforts can be found below. Remember to follow our continuously updated list of 2023 New Music Releases for details on projects issued throughout the year.
Sept. 1
Jethro Tull, The Broadsword and the Beast (expanded reissue)
Peter Frampton, At Royal Albert Hall
Phil Campbell [Motorhead], Kings of the Asylum
Tom Waits, Swordfishtrombones; Rain Dogs; Franks Wild Years (vinyl reissues)
Sept. 8
Andy Taylor [Duran Duran], Man's a Wolf to Man
Alice Cooper, Billion Dollar Babies ("Quadio" remaster)
The Doors, Live at the Matrix 1967: The Original Masters
Fleetwood Mac, Rumours Live
Flower Kings, Look at You Now
Graham Parker, Last Chance to Learn the Twist
Little Richard, I Am Everything: Original Motion Picture Soundtrack
38 Special, Wild-Eyed Southern Boys; Special Forces (special deluxe-edition reissues)
Various artists, A Song for Leon: A Tribute to Leon Russell (Pixies, Margo Price, Nathaniel Rateliff, others)
Sept. 15
Beck, Bogert and Appice, Live in Japan 1973, Live in London 1974
Brian Setzer [Stray Cats], The Devil Always Collects
Carly Simon, These Are the Good Old Days: The Carly Simon & Jac Holzman Story (2CD set)
Pretenders, Relentless
Steve Miller, J50: The Evolution of the Joker
Who, Who's Next/Life House
Sept. 22
Breeders, Last Splash (30th-anniversary reissue)
Clarence White [The Byrds], The Lost Masters: 1963-1970
Firefall, Friends & Family
Paul Rodgers, Midnight Rose
Replacements, Tim: Let It Bleed Edition (4CD/1LP box)
Susan Tedeschi [Tedeschi Trucks Band], Just Won't Burn (25th-anniversary reissue)
Teenage Fanclub, Nothing Lasts Forever
Sept. 29
David Gilmour and the Orb, Metallic Spheres In Colour (expanded reissue)
Grateful Dead, Wake of the Flood (2CD 50th anniversary deluxe reissue)
Jason Isbell, Southeastern (4LP 10th anniversary reissue)
Runaways, Neon Angels on the Road to Ruin 1976-1978
Wilco, Cousin
Various artists, Into Tomorrow: The Spirit of Mod 1983-2000 (4CD set with Stone Roses, Paul Weller, Charlatans, Style Council, others)
October and Beyond
Roger Waters, The Dark Side of the Moon Redux
Lynryd Skynyrd, Fyfty
Duff McKagen, Lighthouse (Iggy Pop, Slash, Jerry Cantrell)
Night Ranger, 40 Years and a Night With Contemporary Youth Orchestra
Various artists, Produced by Tony Visconti (4CD box set with David Bowie, T. Rex, Thin Lizzy, U2, Gentle Giant and others)
Christine McVie, Christine McVie; In the Meantime (reissues)
Dolly Parton, Rockstar
Top 20 Rock Albums of 2023 (So Far)
The best offerings from the first half of the year.