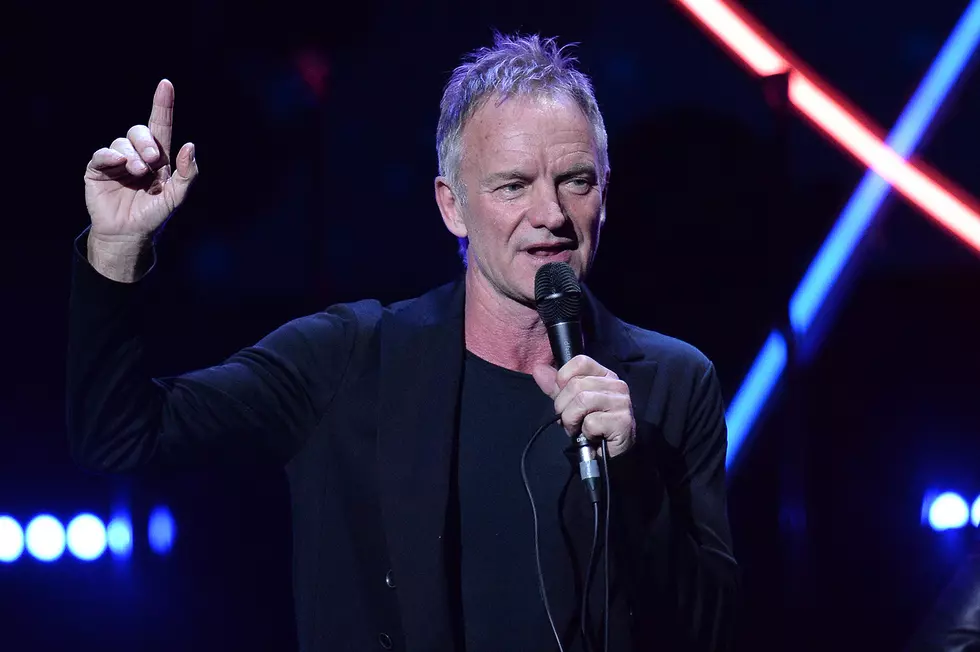 Why Sting Believes He'll Still Be Touring at 80
Jeff Spicer, Getty Images
Sting said he'd be happy to follow Paul McCartney's example and headline the U.K.'s Glastonbury festival at the age of 80 – nine years from now.
In a recent interview with Music Week, the former Police frontman outlined the approach to his art that has kept him writing, recording and touring, and showed no signs of failing soon.
Asked about the possibility of playing Glastonbury in the summer of 2032, Sting replied, "Well, it's not that far away. Why not? I'm not wearing a corset or anything. As long as I can get into my rock star pants, I'll be fine."
He added that, to him, making music was like a game. "You want to stay in the game as long as possible, like tennis – just one more round and one more game," he said. "I'm competitive. I want to get better as a songwriter. I want to improve and I want to keep learning, and I think that's what keeps me going – just the idea that you can do better.
"Every night I try and breathe life into a song that could have been written 40 years ago with the same curiosity, the same passion, the same enthusiasm, and that's my gig. And I'm so grateful for those songs because they've transformed my life. They are the lifeblood of what I do."
Sting reflected on how his songwriting has developed over the decades. "I believe firmly that music has a narrative and, if you've constructed it in the correct way, it has a very coherent narrative," he said. "My job as a lyricist is to hear that and then make that into a character or a story. That's the hardest part and the most satisfying part."
He added that he's "also learned that you can't be on output the whole time – I need to live a life and receive information in life so that I can write a song. At the moment, I'm not writing songs; I'm on tour, which is one of the great things about touring – you don't have to think. It's completely devoid of thought, which I kind of like ... but then when I finish a tour, I have to face a blank page and that's probably the most frightening thing.
"Somehow, if you're in the right frame of mind, you can fill that page. But you need to be patient and you need to be in a state of receptivity."
Sting's My Songs North American tour starts on Sept. 1 and runs until Oct. 15.
The Police Albums Ranked
They made only handful of records, but all offer plenty of rewards.