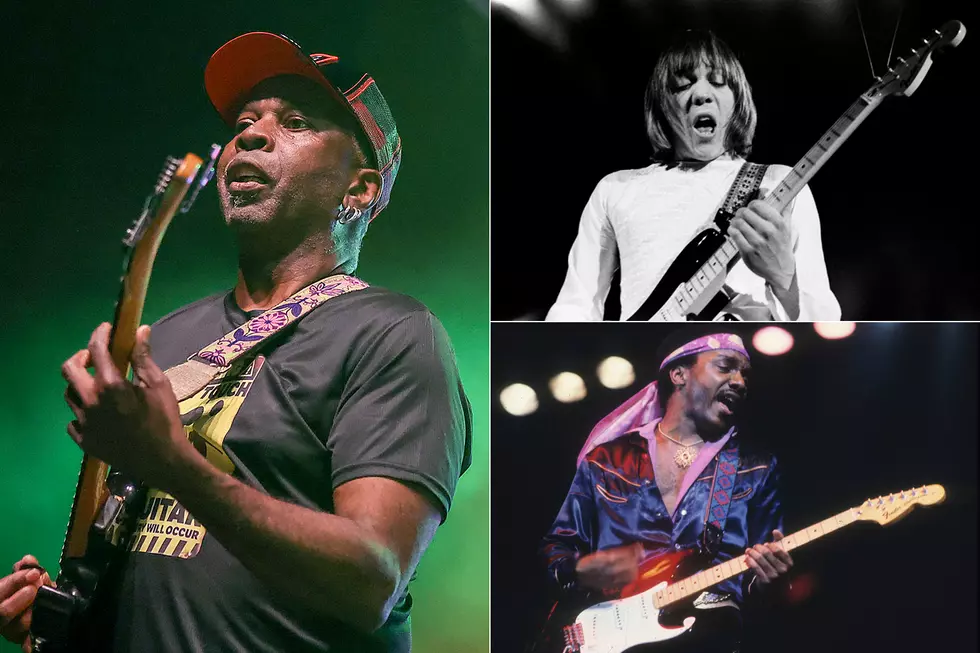 Vernon Reid's Crusade to Win Followers for Ignored Guitar Legends
Mike Coppola / Redferns / Michael Ochs Archives, Getty Images
Living Colour's Vernon Reid drew praise for taking action when he realized some of the world's greatest guitarists had surprisingly low follower counts on the X social media platform.
After calling for his followers to help change the situation, Robin Trower and Robert Cray both saw their counts cross the 10,000 mark, leading Reid to select three more names for his "10K Guitar Campaign."
It began after Reid noticed Trower's post about his latest single, "I'll Be Moving On," and replied, "Excuse me, guitar legend, how is it possible that you have less than 10K followers? W. T. actual F?" He went on to argue: "Robin made you feel the narrative. Vibrato has been practically abandoned as expressive ornamentation in favor of scalar exotica. Trower didn't have to play fast to be interesting or emotionally effective."
READ MORE: How Living Colour Crafted the 'Black Sgt. Pepper' on 'Time's Up'
He then urged, "All y'all that follow me, that f*ck with frets (and those that go fretless) should … follow @robintrower. I mean if you HAVE a soul … that is." Soon afterward, Trower's account passed 10,000, and it's continued to rise since then.
As a result, Reid turned his attention to Robert Cray, saying, "New campaign. Mr. Cray is in almost the exact same position as Robin Trower. Just under 7K followers. This situation is unacceptable. We made it happen for Robin. Let's make it happen for Robert."
Vernon Reid Argues 'Half Measures Won't Do'
That's exactly what happened. As Reid's 67,000 followers signed up and discussed the positivity that was being generated, Cray's count topped 10,000. He responded by telling Reid, "Just saw all our new followers. My wife thought we'd been hacked LOL when we saw the numbers this morning! So very kind of you!"
Reid added later, "I want to see these players get their 10K followers," linking to the X accounts of Elliot Easton, Ernie Isley and Mike Stern. "Half measures won't do! Let's make it move." Signaling that he intended to continue his mission, he concluded, "The next group can't get going until we do this."
The Hilariously Bad First Concerts of Rock's Biggest Bands
There were long car rides, tiny stages and embarrassing situations on the way to stardom.