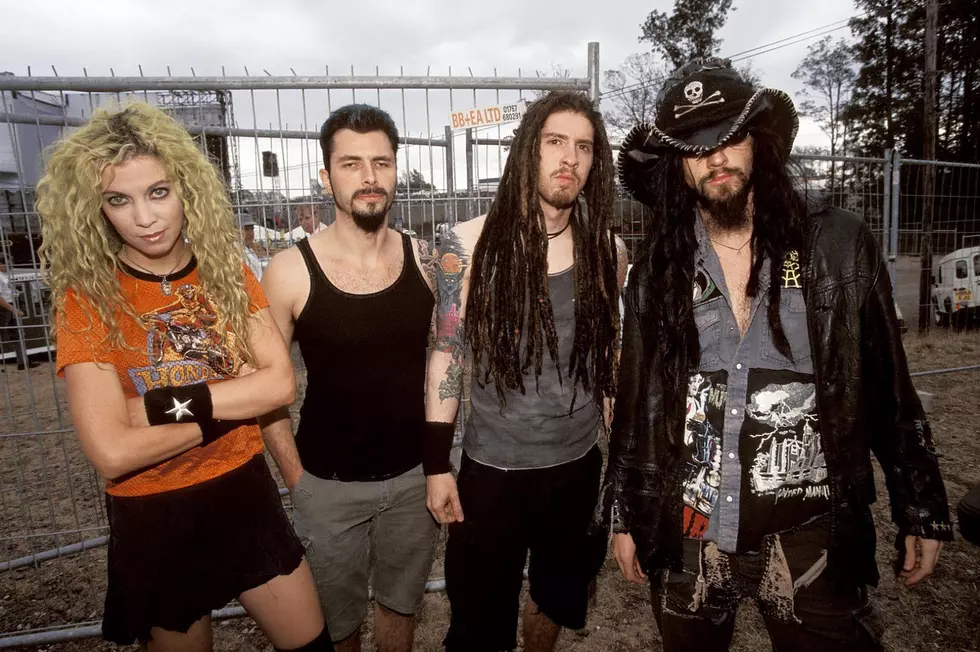 25 Years Ago: White Zombie Breaks Up as Rob Zombie Goes Solo
Mick Hutson, Redferns
White Zombie had no sooner risen from dingy New York clubs to the top of the heavy metal heap when frontman Rob Zombie decided to close the book on the first chapter of his musical career.
The quartet — Zombie, bassist Sean Yseult, guitarist Jay Yuenger and drummer John Tempesta — announced its breakup in a joint statement issued by its label, Geffen Records, on Sept. 23, 1998.  "After 13 years, White Zombie has accomplished everything we set out to do," they said, "and we all felt it was time to move on."
Yet some members felt it more strongly than others. The breakup was initiated by Zombie, who had released his debut solo album, Hellbilly Deluxe, the previous month. The album debuted at No. 5 on the Billboard 200 with 120,000 copies sold — the biggest opening week of his career — and went on to sell more than 3 million copies in the United States. Two days after the breakup announcement, Zombie appeared on Late Night With David Letterman to perform his new solo single "Dragula."
White Zombie Wanted to Make Another Album — But Rob Zombie Had Moved On
Zombie had previously expressed a desire to get back into the studio with White Zombie after touring in support of Hellbilly Deluxe. The band was riding high on 1995's Astro-Creep: 2000, which had peaked at No. 6 and reached double-platinum status, marking their greatest commercial success following the steady climb of 1987's Soul-Crusher, 1989's Make Them Die Slowly and 1992's La Sexorcisto: Devil Music Volume One. (A successful remix album, Supersexy Swingin' Sounds, arrived in 1996.) But when the band regrouped, Zombie had changed his tune.
Watch White Zombie's 'More Human Than Human' Video
"This thing had been dragging on forever," Zombie said in the aftermath of the breakup announcement (via MTV News) "I was thinking about it that morning, and I called up [Yuenger] and said we needed to get everyone on the phone and talk it over and figure out what's going on."
READ MORE: Rob Zombie's 'Uncomfortable' First Meeting With Ozzy Osbourne
"I'm fine," the singer added. "Don't cry over spilled milk, I say. It just made sense now because we weren't in the middle of a tour or album or anything. It's not like this was Black Sabbath or Led Zeppelin or the Beatles, [with] the same four people, start to finish. And I'm still playing with John [Tempesta] now, so ... same shit, different day."
Not Everybody Was Happy About White Zombie's Breakup
Yseult, who dated Zombie for seven years during White Zombie's tenure, sounded less satisfied when she reflected on the group's dissolution years later. "After one year, we were supposed to be taking a break, and then we were gonna have a call and talk about getting back together and making a record. I knew that we weren't getting back together," she said on One on One With Mitch Lafon in 2016. "But the slap in the face was that [Zombie's] solo record came out, like, the next day. So he spent that year making a record, knowing that [White Zombie wasn't] gonna be a band again."
Watch Rob Zombie Perform 'Dragula' on 'Late Show With David Letterman'
Following White Zombie's demise, Yseult moved to New Orleans and largely shifted her focus to photography and design, holding several gallery exhibitions over the next two decades. She briefly toured with the Cramps in 2006, and in 2010 she published the visual memoir I'm in the Band: Backstage Notes From the Chick in White Zombie. Yuenger worked as a recording engineer and producer, and Tempesta continued to play drums for Zombie until 2006 when he joined the Cult.
READ MORE: White Zombie's Sean Yseult Talks Ballet, 'It Came From N.Y.C.' Box Set and 'God of Thunder'
Zombie, meanwhile, released a string of Top 10 solo albums and established himself as an accomplished horror filmmaker with titles such as House of 1000 Corpses, The Devil's Rejects and two entries in the Halloween franchise. His diverse resume and enduring solo success proved that he was never going to be content as just the mouthpiece of White Zombie.
"It was great what the band accomplished, but it was never really fun to do," the singer told The Believer in 2017. "A lot of people try to rewrite the history about how it all ended, but the truth was, there's nothing weirder than when your band finally gets big and you're playing sold-out arenas and you're selling millions of records, and you dread being a part of it all. It wasn't some master plan to go solo. I was just like, I would rather do my own thing, be happy and have it be 10 times less popular."
Alice Cooper and Rob Zombie, Freaks on Parade Tour Kickoff
Shock-rock titans kicked off co-headining trek in Dallas with Ministry and Filter.