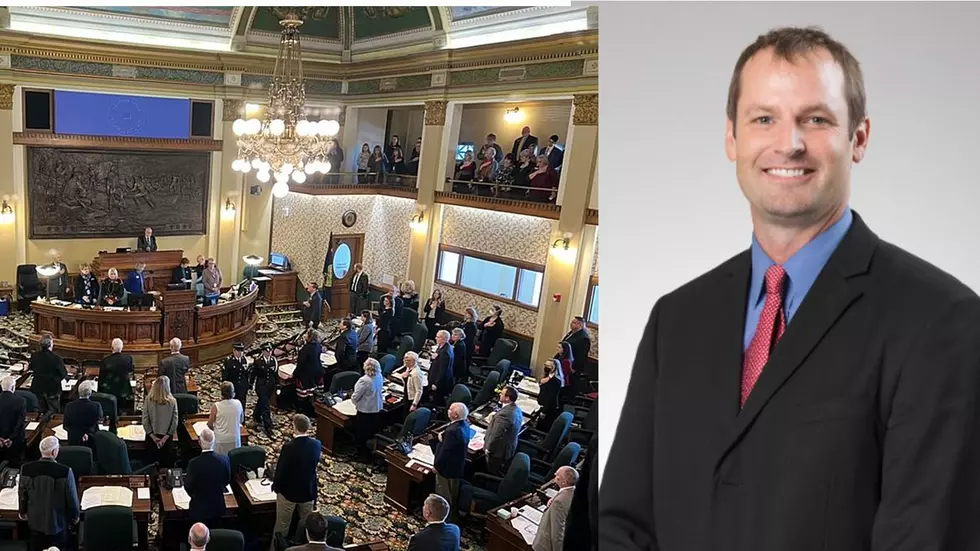 Montana Speaker of the House Talks Property Tax Relief & More
Speaker Matt Regier Credit Leg.MT, House Chamber Credit MT Electric Cooperatives Association
The Governor is looking to deliver income and property tax relief. So is the GOP controlled Montana State Senate, and so is the GOP controlled State House. The question is, how do their specific proposals differ? How much relief would you receive in the form of rebates or rate cuts?
We caught up with Montana Speaker of the House Matt Regier (R-Kalispell) during "Co-Op Days at the Capitol" put together by the Montana Electric Cooperatives Association.
Speaker Regier: My leadership style is- it's gonna be a caucus driven session for us. So we've done a lot of surveys. I've called the entire caucus personally. I've talked with them all through their, their priorities, and we got a lot of feedback from that. And I think it's safe to say in the House that there's a big appetite to give some income tax rebates back, and that hasn't been proposed in the governor's budget. So we'll see that. Representative Mercer out of Billings did drop a bill just yesterday (Thursday) that would do some property tax, some income tax, and also pay off the debt.
As I understand it, House Republicans led by Speaker Regier and Rep. Bill Mercer (R-Billings) are proposing to give an additional tax rebate out of the more than $2 billion surplus in addition to whatever relief would be included in the biennial budget.
Governor Greg Gianforte (R-MT) meanwhile is proposing tax rebates as part of his budget:
The governor's budget provides $500 million in property tax relief for Montanans for their primary residence, with a $1,000 property tax rebate in both 2023 and 2024.
As for the debate over the House rules, where 20-plus Republican legislators teamed up with Democrats to make it easier to bypass GOP leadership on the agenda- Speaker Regier reminded listeners that the voters elected a Republican Supermajority.
Speaker Regier: These rules kind of...they tilted the needle towards the Democrats a little more, and we got a Supermajority. The people in Montana sent 68 of us here in the House, and I think it's time that we start acting like the majority that we are.
Listen to the full conversation below. I also included our chat with Montana Senate Majority Leader Steve Fitzpatrick (R-Great Falls) and the Governor's Budget Director Ryan Osmundson.
LOOK: The most extreme temperatures in the history of every state
Stacker
consulted 2021 data from the
NOAA's State Climate Extremes Committee (SCEC)
to illustrate the hottest and coldest temperatures ever recorded in each state. Each slide also reveals the all-time highest 24-hour precipitation record and all-time highest 24-hour snowfall.
Keep reading to find out individual state records in alphabetical order.