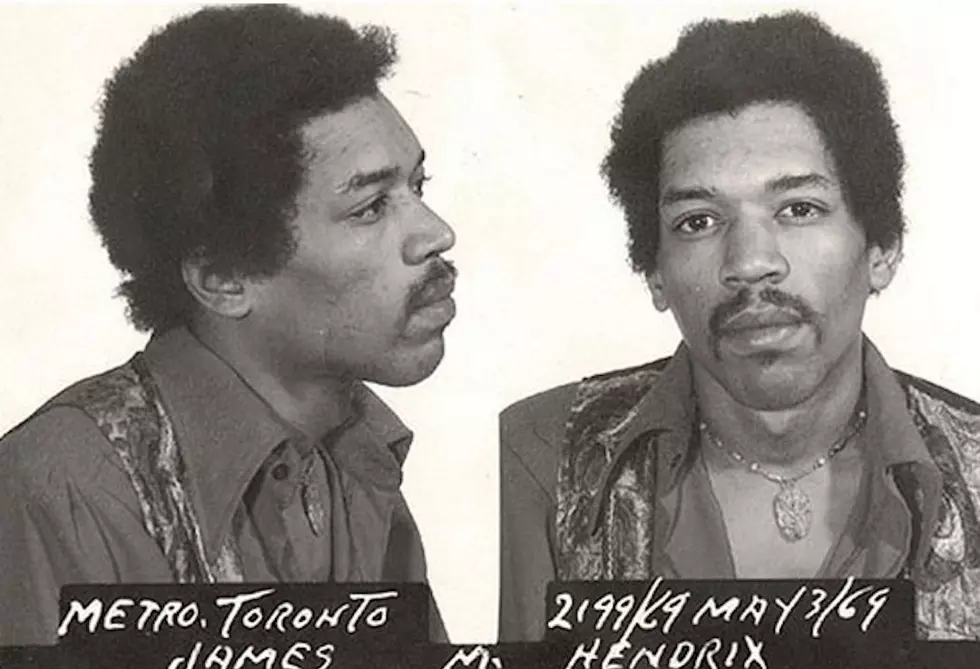 When Jimi Hendrix Got Arrested in Toronto
Toronto Police Service
On May 3, 1969, Jimi Hendrix faced a potentially career-threatening situation when was arrested at Toronto's International Airport for illegal possession of narcotics.
While going through customs, an inspector found a bottle containing six packages of apparently questionable substances inside Hendrix's bag, and the guitarist was immediately taken into custody. Police were allegedly waiting on Hendrix's arrival in Toronto from Detroit, according to Rolling Stone's original report on the bust.
Members of the Royal Canadian Mounted Police were unable to make a positive identification of the substances at that time – they were later determined to be heroin and hashish – but Hendrix was nevertheless detained by police before being brought downtown to headquarters to be charged. He was eventually released on $10,000 bail.
At his arraignment two days later, a June 19 court date was set for a preliminary hearing. Hendrix was in court for a total of three minutes before leaving to perform at a sold-out Maple Leaf Gardens later that night. "I want you to forget what happened yesterday and tomorrow and today," he said from the stage. "Tonight we're going to create a whole new world."
Hendrix professed his innocence from the start. And while this might seem like the natural thing for any guilty party to do, a number of things relating to the bust were indeed unusual: For starters, the behavior of the Royal Canadian Mounted Police was called into question. Why were the police waiting for Hendrix's arrival at the airport? And why did they not afford Hendrix the opportunity to be searched in private, away from the general public's view?
To many, this smacked of similar late-'60s arrests of members of the Rolling Stones and the Beatles, where the motives of the police outweighed the concept of justice. "I don't have any doubt in my mind that the right-wing government forces were behind all of that," MC5 guitarist Wayne Kramer said. "There was an effort, a movement, to stop this threat that rock and roll represented."
Hendrix's trial began on Dec. 3, 1969. The defense team did not dispute the drugs were found in his luggage. Instead, they took the position that Hendrix was not aware that he was carrying the drugs. Called as the first witness by his attorneys, the guitarist told the court he was often showered with gifts from his fans. He explained that on a trip to California earlier in the year, a female had given him a vial of what he believed to be Bromo-Seltzer, which he then put in his bag.
The trial lasted three days but in the end, after eight hours of deliberation by the jury, Jimi Hendrix was acquitted of the charges that were leveled against him. "Canada," Hendrix said to reporters as he flashed a post-acquittal peace sign, "has given me the best Christmas present I ever had."
The Top 100 Rock Albums of the '60s