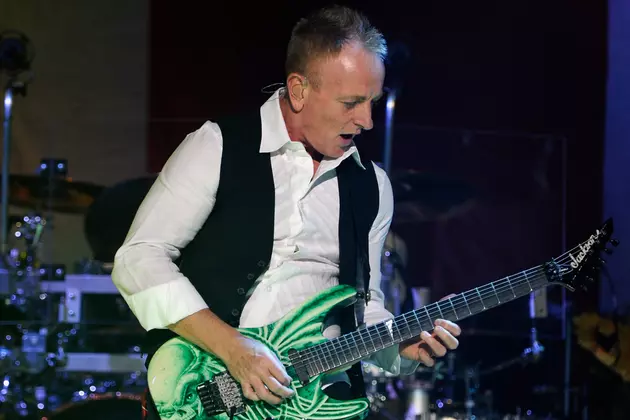 Phil Collen on Def Leppard's Cruise: 'I Don't Think We Will Do This Again'
David Becker, Getty Images
Last month, Def Leppard became the latest rock band to take the plunge into the growing world of cruises. But according to guitarist Phil Collen, it looks like we will not see a second installment of Hysteria on the High Seas.
"It wasn't a great experience," he told Metal Rules. "We had a great time in Miami and I think the people did too. Everything that could have gone wrong went wrong. We were warned about it. I don't think we will do this again to be honest. It was my first cruise, and I soon realized that you just couldn't hang out at dinner, so you were confined to your quarters and that wasn't fun."
One of the problems that Def Leppard faced was that lead singer Joe Elliott was having problems with his voice, causing him to miss their headlining slot. Instead, singers from the other bands filled in for Elliott, but only seven songs were performed. The band have offered free tickets to passengers to future Def Leppard concerts to make up for the concert.
But Collen's reference to being "confined to your quarters" is possibly referring to something that happened at a meet-and-greet. Eddie Trunk, who was the Master of Ceremonies for the cruise, went into greater details while speaking to Michael Blandvold. "I can tell you in that meet-and-greet," he said in the video below, "it was supposed to have been a cocktail party for some VIP passengers that paid for that. And I was told to make an announcement that the band was very much hoping to mingle and have a regular cocktail-party sort-of environment with the fans. And if everybody just took their time, didn't rush them, didn't crowd them, they'd hang out for a couple of hours -- drinks were free -- and enjoy a nice evening. And people obeyed that rule for about 16 seconds and literally bum-rushed the four of the five guys that were there -- because Joe didn't attend because he was trying to rest his voice. So, you know, they were slammed and crowded and uncomfortable and pushing and pulling, and they split somewhat early [...] But then, later in the cruise, the band ended up taking pictures in groups with almost everyone on the ship."
But most tragically for the cruise was that, Jimmy Bain, the bassist of Last In Line, died during the cruise of an undiagnosed case of lung cancer. The group, which includes Def Leppard guitarist Vivian Campbell, are still planning to tour as a way of honoring Bain's musical legacy.
Listen to Eddie Trunk Talk About the Def Leppard Cruise
Def Leppard Albums, Ranked Worst to Best